This honey lemon vinaigrette is super simple and super tasty. Full of light, sweet, bright lemony flavor, this lemon honey dressing will elevate your favorite salads. Make it today (and try it with my peach burrata salad!).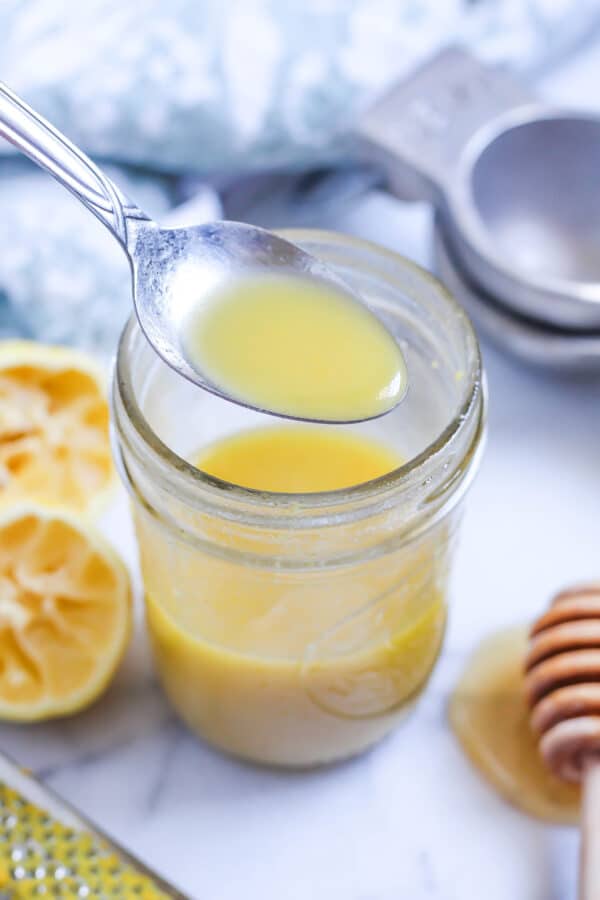 Why You'll Love This Recipe:
This dressing is super simple to make, coming together with just four main ingredients and a quick shake in a mason jar.
The lemon honey dressing is sweet, but not overly sweet. It's deliciously balanced with bright, tart lemon flavors, smooth and fruity olive oil, and an acidic tang from dijon mustard.
You can customize it further with the addition of finely chopped herbs! I love the vinaigrette as is, but I also enjoy it with the addition of some fresh thyme, basil, or mint.
Top Tips to Make Honey Lemon Vinaigrette:
Try using an eight ounce mason jar to make your salad dressings! It's my favorite method because you can add all the ingredients, quickly shake it to thoroughly mix it, and then store any l leftovers in the fridge in the same jar. Less dishes = less mess = a happier me.
Don't skip the lemon zest - there is so much bright, sweet citrus flavor packed in the zest and it really is such an elevating ingredient!
Make it right before serving for the optimal freshest taste.
Try using a lemon squeezer to easily juice your lemon with less mess and no seeds falling through - if you use a lot of citrus in your meals, a lemon squeezer is such a helpful tool to have in your kitchen!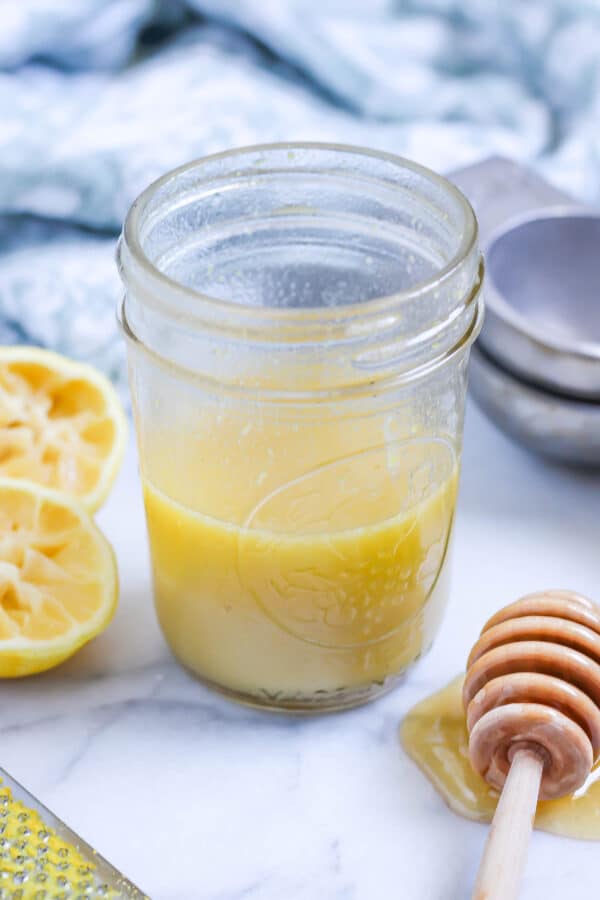 Recipe FAQs:
Can you use bottled lemon juice instead of fresh?
You can (and I have when I'm in a pinch and have no fresh lemons), but you'll miss the additional flavor that comes from the zest. Ultimately though, it's okay - do what works for your budget and what you have access to (this is a very real and completely fine part of nutrition and health and making it work for you!)
Is this dressing kid-friendly?
Absolutely! Just don't give tastes of honey to babies under one. (This is recommended by the American Academy of Pediatrics as there's an increased risk of botulism from consuming honey amongst babies under 12 months.)
How do I store leftover homemade salad dressing?
Leftover homemade salad dressing can be stored in an airtight container and should be kept refrigerated.
How long does this homemade salad dressing last?
The USDA suggests after opening (or making, in this case), salad dressing can be kept refrigerated up to two months.
What type of olive oil should I use?
Any olive oil you already have and can afford will work! In salad dressings (and many other recipes!), I'm partial to extra virgin olive oil.
Extra virgin olive oil is is full of monounsaturated fatty acids, a heart healthy fat with beneficial effects of metabolic risk factors. It's also loaded with antioxidant-rich polyphenols.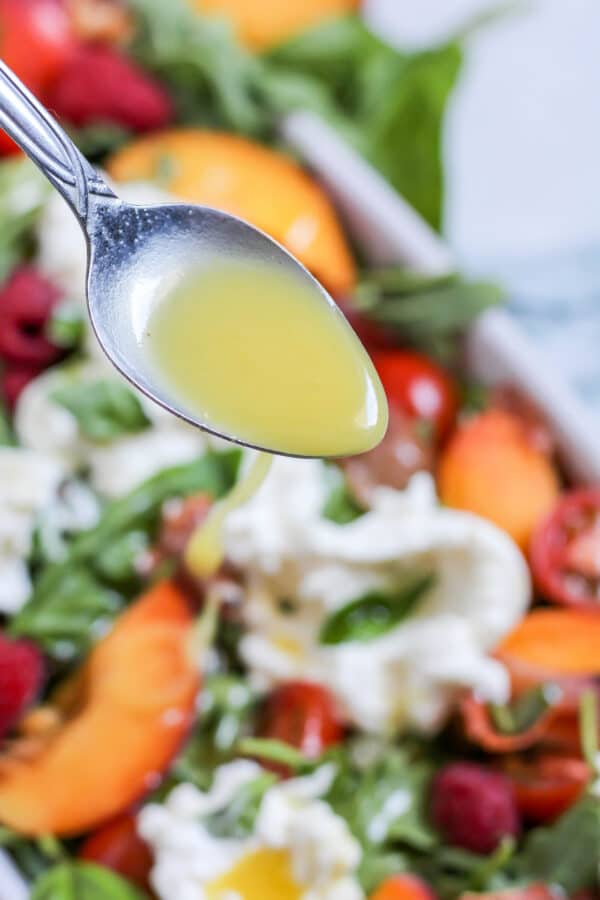 More Delicious Salad-Related Recipes:
This dressing was created to pair with my peach burrata salad, so definitely give that a try - you'll love it! And for more delicious salads and dressings, try these fan favorites:
Honey Lemon Vinaigrette
This honey lemon vinaigrette has a sweet, bright flavor and is easy to make! It pairs perfectly with peach burrata salad.
Ingredients
juice and zest of 1 lemon

(about ¼ cup lemon juice)

1$

cup

extra virgin olive oil

1

tablespoon

honey

1

teaspoon

dijon mustard

salt and pepper to taste

2

teaspoon

finely chopped herbs, like basil, thyme, rosemary, or mint

(very optional ingredient!)
Instructions
Combine all ingredients in a small mason jar, cover, and shake until combined. (Alternatively, you can use a small whisk or fork to combine ingredients in a small bowl.)

Store any leftovers in an airtight container in the fridge up to two months.
Nutrition
Calories:
70
kcal
|
Carbohydrates:
2.7
g
|
Protein:
0.1
g
|
Fat:
6.8
g
|
Saturated Fat:
0.9
g
|
Polyunsaturated Fat:
0.7
g
|
Monounsaturated Fat:
4.9
g
|
Sodium:
15.3
mg
|
Potassium:
9.1
mg
|
Fiber:
0.1
g
|
Sugar:
2.3
g
|
Vitamin A:
0.3
IU
|
Vitamin C:
2.5
mg
|
Calcium:
1.1
mg
|
Iron:
0.1
mg