Kale caprese salad is a delicious massaged kale salad recipe that makes an easy, healthy weeknight dinner and a great meal prep salad.
I've always been all about simple recipes but ever since I had my second child (three months ago today!), easy meals packed with flavor and nutrition have essential. Bonus if the meals can hold up to a little meal prep, too! And this kale caprese salad is perfect for both a quick and easy weeknight dinner AND doubles for an easy to prep ahead salad.
Kale Caprese Salad
Let's talk how to make this kale caprese salad:
The Dressing: In the base of your salad bowl you'll add the balsamic vinegar, extra virgin olive oil, a pinch of salt and pepper, and dried basil. Then you just need to add your kale straight to it and massage it all together.
The Kale Base: Dinosaur or lacinato kale works beautifully in salads, but this is just everyday ol' curly kale since it's what I usually have on hand. Feel free to use whichever variety you have or prefer. For the sake of saving time and added convenience, I often will buy a bag of pre-chopped kale. Just tear out any stems that make it into your salad (I find them a little too chewy/ rough in salads). Then just massage your kale with the dressing and your base is done. And yes, I literally mean massage your kale. Get your hands in there and thoroughly rub the leaves in the dressing! It helps the kale become softer, more tender, more delicious and way less chewy.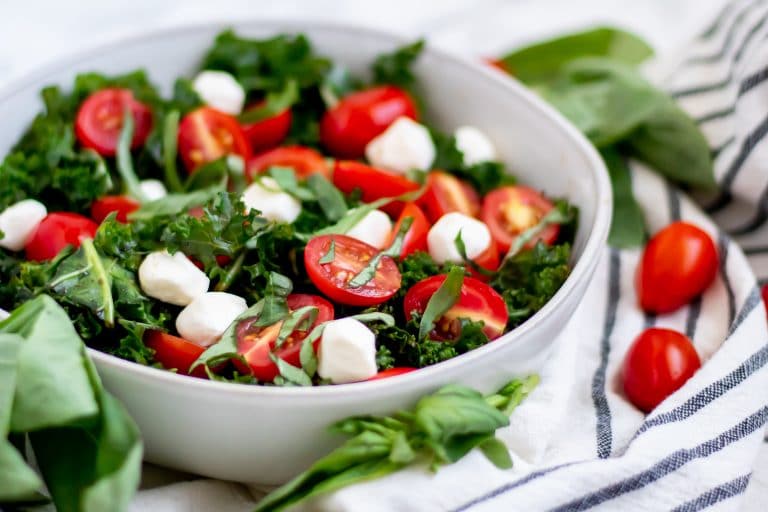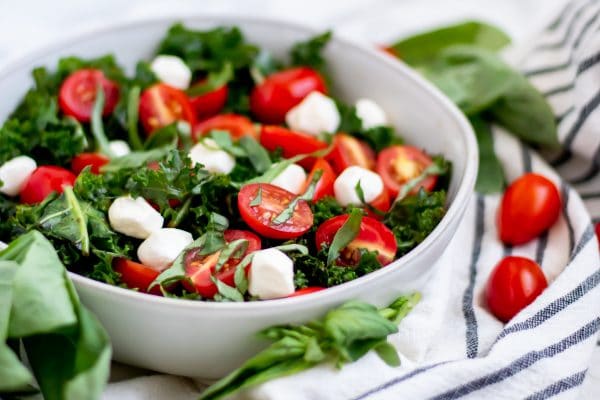 Tomatoes: I used grape tomatoes sliced in half, but you could also use cherry tomatoes sliced in half or quartered. Only have larger tomato varieties on hand? Use those! Slice into one-inch cubes or wedges.
Mozzarella: I love fresh mozzarella! I used these delightful little fresh mozzarella pearls here and they were delicious and convenient. (And they were actually on sale buy one, get one free, so they were a more affordable option, too!) You can use fresh mozzarella in a larger ball or log and chop into small cubes. If all you had was shredded mozzarella, you could use that in a pinch, but I highly recommend fresh mozzarella. It has a much softer taste and texture than shredded mozzarella and totally makes this kale caprese salad.
Fresh Basil: Julienne (thinly slice) fresh basil leaves and sprinkle generously over your kale caprese salad. Big fan of fresh basil? Feel free to slice up even more and toss it with the kale in your salad base. Don't have fresh basil on hand? While it's definitely a very welcome addition to this salad, I'm flexible and practical with my recipes. Being able to grow or afford fresh herbs isn't always practical for everyone. The dried basil in the dressing will totally help give the basil flavor in a caprese salad, and you can always sprinkle a little more dried basil on top, too.
Protein: This salad is a little light for a meal on its own. If you're enjoying just the kale caprese salad for a meal, I'd highly recommend adding a little extra protein. Use whatever you prefer, have on hand, or want to grab from the store. I love adding grilled chicken or fish, like salmon or tilapia. For more convenient options, you can used jarred tuna fillets in olive oil, canned white cannellini beans, or even pick up a rotisserie chicken.
How to Meal Prep Caprese Salad with Kale
I like to keep the meal prep components a little separated. So keep the dressing and kale base in one container and the topping in a separate container or compartment. If you're prepping the salad more than a day in advance, I would take it one step further and portion out the mozzarella balls separately as well. This will help keep them fresher and avoid any weird residues or textures from the cut tomatoes and mozzarella hanging out together too long. (Here's an affiliate link to the 3 compartment glass meal prep containers I have.)
More Nutrition to Fit Salad Recipes
Simplicity is my favorite, and if you enjoyed this easy caprese salad with kale, try these other simple salads, too!
If you make any of these salads, leave a comment to let others know how you liked them! And you can always share your favorite recipes on Pinterest, Facebook, or Instagram. If you share a pic of your own NTF recipe creations, tag me so I can cheer you on! 🙂 Live well!
Kale Caprese Salad
Kale caprese salad is a delicious massaged kale salad recipe that makes an easy, healthy weeknight dinner and a great meal prep salad.
free from: wheat/ gluten, soy, egg, fish, shellfish, tree nuts, peanuts
Ingredients
Dressing:
2

teaspoon

balsamic vinegar

1

teaspoon

extra virgin olive oil

¼

teaspoon

dried basil

pinch of salt and pepper
Salad:
3

cups

chopped kale

½

cup

grape tomatoes, chopped

1

oz

fresh mozzarella pearls

4

leaves

fresh basil, julienned
Instructions
Combine the dressing ingredients in the bottom of a medium-sized bowl.

Remove any stems from kale leaves. Add kale to the dressing in the bowl and using your hands, massage the dressing into the kale until the kale is tender (will look slightly more wilted).

Top with remaining tomato, mozzarella, and julienned basil and enjoy.

Note: If meal prepping in advance, package the massaged kale salad and other components separately to ensure freshness. Can be made in advance 2-3 days.
Nutrition
Calories:
159
kcal
|
Carbohydrates:
10.4
g
|
Protein:
7.9
g
|
Fat:
10.1
g
|
Saturated Fat:
4.2
g
|
Polyunsaturated Fat:
0.7
g
|
Monounsaturated Fat:
3.3
g
|
Cholesterol:
15.1
mg
|
Sodium:
110.3
mg
|
Potassium:
457.2
mg
|
Fiber:
2.8
g
|
Sugar:
4.9
g
|
Vitamin A:
12000
IU
|
Vitamin C:
76.7
mg
|
Calcium:
170
mg
|
Iron:
1.3
mg