This easy homemade honey mustard salad dressing is delicious, healthy, and beyond simple with just three ingredients. It pairs great with salads, grain bowls, and family-friendly chicken tenders!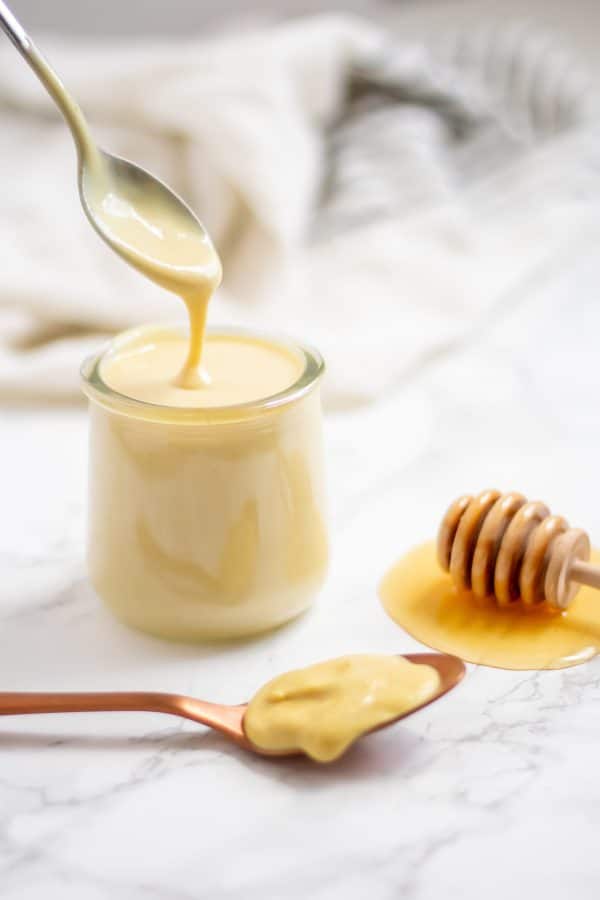 Have y'all ever heard of a restaurant called PDQ? It's kind of a fast food/ fast casual hybrid (think: feels closer to Chipotle in atmosphere than McDonald's). Well they have a honey mustard dressing that honestly turned me into a honey mustard dressing fan.
Towards the end of my recent pregnancy, I had a PDQ classic chicken salad with grilled chicken and honey mustard dressing probably weekly. I just always craved it and honestly - I have zero regrets about craving things with vegetables during pregnancy. 😉
Well recently (after my son was born) we had a late appointment and stopped and grabbed salads to take home for dinner. When I got home, I got curious and looked up the nutrition information. And, surprise surprise, the salad dressing had more calories than the salad itself (yes, including the chicken and cheese on the salad)!
I refused to accept that's how honey mustard salad dressing needed to be and set out to make a homemade healthy honey mustard dressing.
I tried a few different variations, but ultimately we loved the recipe below best. (Although check the notes of the recipe section for a spicy honey mustard -- my toddler and I aren't super big on spice, but my husband loves the spicy variation!) And good thing because with just three ingredients, it is the EASIEST honey mustard salad dressing ever!
Easy, Homemade, Healthy Honey Mustard Salad Dressing
All you need are three ingredients:
Honey.
Yellow Mustard.
Greek Yogurt.
That's IT!
And it works on so many levels.
A lot of creamy salad dressings contain eggs, so this is a great option for those allergic to eggs. By using plain, fat-free Greek yogurt, we also substantially lower the calories and fat compared to many store-bought and restaurant honey mustard dressings. Plus it adds a tiny extra protein boost.
Using Greek yogurt also helps kind of streamline this recipe - instead of oil for creaminess and apple cider vinegar for a little tang, you get a subtly tangy creaminess from just the Greek yogurt.
Note: calories and fat ARE NOT BAD. Food gives us energy to live our lives and that's just what calories are - energy. Personally, I just prefer to add things to my salads like cheese, avocado, or slivered almonds - all of which provide additional fat and energy (aka calories). This homemade honey mustard just kind of keeps things a little more balanced in the context of a whole salad.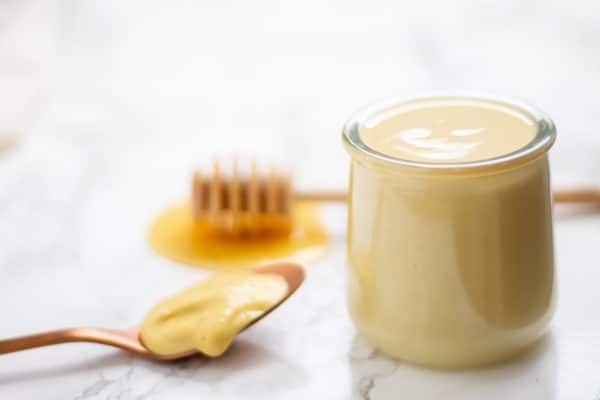 Mustard Matters
When you make recipes with minimal ingredients, you really need to use ingredients that you like. I found the one ingredient that really made a big difference on the flavor of the dressing was the type of mustard I used.
We've made this dressing a few times with a couple different mustards. We've even used it with dijon mustard, which is good, too - just a little "zippier" on the taste buds. Bottom line: use a mustard you like!
How to Make Homemade Honey Mustard Dressing
With this simple recipe, all you have to do is whisk together your three ingredients! Then just store them in an airtight container in the fridge for up to a week. That's it!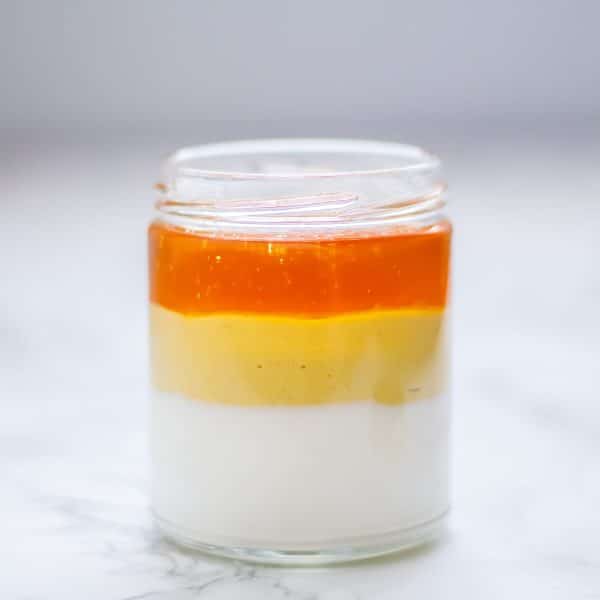 Now for some Q+A:
How long does homemade salad dressing last in the fridge?
This dressing will last up to a week in the fridge in a sealed, airtight container.
Why is this honey mustard salad dressing paler than the one I bought at the store/ restaurant?
No additives, baby. A lot of store-bought salad dressing will have coloring additives to make it look closer to how they think you think it should look. That said, if the lighter color bothers you (or your kids), you can totally add a pinch of turmeric for color.
Can I use this honey mustard salad dressing as a dip?
Sure can! In fact, my toddler daughter's preferred use is as a dip for grilled chicken strips.
Can I use this honey mustard dressing as a marinade?
Totally. If you're planning on baking or roasting your chicken, you can marinate the chicken in the honey mustard dressing. A note of caution though, if you're planning on cooking your chicken on a direct heat source (like a grill or in a skillet), I wouldn't marinate the chicken beforehand. The natural sugars in the honey will likely burn if exposed to direct heat too long, so I would just brush it on at the very end of cooking.
Can I use this honey mustard dressing with other proteins?
Of course! I bet it would be delicious on baked salmon. Use it however you would use any other honey mustard dressing!
Can I use dairy-free yogurt or regular (not Greek) yogurt?
I don't recommend using regular yogurt - when we tried this, even with a creamier full fat regular yogurt, we thought the dressing was too thin.
If you're dairy-free, you can totally try your favorite dairy-free Greek-style yogurt in a plain flavor. I have not tested this though, so I can't guarantee results or how the flavor may change.
You can substitute Icelandic-style yogurt or plain quark (both are thicker like Greek yogurt).
Enjoy Simple, Healthy Honey Mustard Salad Dressing
Give this simple, healthy honey mustard salad dressing a try and let me know what you think! Looking for my Nutrition to Fit recipe take on the PDQ classic grilled chicken salad that inspired this all? Check it out here: Honey Mustard Chicken Salad.
Want to try some other delicious dressings and salads? Try these:
Please leave a comment and rate the recipe below. And of course, you can share your NTF creations on social media - be sure to tag me (@nutritiontofit) on Instagram or post to the NTF Facebook page so I can see! Live well!
Healthy Honey Mustard Salad Dressing
This honey mustard salad dressing is delicious, healthy, and beyond simple with just three ingredients. It pairs great with salads, grain bowls, and family-friendly chicken tenders!
free from: egg, wheat/ gluten, soy, fish, shellfish, tree nuts, peanuts
Print
Pin
Rate
Ingredients
5

tablespoon

plain, nonfat Greek yogurt

2

tablespoon

yellow mustard

2

tablespoon

honey
Instructions
Whisk together all ingredients in a small bowl until evenly combined. (Alternatively you can shake them together in a sealed mason jar.)
Notes
One serving is 2 tablespoons.
For a spicy honey mustard dressing variation just combine ½ cup plain, nonfat Greek yogurt, ¼ cup dijon mustard, and ¼ cup honey. This will make 8 servings (2 tablespoons per serving).
Nutrition
Calories:
38
kcal
|
Carbohydrates:
8
g
|
Protein:
2
g
|
Fat:
1
g
|
Saturated Fat:
1
g
|
Cholesterol:
1
mg
|
Sodium:
74
mg
|
Potassium:
29
mg
|
Fiber:
1
g
|
Sugar:
7
g
|
Calcium:
20
mg
|
Iron:
1
mg