This honey mustard chicken salad is an easy healthy salad recipe with a sweet, tangy dressing. It's a solution for meal prep lunches and easy, healthy weeknight dinners.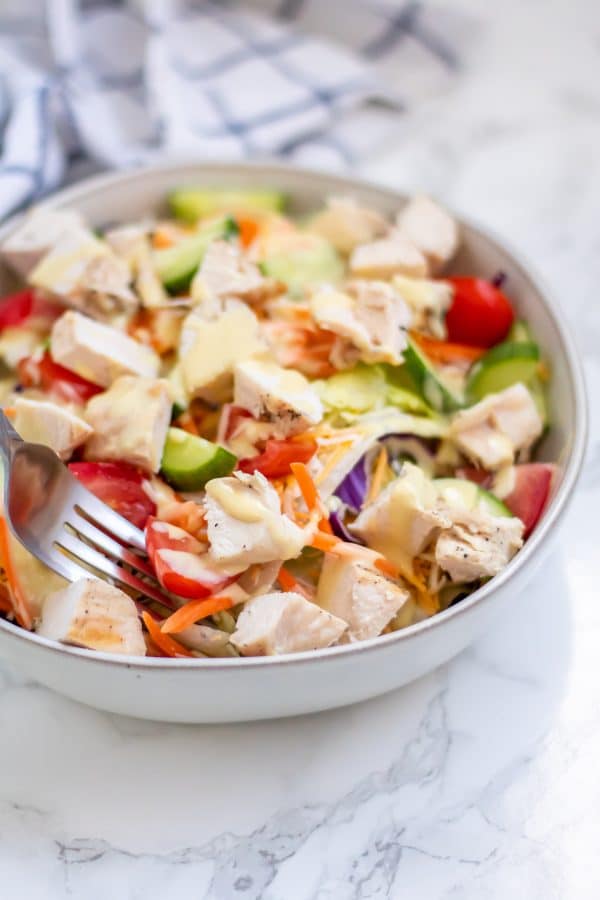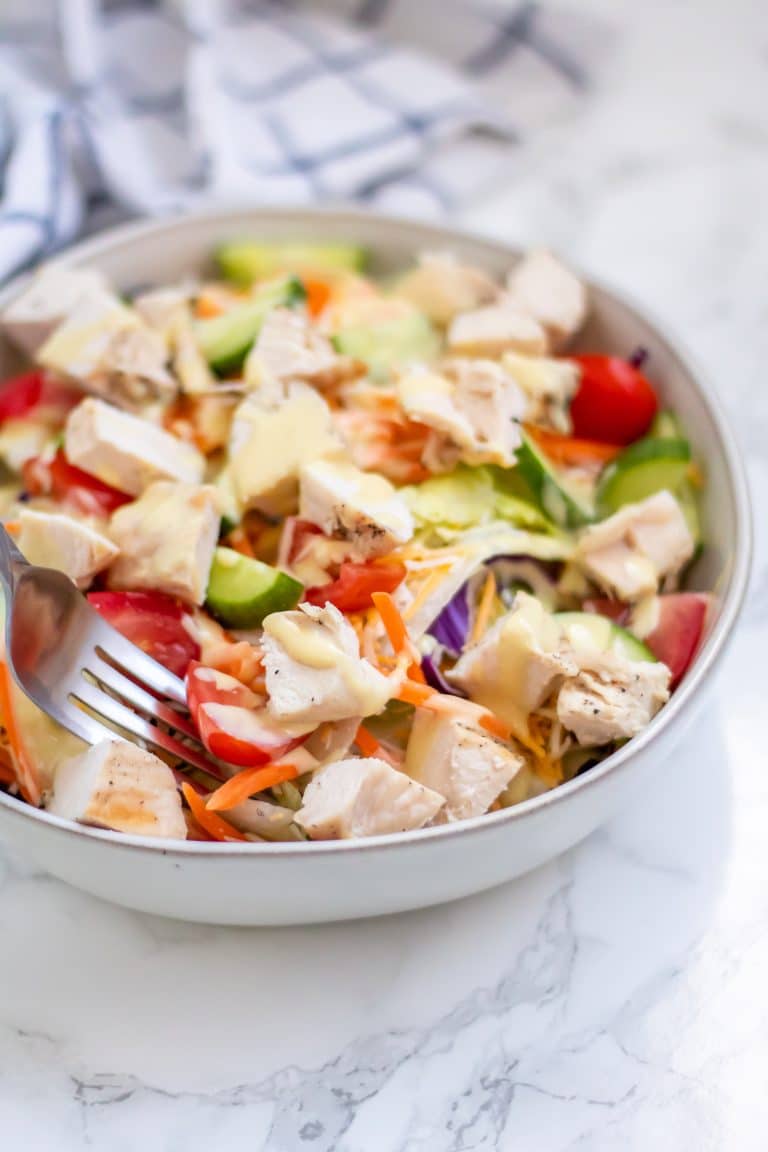 I love a good salad! But at least in this stage of life (toddler, baby, business baby, etc.) I need to keep things as low-maintenance as possible. So while salad recipes that include five mini recipes sound great (you know - the dressing recipe, the chicken recipe, the crouton recipe, the candied nut recipe, the cheese crisp recipe, etc.), that is just NOT in the deck for me right now. Which is why I am ALL ABOUT the tasty simplicity of this honey mustard chicken salad.
I mean, y'all - I had to boil water for rice TWICE the other night because the baby got so needy the first time that by the time I got back over to pour the rice in the water had all evaporated!
This is why, as a dietitian, I am always trying to help my clients focus on making small changes doing their personal best in each individual moment - not always necessarily THE best.
For example: maybe some weeks you have time to grill some chicken breasts at home for a protein to easily add to meals (just like this honey mustard chicken salad!). But maybe other weeks get crazy and the only thing separating you from making this salad at home and grabbing a similar one in a drive thru is buying a rotisserie chicken or pre-cooked grilled chicken strips. Or maybe some days getting a salad through a drive thru IS doing your best - and that's okay, I've been there, too!
Honey Mustard Chicken Salad
And speaking of drive thru, like I mentioned in my greek yogurt honey mustard salad dressing post, that dressing and this salad were inspired by the classic grilled chicken salad with honey mustard dressing at a fast casual-ish restaurant called PDQ. When I was pregnant, that salad was my obsession! And while I have zero regrets about enjoying that salad almost weekly towards the end of my pregnancy, I knew it was SO simple, I had to try to make it ourselves.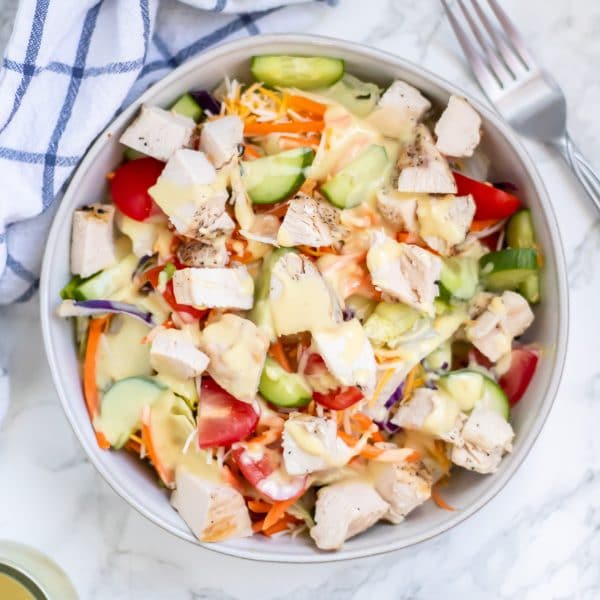 Honey Mustard Chicken Salad Ingredients
GREENS: I kept it simple with a 12 oz package of "crisp greens" - a blend of iceberg lettuce, romaine lettuce, carrots, and red cabbage. You can 100% use whatever type of leafy greens you prefer or have on hand. Just know that (obviously) using something like a baby kale greens salad blend will change up the finished salad a bit more than using all chopped romaine.
CHICKEN: I love to meal prep some grilled chicken breasts on the weekends to quickly add as a protein source to a variety of meals. This is one of those meals. Alternatively you can bake, roast, or pan-sear chicken or even buy pre-grilled chicken strips or a rotisserie chicken. Keep it simple with what you have and what works for you - that's the easiest way to set up sustainable healthy habits.
CHEESE: I love a little bit of cheese on a salad for flavor, texture, and yes - nutrition! It's a way to add a little extra protein, fats to help make the salad more filling, and even some micronutrients like calcium. I used a colby monterey jack blend like in the PDQ salad that inspired this honey mustard chicken salad, but you can use what you love/ have/ prefer.
VEGGIE TOPPINGS: Again - I kept it simple and true to the inspiration salad with classic salad toppings like carrots, tomatoes, and cucumbers. For convenience (read: less chopping), I bought matchstick carrots and grape tomatoes. I also used a long, seedless, English cucumber out of preference for less cucumber seeds/ better texture.
HONEY MUSTARD DRESSING: Of course if you have a honey mustard dressing that you love, use that. But I had a hard time finding an affordable honey mustard salad dressing that was delicious and had ingredients I liked, so I made my own honey mustard salad dressing. And seriously - it couldn't get any easier with just three ingredients I always have in my kitchen!
Salad Meal Prep
While using some convenient ingredients make this a super easy weeknight dinner to throw together, I totally understand that fully preparing some meals to grab and take with you to work or school works for some people (my husband included!).
You can prepare this salad in advance, but I wouldn't recommend more than two days in advance for optimal freshness and taste. Be sure to prep the salad dressing in a small container on the side - if you go ahead and pour it on your salad, your lettuce may lose crispness faster.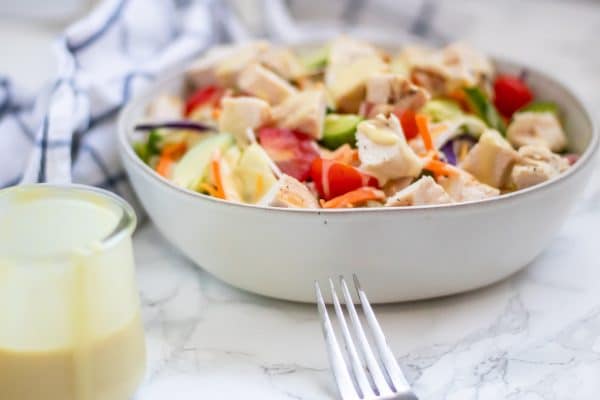 More Easy, Healthy Salad Recipes:
Try some of these other salad recipes from Nutrition to Fit:
Whenever you make an NTF salad (or any other recipe!) be sure to comment and rate the recipe! If you like, you can also share a picture of your NTF recipe creations to social media (tag me @nutritiontofit #nutritiontofit) so I can see and share with the community! And of course, save it to Pinterest for all your healthy living inspiration. 🙂 Live well!
Honey Mustard Chicken Salad
This honey mustard chicken salad is an easy healthy salad recipe with a sweet, tangy dressing. It's a solution for meal prep lunches and easy, healthy weeknight dinners.

free from: wheat/ gluten, soy, egg, fish, shellfish, tree nuts, peanuts
Ingredients
12

oz

salad greens (romaine & iceberg blend or your preference)

8

oz

grilled chicken breast

½

cup

matchstick carrots

½

cup

grape tomatoes, halved

½

cup

seedless cucumber, sliced

¼

cup

shredded colby jack cheese
Instructions
Combine all ingredients on two large plates or bowls. Drizzle the dressing over last, or making it advance, set dressing aside in a separate container. Enjoy!
Notes
Nutrition information uses the NTF healthy honey mustard salad dressing. Nutrition facts will vary with ingredient substitutions.
Nutrition
Calories:
281
kcal
|
Carbohydrates:
21
g
|
Protein:
32
g
|
Fat:
9
g
|
Saturated Fat:
5
g
|
Trans Fat:
1
g
|
Cholesterol:
86
mg
|
Sodium:
389
mg
|
Potassium:
999
mg
|
Fiber:
2
g
|
Sugar:
12
g
|
Vitamin A:
7815
IU
|
Vitamin C:
48.6
mg
|
Calcium:
172
mg
|
Iron:
2
mg