Pizza quinoa casserole is a one-pan, low-maintenance dinner - you don't even need to pre-cook the quinoa! Everything gets cooked at once in the oven, making one delicious, convenient, weeknight dinner. (It also makes for a great healthy freezer meal and meal prep option, too!)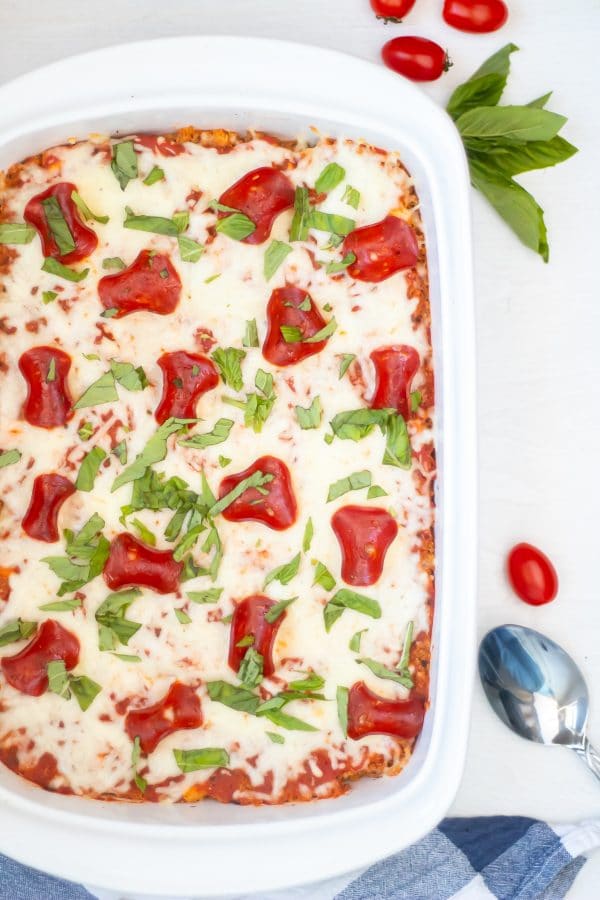 Pizza Quinoa Casserole with Chicken
This pizza-inspired quinoa casserole is all the things:
Balanced macronutrients (protein, fat, carbohydrates).
Minimal hands on time, making it really easy and quick to prep and get in the oven.
Creates fewer dirty dishes since everything is cooked at once (yes, even the quinoa!) which saves YOU more time!
If you're a fan of meal prep, you can pretty simply make this and then portion out your servings and pair with some vegetables for a more well-rounded meal.
It's freezer-friendly.
Oh, and perhaps more importantly - it's DELICIOUS!
Plus, if quinoa is a newer food to you or your family and casseroles/ mixed dishes aren't immediately refused, this pizza quinoa bake can be a fun way to share a newer food (quinoa) in perhaps a more familiar way (pizza).
Ingredient Substitutions and Swaps
While we love this pizza quinoa recipe as is, there are a few simple swaps that may make it more adaptable to your lifestyle:
Vegetarian: If you/ someone in your family is vegetarian, you can easily omit the chicken (it won't affect the cooking time/ recipe in any way, only will be missing the texture from the chicken and have a different nutritional profile). You also can try substituting something like cannellini beans or crumbled tempeh, if that's more your preference.
Dairy-Free: The only source of dairy in this recipe is the cheese. If you prefer a cheeseless "pizza", just omit the cheese topping and double the tomato sauce topping. Alternatively you can substitute your favorite dairy-free cheese (like Daiya "cheese" shreds).
Vegan: Use both the above changes.
Toppings: Go with your preference! While generally it's advisable to limit intake of processed meats like the turkey pepperoni, if your family loves pepperoni on pizza you can totally enjoy it occasionally. Once the cheese is on top, you can treat it like any pizza and add all your favorite toppings: bell peppers, mushrooms, onions, prosciutto, spinach, etc.
Meal Prep & Freezer Meal Instructions
To meal prep this pizza quinoa casserole with chicken, make the entire recipe as is and then portion out for your meal prepped meals. Be sure to pair with a big salad or some vegetables (keep it simple by steaming some frozen veggies).
If you're preparing the entire recipe in advance for your freezer, bake the pizza quinoa base (the quinoa, water, sauce, chicken, spices). Fluff, smooth, and allow cool. Once cool, top with your sauce layer, cheese, and toppings, then tightly cover and transfer to the freezer. When you're ready to enjoy, just thaw it overnight in your refrigerator and bake at 375 degrees to heat through.
Alternatively, you can freeze the entire casserole already fully made or freeze it in individual servings to have ready for last-minute work lunches or DIY frozen dinners.
We like to do both meal prep and freeze. We make the casserole fully, eat a couple portions, save a couple portions for our lunches, and then freeze the second half for another dinner/next day lunch combo in the future.
Want More Easy, Healthy Meals?
Try some of these NTF faves:
Pin this recipe for later and share it with any friends who may enjoy it, too! When you make a recipe, please be sure to leave a comment and rate the recipe below. And if you take a picture of your NTF recipe creation, share it on Instagram and tag me (#nutritiontofit and @nutritiontofit) - I love seeing you guys try my recipes and have fun in the kitchen! Live well!
Pizza Quinoa Casserole
Pizza quinoa casserole is a one-pan dinner that doesn't even require pre-cooked quinoa! Everything gets cooked at once in the oven, making one delicious, convenient, weeknight dinner. (It's a great healthy freezer meal and meal prep option, too!)

free from: wheat/ gluten, soy, egg, fish, shellfish, peanuts, tree nuts, dairy optional
Ingredients
Casserole Base:
1

cup

quinoa

(uncooked)

1

cup

tomato sauce

2

cups

water

2

cups

chopped boneless, skinless chicken breast

(approx. 1 lb - chop into small, half-inch cubes)

½

teaspoon

dried basil

½

teaspoon

dried oregano

½

teaspoon

garlic powder

½

teaspoon

salt

½

tsp

black pepper
Casserole Toppings:
½

cup

tomato sauce

1

cup

shredded part-skim mozzarella cheese

1

oz

turkey pepperoni (optional)

¼

cup

fresh basil, julienned (optional)

any other desired "pizza toppings" (i.e. mushrooms, peppers, onions, spinach, etc.)
Instructions
Preheat oven to 375 degrees.

Combine all "casserole base" ingredients in a 9x13-inch baking dish. Cover tightly with foil and bake for 60 minutes.

Remove casserole from oven and fluff the quinoa mixture with a fork. Smooth into an even layer.

Spread the top of the casserole with a thin layer of tomato sauce and top with cheese and any desired pizza toppings (like turkey pepperoni).

Place back in the oven (uncovered) and bake an additional 10 minutes until cheese is melted.

Top with any fresh toppings, like fresh julienned basil, and enjoy.
Notes
Nutrition information is for the recipe as pictured, with turkey pepperoni and fresh basil.
To make dairy-free, substitute your favorite dairy-free cheese or omit entirely.
To make vegetarian, omit chicken (can substitute something else like cannellini beans).
Nutrition
Calories:
186
kcal
|
Carbohydrates:
17
g
|
Protein:
16
g
|
Fat:
6
g
|
Saturated Fat:
2
g
|
Polyunsaturated Fat:
1
g
|
Monounsaturated Fat:
1
g
|
Trans Fat:
1
g
|
Cholesterol:
37
mg
|
Sodium:
582
mg
|
Potassium:
432
mg
|
Fiber:
2
g
|
Sugar:
2
g
|
Vitamin A:
315
IU
|
Vitamin C:
3.8
mg
|
Calcium:
131
mg
|
Iron:
1.7
mg