This leftover turkey soup recipe is an easy slow cooker recipe that helps use your Thanksgiving turkey leftovers! It's light and versatile – use your favorite vegetables!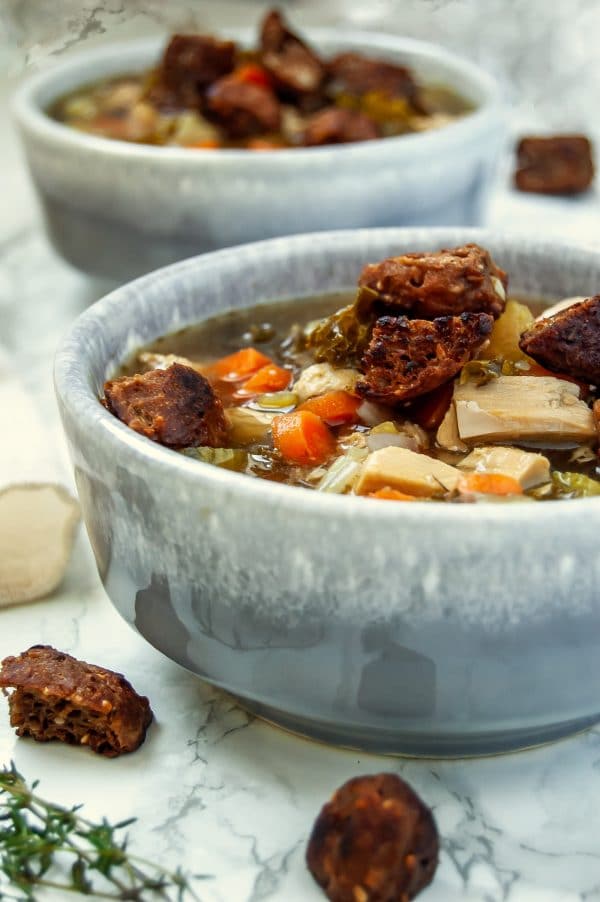 One of the best things about Thanksgiving is the turkey leftovers – namely because there is so much you can do with them! See, I enjoy Thanksgiving leftovers but mostly if I can repurpose them. So leftover mashed potatoes get an upgrade with mashed potato patties. Leftover turkey can of course go in sandwiches, or in my turkey BLT lettuce cups, or this new leftover turkey soup.
One of the reasons I love this leftover turkey soup is it's a versatile and forgiving recipe. I've made it a bunch of different ways depending on what vegetables I have or are on sale at the store. This version includes carrots, onion, kale, and zucchini. You can certainly add celery, corn, sweet potatoes, peas, tomatoes – canned or fresh!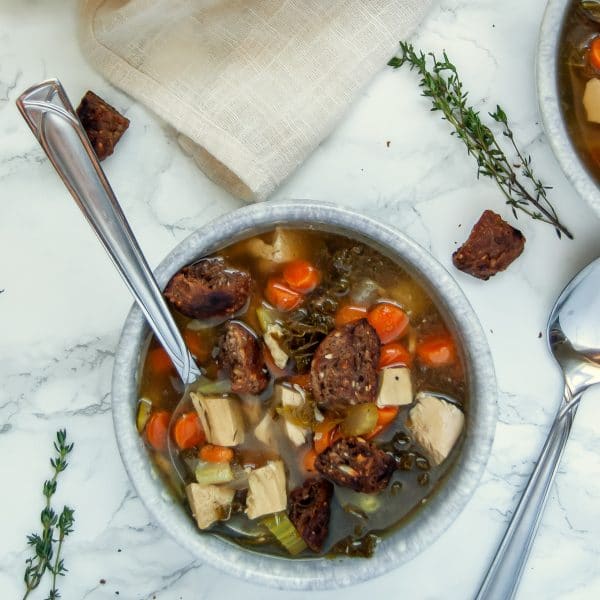 Easy Leftover Turkey Soup Recipe Tips
Does it matter what kind of turkey I use?
Nope – white, dark, whatever you have leftover! Just make sure to remove any skin/ bone from turkey pieces before chopping and adding to the soup.
Can I substitute other types of stock or broth?
Totally! I love to save my Thanksgiving turkey carcass/ bones and make a batch of slow cooker turkey stock. (Pro tip: if you're not going to have time to make it soon, you can always package up your carcass/ bones and toss in the freezer until you're ready to make stock). But you can totally use chicken or vegetable stock, or anything else you have as well. Heck, I've totally used a broth and water combo in this soup before when I've run out!
Does it matter what vegetables I use?
Not really – use whatever vegetables you enjoy. This slow cooker leftover turkey soup recipe is super accommodating to individual preferences/ food availability. I've shared what I did below, but generally I'd say you could do six cups of any chopped vegetables and two cups any chopped dark leafy greens.
Can I make this turkey soup on the stove top or in an Instant Pot instead of the slower cooker?
Yup! I don't have an Instant Pot, so I can't attest to specific timing instructions, but you can make it in the instant pot for sure. You also can cook on the stove top. Either add all the ingredients and let simmer for 30-60 minutes or you can even saute the vegetables first for an added layer of flavor.
What is the turkey soup garnished with?
Great question! I used some leftover whole grain Thanksgiving rolls and sliced into cubes and pan-fried into crispy croutons. No specific recipe, but a basic how-to is in the recipe notes below. You can also garnish with a spoonful of pesto, sliced avocado, or anything else that sounds great to you.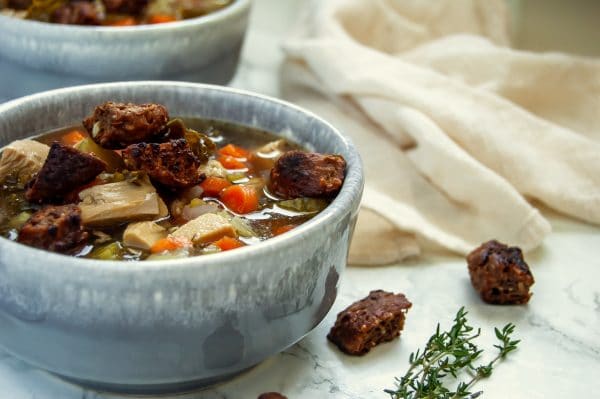 Want more easy, healthy soup recipes? Try my favorites!
When you give this easy leftover turkey soup a try, be sure to take a pic and tag me (@nutritiontofit and #nutritiontofit) on social media! And leave a comment and rate the recipe below too, to help share with others how it worked for you (especially with any modifications you made). Live well!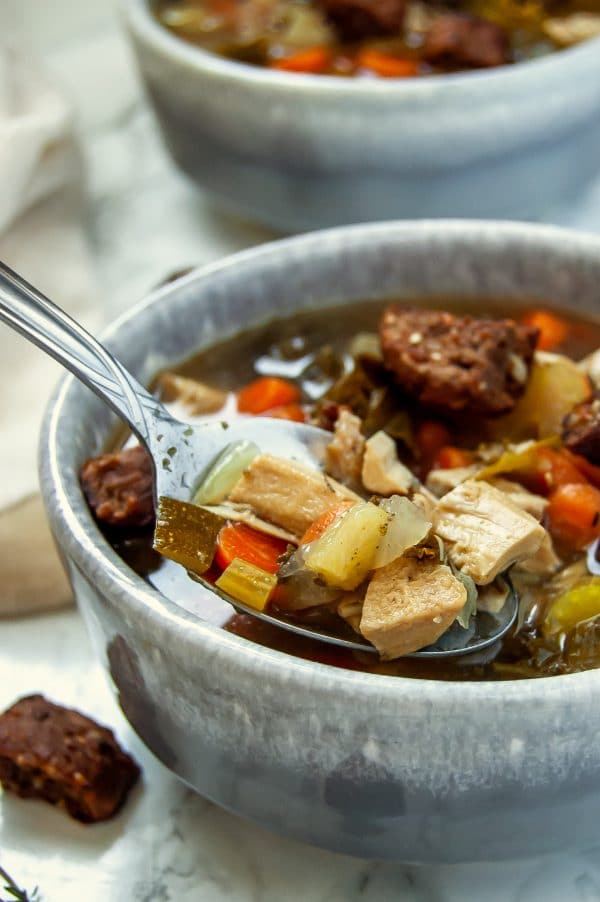 Easy Leftover Turkey Soup
This leftover turkey soup recipe is an easy slow cooker recipe that helps use your Thanksgiving turkey leftovers! It's light and versatile - use your favorite vegetables!

free from: wheat/ gluten, soy, dairy, egg, tree nuts, peanuts, fish, shellfish
Print
Ingredients
4

cups

turkey

chopped

2

cups

carrots

chopped

1

cup

onion

chopped

1

cup

celery

chopped

2

cups

zucchini

chopped

2

cups

kale

chopped

8

cups

low sodium turkey broth

1

tsp

ground thyme

1

tsp

ground sage

any desired garnish/ toppings
Instructions
Combine all ingredients in a slow cooker and stir. Cook on high for 4-5 hours or on low for 6-8.
Recipe Notes
Nutrition information is calculated based on ingredients I listed and used, but you can make this recipe with any 6 cups of vegetables you like, 2 cups of any dark leafy green, and any type of stock/ broth preferred. 
Leftovers can be stored in the fridge up to four days or can be frozen up to three months.
To top with pan-fried bread cubes: slice a leftover roll or slice of bread. Add to a skillet with a little oil or butter of choice and pan fry until crispy. 
Nutrition Facts
Easy Leftover Turkey Soup
Amount Per Serving
Calories 112
Calories from Fat 27
% Daily Value*
Fat 3g5%
Cholesterol 28mg9%
Sodium 131mg6%
Potassium 473mg14%
Carbohydrates 8g3%
Protein 13g26%
Vitamin A 4845IU97%
Vitamin C 12.6mg15%
Calcium 48mg5%
Iron 1.3mg7%
* Percent Daily Values are based on a 2000 calorie diet.