Make your own slow cooker turkey stock from your leftover turkey. It is the easiest homemade turkey stock recipe!
If you're into reducing your food waste, real food made with simple ingredients you control, and are budget-conscious, this easy slow cooker turkey stock recipe is for you!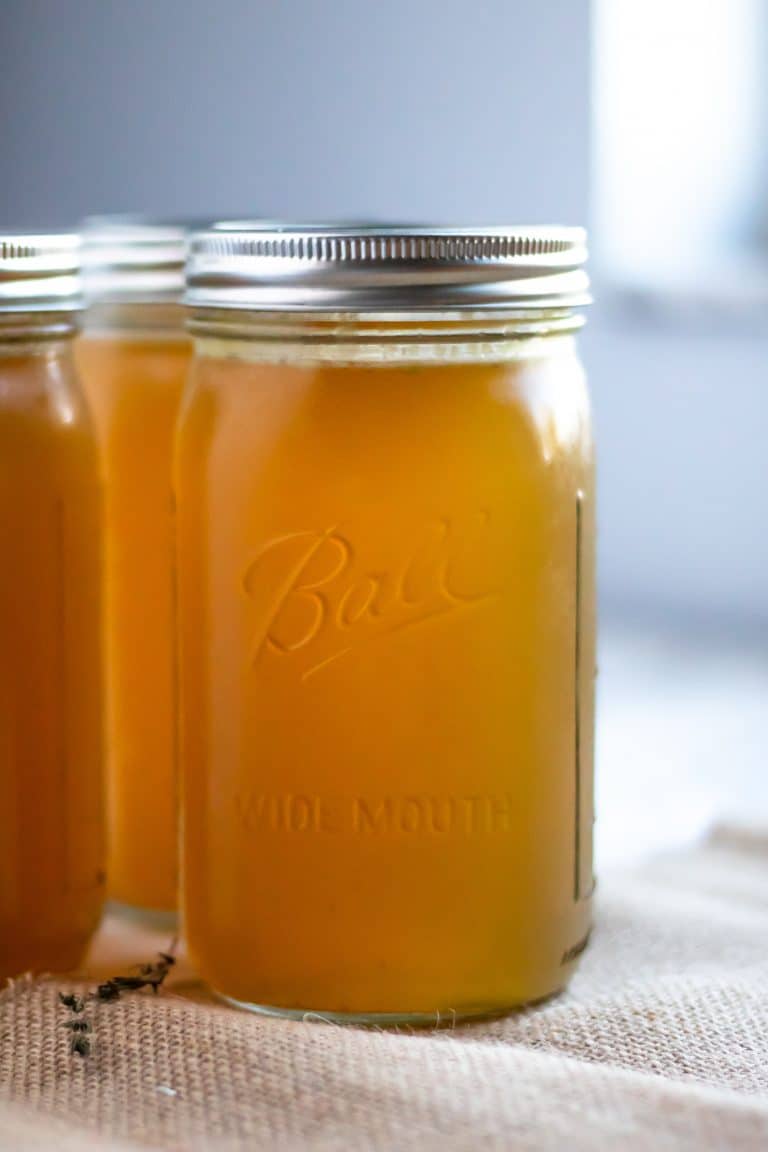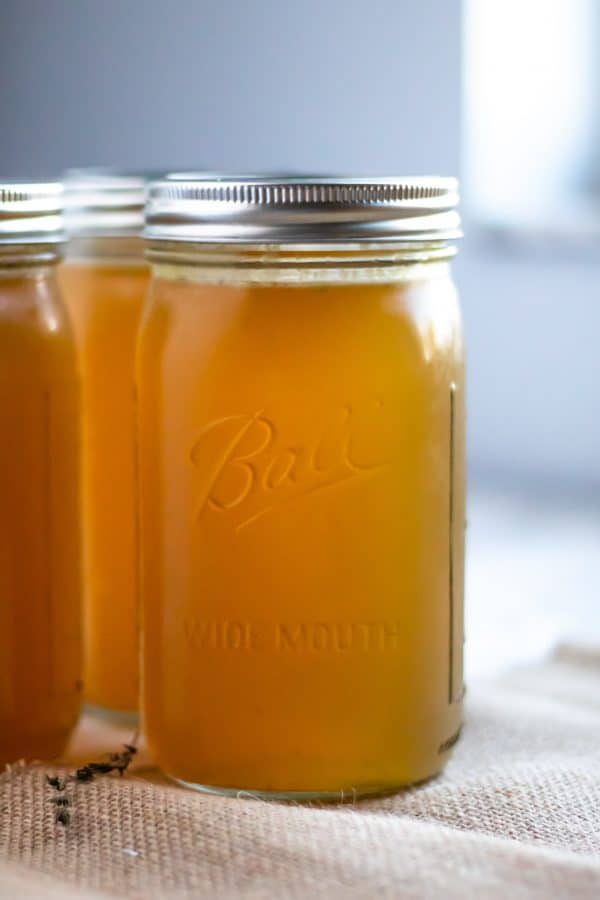 One of my favorite things to talk about as a component of healthy living is budget. Budget as part of a healthy lifestyle?! Isn't that contradictory? It doesn't have to be. See, y'all know I'm a big advocate of making your nutrition and healthy habits easy and personal to fit your life. One big area of health is stress management, and balancing your budget can 100% be included here!
One way I like to help manage my food budget is by avoiding food waste. For instance - insteading of throwing out the carcass from our Thanksgiving turkey, I used it to make the easiest slow cooker turkey stock! Not only am I utilizing the full turkey, but I'm saving money. I got 24 cups of turkey stock (with ingredients that I can control) without spending a dime more. For comparison's sake, a four cup container of stock at the store can often run around $2.50 or higher. This means I saved about $15 from having to buy stock in the near future, as I can freeze all this lovely turkey stock I made!
Health Benefits of Homemade Turkey Stock
Okay, so y'all now know how jazzed I get about saving a buck and wasting less food. 😉 But of course with a name like NUTRITION to Fit, obviously we need to chat about why making your homemade turkey stock can have some health benefits!
You can control your own ingredients. From herbs to vegetables, you are in control of what you put in your turkey stock! I've had some clients that have been sensitive to things like garlic or black pepper, or even celery! The beauty of homemade stock is you know exactly what's in it so it'll work for your needs and lifestyle!
Sodium: technically this can be filed under, "you can control your own ingredients" but sodium can be crazy high in boxed stocks. I personally prefer to not add salt to my stock and I can season it with each recipe I'm making to make each individual recipe tailored just so!
Glycine is a non-essential amino acid that is prevalent in animal bones. One of the best ways to obtain the maximum glycine benefits is to use your animal bones in a stock. Slow cooking it seems to really release the max amount of glycine.
It's possible to reduce the fat content if needed. I know some individuals with varying medical conditions need to watch their fat intake, and would prefer a broth that is lower in fat (although they're usually very low in fat to begin with). With homemade stock, once you refrigerate your strained stock, any fat molecules will collect on the surface and harden, making it super easy for you to skim off a thin, yellow, fatty layer if needed.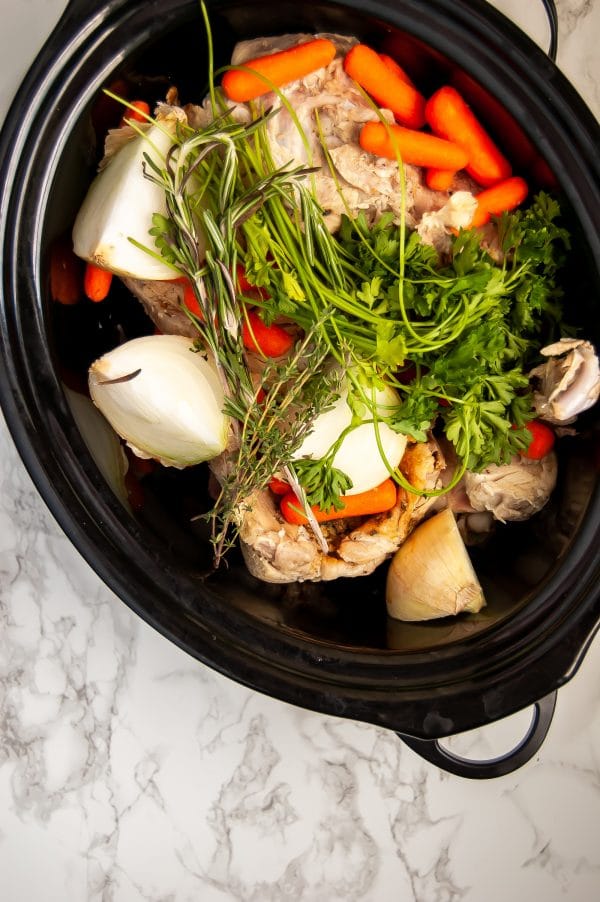 How to Make Slow Cooker Turkey Stock
While I've given more specific instructions in the recipe below, that's more for a better nutrition facts estimate. I usually never measure when making homemade turkey stock and follow these basic instructions:
Add your turkey carcass to your slow cooker (make sure you have a big enough slow cooker!).
Add any other ingredients you want to add. Things like carrots, celery, onion, herbs, garlic, etc. Bonus? Because you end up straining the stock, you don't have to peel any of your vegetables.
Fill the slow cooker with water.
Slow cook on low about 12 hours.
Strain the stock out of the slow cooker (we usually pour all the stock out of the slow cooker into a more manageable pitcher or bowl, then pour from there through a fine mesh sieve into our containers we'll be freezing.
Here's the fun part - do it again! Most animal bones can be reused for stock repeatedly (although typically with less flavor intensity in later rounds). I recommend no more than three rounds total for a turkey, although I typically just do two. The second round I usually slow cook on low for 24 hours.
If you are making soup and need to use it right away - great! Just refrigerate until you're ready to use it. If you're looking to make it in advance, I freeze mine.
Tips for Freezing Homemade Stock
Use whatever containers you have, no matter what size. You can even freeze in ice cube trays if you think you'll only need a small amount of stock for various future recipes.
I know not everyone realizes this, but you can totally use glass containers in the freezer! They're food-safe and freezer-safe!
Always leave an inch of headspace in your containers between the stock and the lip of the container. Your stock will expand as it freezes.
Depending on your freezer, homemade stock will last about 3-6 months in a regular freezer or 6-12 months in a deep freezer.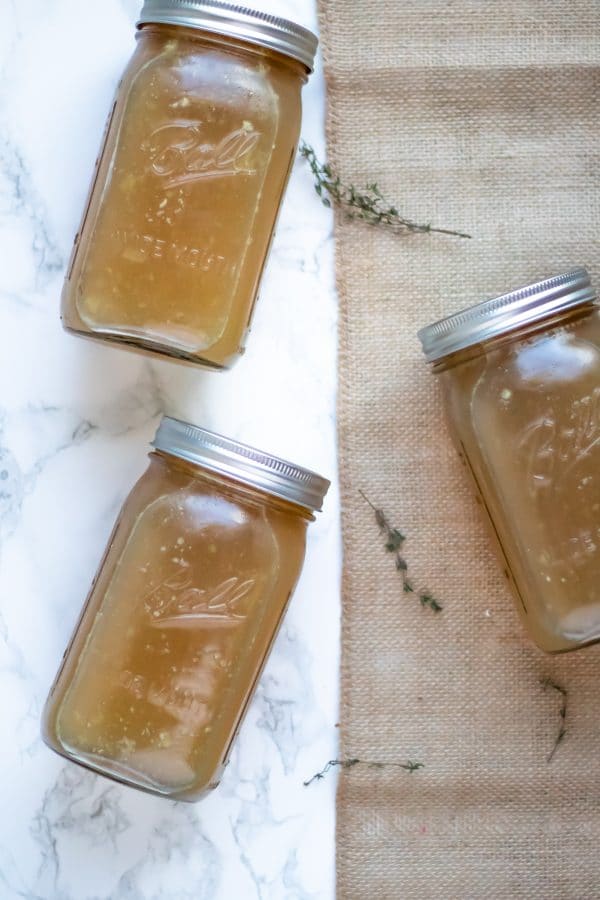 Recipes for Using Homemade Stock
If you make your own slow cooker turkey stock, let me know how it goes! And of course, if you have any questions, feel free to email me or ask in the comments below. Take a pic of your final product and post it to social media - tag @nutritiontofit and #nutritiontofit! Live well!
Slow Cooker Turkey Stock
Make your own slow cooker turkey stock from your leftover turkey. It is the easiest turkey stock recipe!
free from: wheat/ gluten, dairy, soy, egg, fish, shellfish, tree nuts, peanuts
Ingredients
1

turkey carcass

3

carrots

3

celery stalks

1

onion

6

garlic cloves

2

tablespoon

fresh rosemary

2

tablespoon

fresh thyme

2

tablespoon

fresh parlsey

12

cups

water
Instructions
Combine all ingredients in a large slow cooker. Cook on low at least 12 hours.

Strain stock and store in sealed containers in the fridge or freezer (see freezing instructions above).

If desired, add more water and repeat another round or two!
Notes
Nutrition information is a basic estimate per cup and will vary signficiantly based on exact ingredients used.
Nutrition
Calories:
41
kcal
|
Carbohydrates:
3
g
|
Protein:
3
g
|
Fat:
1
g
|
Cholesterol:
10
mg
|
Sodium:
31
mg
|
Potassium:
109
mg
|
Sugar:
1
g
|
Vitamin A:
2610
IU
|
Vitamin C:
3.9
mg
|
Calcium:
25
mg
|
Iron:
0.5
mg