This page may contain affiliate links. Read my full disclosure here.
There are a lot of myths about healthy eating, but one I'm always eager to bust? That healthy eating is expensive. Not true!
Sure - with some habits and at some stores (I see you, Whole Paycheck), it can be pricey! But it totally doesn't have to be. You can eat healthy on a budget with some simple strategies.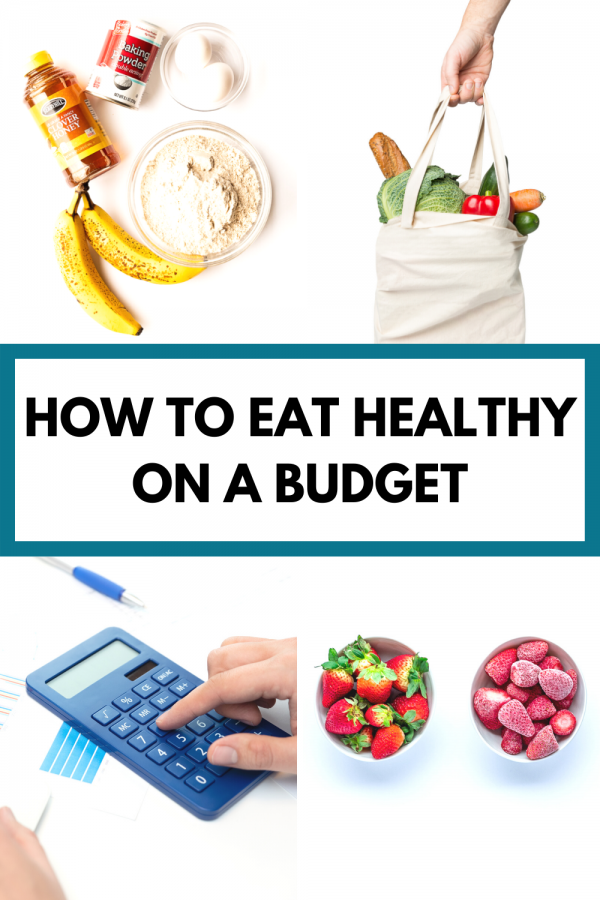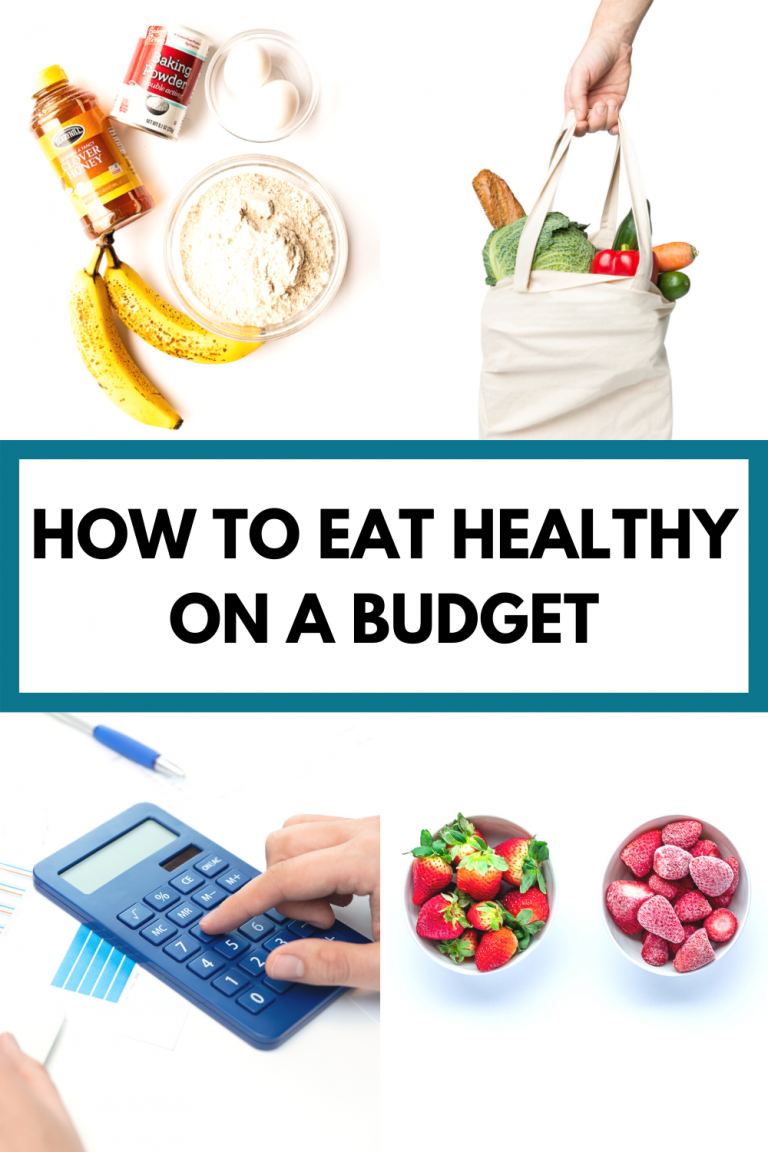 Make a Budget and Stick to It
Seems obvious, right? Actually making a food budget is your first step. If you're new to budgeting, see where your money is currently going each month. Then - make adjustments. Eating out all the time? Work to gradually decrease how often you eat out and you'll see your food budget drop, making healthy eating on a budget much simpler.
Stick to the Basics of Healthy Eating
There's always a new headline or fad diet making waves in the world of nutrition. But at the end of the day, the best thing you can do is consistently stick with the nutrition basics:
Vegetables
Fruit
Whole grains
Protein (lean animal proteins, dairy, legumes, etc.)
Healthy fat
Also, a note on organic food:
You don't have to buy organic. Do not feel guilty if you can't afford to buy organic (I don't). While some research says there may be minor benefits to organic foods, all evidence supports the fact that eating adequate fruit and vegetables (and other healthy foods) is far more important than whether or not they're organic.
Make a Plan and Stick to It
I know meal planning isn't everyone's cup of tea, but when it comes to healthy eating on a budget it's a great tool. When you go grocery shopping without a plan of what meals you're making it's way too easy to buy too much, even if everything is on sale. You can build flexibility into your plan (i.e. black beans, peppers, onions, tomato, spinach, salsa, and cheese can all be wrapped in tortillas for fajitas or cooked with eggs for a Southwestern frittata), but having a plan will absolutely help your budget.
Use Versatile Ingredients
Find your favorite ingredients that are simple, inexpensive, and versatile so you can use them lots of ways. Some of my favorites:
Tortillas (quesadillas, wraps, tacos, enchiladas, enchilada casseroles, homemade tortilla chips)
Eggs (scrambled, poached, fried, on avocado toast, in meal prep egg cups, in baked goods, in frittatas or egg bakes)
Beans (toss on salads, in soups, make homemade bean burgers, use in tacos or fajitas)
Frozen vegetables (steam, roast, add to soups and stews, add to omelets or scrambles)
Greek yogurt (use in my greek yogurt mashed potatoes, in sweet or savory yogurt bowls, in baked goods, in sauces, turn into chocolate yogurt)
Potatoes (mashed potatoes, roasted potatoes, breakfast hash, egg bakes, homemade french fries or potato wedges, soup)
Make Your Own Meals & Snacks
It's a lot cheaper to eat healthy on a budget when you're making your own meals and snacks, compared to eating out.
New to cooking at home and trying to eat out less? Start small:
Make your coffee at home and skip the pricey coffee shop stop.
Keep it simple. Make a batch of baked oatmeal, muffins, or chia pudding to pair with fruit and hard boiled eggs for easy breakfasts throughout the week.
Cook extra for dinner so you can pack the leftovers for lunch the next day.
Buy or make things like energy bars, fruit, and raw or dry-roasted nuts in bulk for snacks instead of having to hit up the vending machine or buy the same snack at a convenience store for a pricier-per-serving single serving package.
Shop Different Stores (Including Bargain Stores)
Shop the different stores in your area to learn how they price your staple grocery items. It's easy to just go to one store out of habit, but there may be a different store right across the street that has much better prices on staples like bananas, eggs, yogurt, etc.
Also? Don't be afraid to shop at stores known for a bargain. You can still get healthy groceries at places like ALDI and Walmart.
Even online! Sometimes you can find great prices of foods even on Amazon.
Try Curbside Pickup
If you're someone (or shops with someone) who tends to keep adding more things to your shopping cart that look new, interesting, fun, or just sound good in the moment, give curbside pickup a try. Some stores (like Walmart) offer pickup for free with a minimum purchase (often $30-35) and others offer pickup for a small fee ($4-5). But this can often still help keep purchases to your essentials, saving you money (and time!).
Be Loyal - Just Not With Food Brands
Loyalty is great for friendships but not your budget! Be open to trying different brands, including generic brands, of your go-to products.
Spoiler alert? Most generic brands are the exact same as one of the nationally-recognized name brands. Yep, I'm talking same ingredients, same farms/ ingredient sources, same manufacturing plant, etc. The generics are just packaged simpler and you're not paying for the brand's name on the label which is how you score a better deal.
Shop Sales
Take some time to check sales flyers before you go to the store to see which store has what on sale. Pro tip? Do this while you meal plan, so if you see an exceptionally good deal you can be sure to incorporate it into your meal plan for even more savings.
Eat Seasonally
You know how berries are often less expensive in spring and summer but more expensive in the fall and winter? Once you start perusing store flyers more regularly, you'll see that often by eating more seasonally you're able to get better deals. This is why things like berries are found at their best price in the summer and foods like spaghetti and butternut squash are usually better deals in the fall and winter.
Shopping seasonally can also allow you to shop local farm stands and farmer's markets. A note of caution, though: sometimes farm stands and farmer's markets can source really good deals, and sometimes you're not getting anywhere close to the best price.
Check Coupons, Store Apps, and Rebate Apps
This sounds cliche, I know, but if you can save a dollar here and there off foods you're already buying, what's wrong with that?!
Try apps like Ibotta and Rakuten. (Please note those are both referral codes. If you use my Rakuten referral code for your first purchase of $25 or more, you will get an additional $10 back!)
My only caution with these apps is to just be sure you're only using coupons on foods that you would buy normally. If you're buying a product just because of a coupon or sale but wouldn't normally buy or eat that product, you're actually spending more than you would given you wouldn't have bought the product at all without a coupon.
Store apps are more and more common and if one of your go-to stores has an app, download it. Many stores offer exclusive savings and coupons through their app. Example: if you're an Amazon Prime member who shops at Whole Foods, having the Whole Foods app is necessary. There are exclusive weekly sales for Amazon Prime members and Prime members also get an extra 10% off regular sale products that week by scanning the code in their app at checkout. It can definitely add up to more savings!
Buy in Bulk
If a store near you has a bulk section, price it out compared to the pre-packaged goods. I was shopping at a store once and picked up a pound bag of dried pinto beans for $1.49 (which obviously still isn't expensive in the slightest). Yet before I checked out I glanced through their bulk bins and found the same dried pinto beans for $1.29 per pound. By scooping the bulk beans myself I saved twenty cents a pound. For staple items, this definitely adds up!
Plus if you only need a small amount of an item (i.e. 1 cup dried barley for a soup recipe) you can buy only what you need instead of buying a larger bag of barley with leftovers you may not use.
Don't Fear Frozen or Canned Food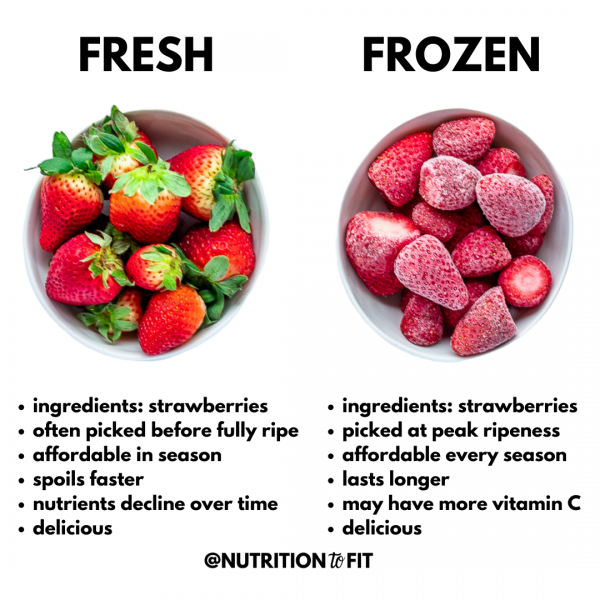 Healthy eating isn't just relegated for fresh produce and proteins. The frozen aisles are a great place to find frozen vegetables, fruits, and proteins. They can often be better prices than their fresh counterparts and are just as nutritious - sometimes even more nutrient-packed than their fresh counterparts, as foods are typically flash frozen within hours of harvesting to maintain peak freshness!
Canned food can also be highly nutritious. Check can labels to make sure they're BPA-free and choose options like beans and vegetables canned with no salt added and fruits canned in their own juices (not syrups). Canned beans, tuna, salmon, and chicken can also make inexpensive protein options.
Be a BOGO Buyer
In the same vein of not fearing frozen or canned foods, don't be afraid to freeze food yourself - it can be a huge help with healthy eating on a budget. I am a HUGE fan of stocking up on foods when they're on great sales, like buy one, get one free (BOGO). Animal proteins can definitely eat up more of your budget, so if you consume them buy them when they're on great sales and freeze the extra.
This is also a great way to avoid food waste. If you weren't able to eat all the fresh berries or spinach you bought BOGo before they start looking slightly less prime, go ahead and freeze them. They will still taste great and add nutrition to sauces and smoothies!
Balance Shopping for Budget and Convenience
I'm all about making healthy eating a little more convenient and accessible, but when you're on a budget you need to balance budget and convenience. So sure, a pound of dried beans is going to be incredibly economical - but only if you actually use them. If you know you don't have the time or resources to cook dried beans, you can buy the more convenient canned beans for a more convenient option if the budget allows (and still cheaper than animal proteins).
Buying pre-chopped vegetables and fruits will definitely cost you more than buying their whole counterparts and coming home to chop and prep yourself. Figure out what works best for you and your family, but in general if you're willing to sacrifice a small amount of convenience, you can fit more healthy foods in your budget.
Budget for New or Fun Foods
As long as you've got your staple foods covered and the budget allows, there's no reason to not include one or two fun or new foods in your budget each week. Maybe this looks like picking up a box of your favorite sparkling water, a bottle of wine for an at-home date night, or that new seasonal flavor of gelato that just came out and looks insanely delicious! Maybe you bring your kids with you to the store each week and let them each pick out a new fruit or veggie to try.
As long as the budget allows, creating room for fun and/ or new foods can be helpful in making both healthy eating and sticking to a budget more enjoyable and sustainable - a true lifestyle.
Do you have any other tips to add? Leave a comment and share your go-to tips for eating healthy on a budget!
If you like this post, please share it with a friend! And be sure to follow me on Instagram, Pinterest, and Facebook, too!