Peanut butter & jelly bites are an easy, healthy back-to-school snack recipe that kids of all ages love! Peanut allergies? Simply swap peanut butter for sunflower seed butter!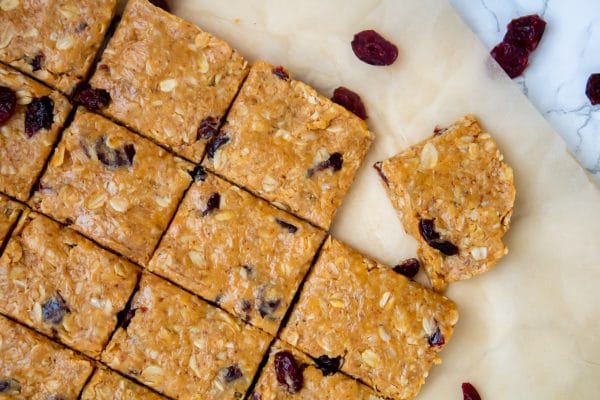 It's back-to-school season which always makes me think of two things: snacks and PB&Js! So this recipe for peanut butter and jelly bites (or energy bars - your choice!) is the best of both worlds!
Now before we get any further, I do want to preface this with a note about allergies. If you're planning on sending these PB&J energy bites to school with your kids or serving to their friends in your home, please double check beforehand! Some schools (elementary and daycares/ preschools, especially) are either totally peanut-free or have dedicated peanut-free classrooms to maintain a safe learning environment for students. If that's the case, you can still make these energy bars (if homemade snacks are allowed). Just substitute sunflower seed butter or another safe peanut butter alternative of your preference.
Check out some food allergy-related posts I've written before: How to Manage Food Allergies, A Letter to Food Allergy Skeptics, Food Sensitivities & Allergies: It's Okay When All Foods Don't Fit, and Navigating the Holidays with Food Allergies & Health Conditions.
In fact, as much as we are big peanut butter lovers in my house, we're likely going to be making this recipe with sunflower seed butter for the near future as baby boy was just diagnosed with a few food allergies, including to peanuts. I could totally see my peanut butter-obsessed two-year-old touching the baby (she is so sweet and affectionate to him!) and accidentally getting peanut butter on his hands, which are in his mouth constantly at this stage! Better to be safe than be sorry!
And just to clarify - with honey in this recipe, it is not appropriate for infants under age 1 year, as their digestive tracts are not mature enough for honey yet.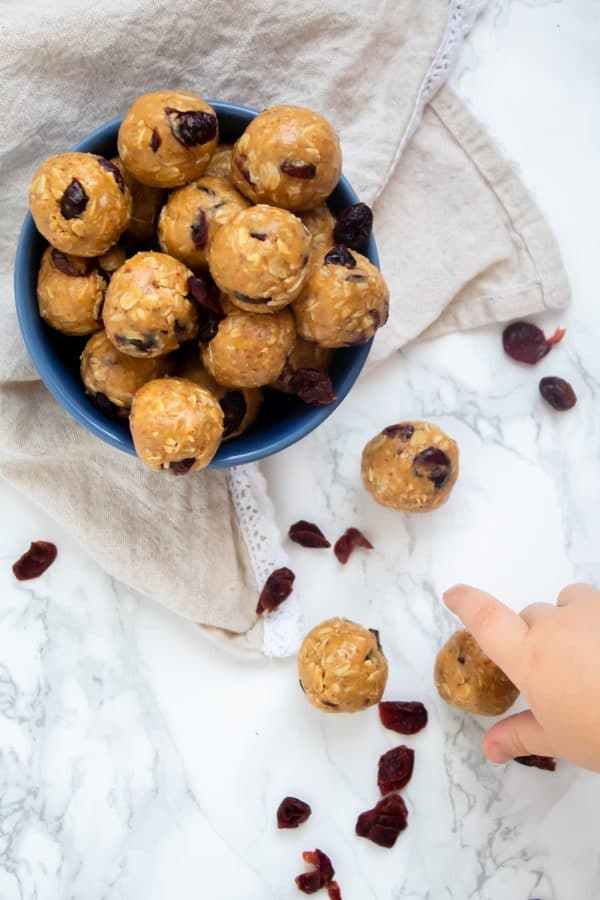 What You Need to Make PB&J Bites
As far as this recipe, it's pretty simple! All you need is five ingredients: peanut butter, oats, flaxseed, dried cranberries, and honey. This makes a little bit sweeter of an energy bite with the addition of honey, but still makes for a wholesome and nourishing snack, after-meal something sweet, or even a pre-workout bite.
How to Make Peanut Butter & Jelly Bites
To make the PB&J bites, it's quite simple: combine all of the ingredients and then let them chill in the fridge for ten minutes to allow the "dough" to firm slightly. Then, using a tablespoon, just scoop and then use your (clean!) hands to roll into balls. Store in the refrigerator or freezer!
How to Make Peanut Butter & Jelly Energy Bars
Think of these bars as kind of a no-bake soft granola bar. If you're someone who does not want to deal with rolling "dough" into balls, this method is for you! Line an 8x8-inch baking pan with parchment paper (it'll allow the bars to easily be lifted out to cut and will prevent sticking). Press the dough onto the parchment paper firmly, creating one even layer. Refrigerate for 10 minutes, then remove parchment and dough to a cutting board. Slice into twenty slices (3 cuts horizontally, 4 cuts vertically). Store in an airtight container in the refrigerator or freezer.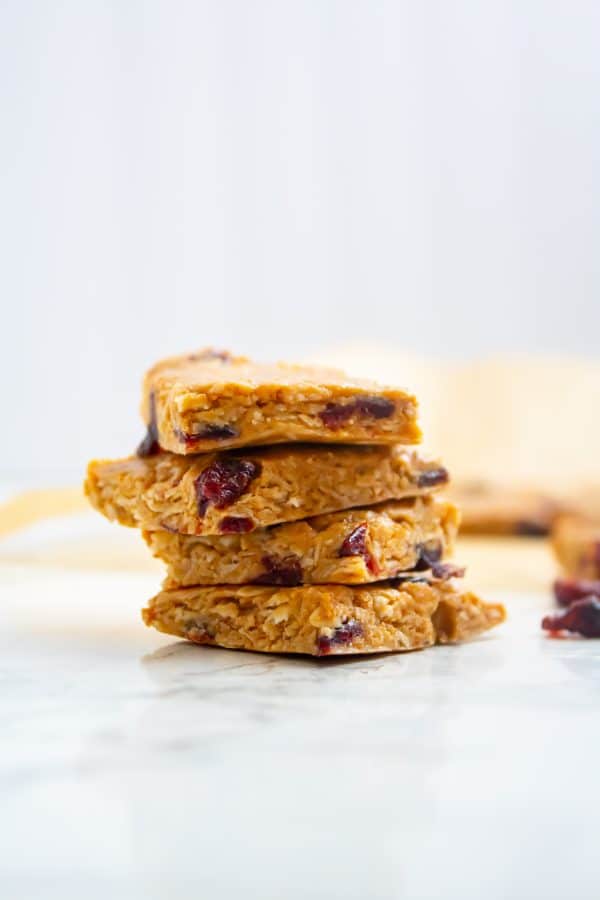 How to Store Energy Bites
Whether you make PB&J bites or energy bars, they can be stored in an airtight container and kept refrigerated or frozen.
How Long Will These PB&J Bites Last?
If these are as much of a hit in your house as they are mine...maybe 48-72 hours? 😉 All kidding aside, the energy bites or bars will last up to a week if kept in the refrigerator or a month if frozen.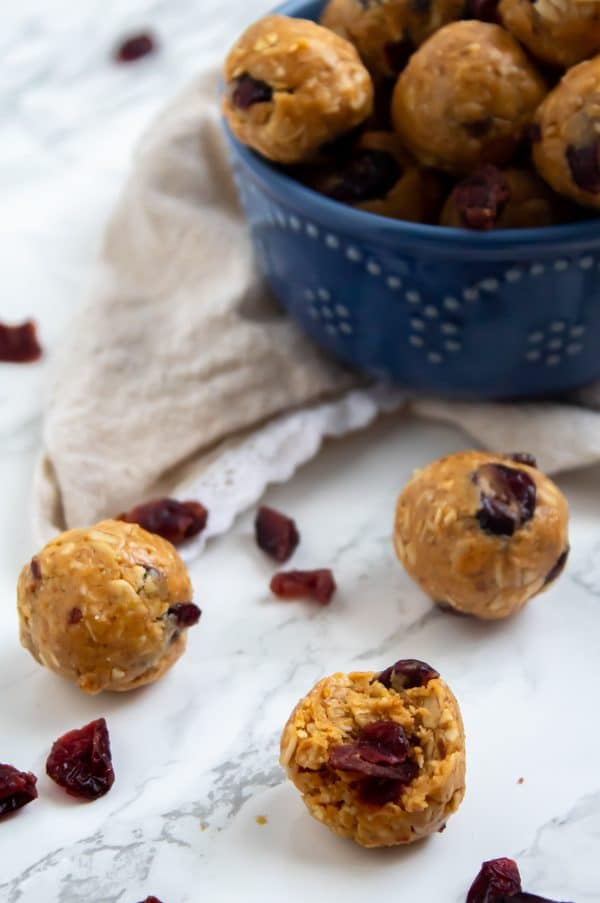 More Healthy Snacking Recipes
Looking for more recipes for healthy snacking? Try some of these other Nutrition to Fit favorites:
Share this recipe to Pinterest to make later and to Facebook or Instagram to share with your friends and family, too! If you loved this recipe, be sure to comment and leave a rating below. And of course, take a pic and share it to Instagram - be sure to tag me (@nutritiontofit #nutritiontofit) so that I can see your yumminess! Thanks y'all, and live well!
PB&J Energy Bites or Bars
Peanut butter & jelly bites are an easy, healthy back-to-school snack recipe that kids of all ages love! Peanut allergies? Simply swap peanut butter for sunflower seed butter!

free from: dairy, wheat/ gluten, soy, egg, fish, shellfish, tree nuts (can be peanut-free with sunflower seed butter substitute)
Print
Pin
Rate
Ingredients
½

cup

creamy natural peanut butter

(or seed butter substitute)

¼

cup

honey

1

cup

old-fashioned oats

(certified gluten free if needed)

¼

cup

ground flaxseed

¼

cup

dried cranberries

(or other dried fruit)
Instructions
Combine peanut butter and honey in a large mixing bowl. Stir in oats, flaxseeds, and dried cranberries.

Let chill in the refrigerator for 10 minutes.

For bites: Roll into tablespoon-sized balls (makes 20).

For bars: Line a 8x8-inch baking pan with parchment paper (to avoid sticking) and firmly press dough to cover the bottom. Remove the parchment paper holding the bar dough to a cutting board and cut into 20 pieces.

Store in an airtight container for up to one week in the refrigerator or up to one month in the freezer.
Nutrition
Calories:
82
kcal
|
Carbohydrates:
9
g
|
Protein:
3
g
|
Fat:
4
g
|
Saturated Fat:
1
g
|
Sodium:
31
mg
|
Potassium:
75
mg
|
Fiber:
1
g
|
Sugar:
5
g
|
Calcium:
10
mg
|
Iron:
1
mg