Does blending destroy nutrients? Some folks claim blending blending fruits and veggies (like in a smoothie or blended soup) lowers fiber and other nutrients. But is it true? Honestly no, but you don't have to take my word for it. As a registered dietitian, I'm going to share studies and scientific sources below, so if you like smoothies you can feel confident that they're an asset to your health.
What are Nutrients?
So we're all on the same page, lets chat nutrients real quick.
What are nutrients?
Nutrients are essential to the growth and maintenance of life. There are six nutrient categories:
Carbohydrates
Protein
Fat
Vitamins
Minerals
Water
You may hear folks talk about macronutrients (or "macros") -- these provide energy (calories) to our bodies and consist of carbohydrates, protein, and fat.
On the other hand, micronutrients (vitamins and minerals) do not provide energy directly, but are essential in every bodily process (include metabolizing).
Also important to this conversation is fiber. Fiber is a type of carbohydrate, but unlike carbs that are broken down into digestible sugar molecules, fiber is unable to be digested. Because of this, it passes through your GI system intact (yes, this is why you may have seen corn kernels in your poop before).
Does Blending Destroy Nutrients?
So, does blending destroy nutrients? In short, maybe a small amount, but nothing to be concerned over.
Typically when someone is saying that blending destroys nutrients, they're usually trying to tell you that blending causes increased oxidation of fruits and veggies, which causes nutrient loss (think of cutting an apple and how the cut surface browns - this is enzymatic browning, a type of oxidation reaction).
While technically this is true, the nutrient loss is not dramatic. Let's unpack it.
First of all, not all nutrients are antioxidants. So nutrient loss through oxidation is a non-issue with nutrients that aren't antioxidants, like B vitamins and fiber (more on fiber later).
And for nutrients that are antioxidants, like vitamin C, vitamin E, copper, zinc, and selenium, nutrient loss through oxidation takes time (according to the Produce for Better Health Foundation).
Nutrient loss is inevitable with food. Per the University of California, Davis, the moment a fruit or vegetable is picked, nutrient loss starts. Add in the time it takes for the food to get from plant/ tree to your plate, and you've added a little more nutrient loss. Any sort of preparation, like cooking, peeling, chopping for a salad - it will all involve nutrient loss.
BUT!!! It's all on a minor scale.
The net nutritional effect of drinking a smoothie is still positive.
In fact, one study found that consuming a 250-gram smoothie serving played a key role in helping different population groups achieve recommended daily nutrient intakes for vitamin C, minerals, and dietary fiber, minerals.
But let's talk a bit more about fiber.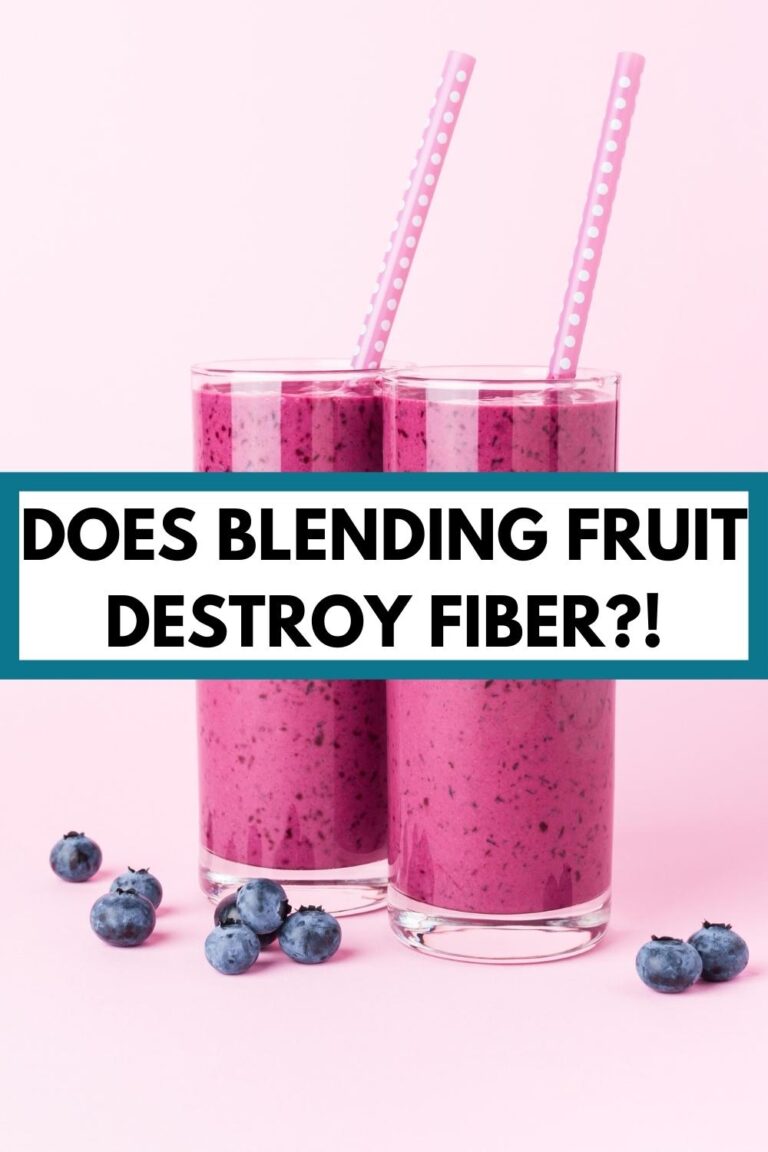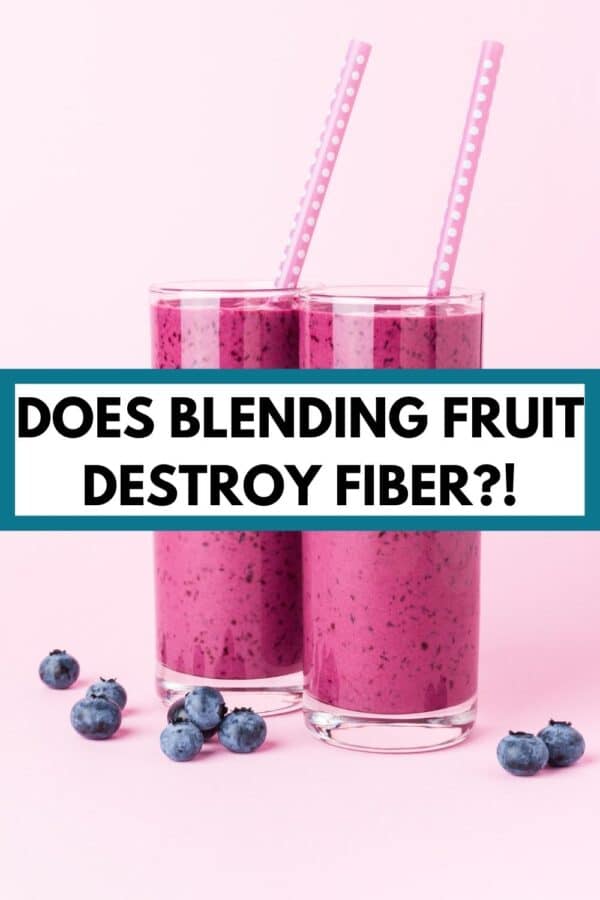 Does Blending Fruit Destroy Fiber?
Like mentioned above, fiber passes through your GI system intact. Which means it stands up to your teeth, molars, saliva, digestive enzymes, stomach acid, etc. And it remains unchanged.
So is a minute spin in a blender is going to destroy it?
Nope.
Again, you don't have to take my word for it because we do have some research that backs up fiber remaining in smoothies.
Do Smoothies Have Fiber?
Smoothies absolutely have fiber!
One study found cell walls are preserved during smoothie processing and retained during digestion.
Another study found fiber material was still present in the smoothies after processing.
Some of my favorite high fiber smoothies include my strawberry blackberry banana smoothie, orange strawberry squash smoothie, and chocolate veggie smoothie.
How to Add Fiber to Smoothies
Because fiber does remain intact during making and digesting smoothies, a smoothie can be a convenient way to help you meet your daily recommended fiber intake.
If you want to add fiber to your smoothies, try including high fiber foods, such as:
Fruits
Vegetables
Legumes
Whole Grains
Nuts
Seeds
For a more comprehensive list and high fiber smoothie recipe inspiration, check out my article on High Fiber Smoothies - the Ultimate Guide.
Blending Benefits
So we've established that there really isn't any legitimate concern to the claim that blending destroys nutrients, but are there benefits to blending?
Absolutely.
One study found that when offering smoothies, the fraction of students eating a full serving of fruit increased from 4.3% to 45.1%. They even concluded that it'd be beneficial for school districts to consider offering fruit smoothies to increase fruit consumption at schools.
And there was that other study we already mentioned that found smoothie intake helped different population groups achieve various recommended daily nutrient intakes.
Plus, to blanket say "blending is bad" or "blending destroys nutrients" is truly a bit of an elitist statement with roots in healthism and ableism. Many folks for many reasons may prefer or have to rely on blended foods like smoothies and pureed soups to help meet their nutrient needs - and that's perfectly acceptable.
With the CDC finding that 87.7% and 90% of American adults don't meet fruit and vegetable intake recommendations (respectively), there is zero reason to be discouraging fruit and vegetable intake in any form - including smoothies/ blended.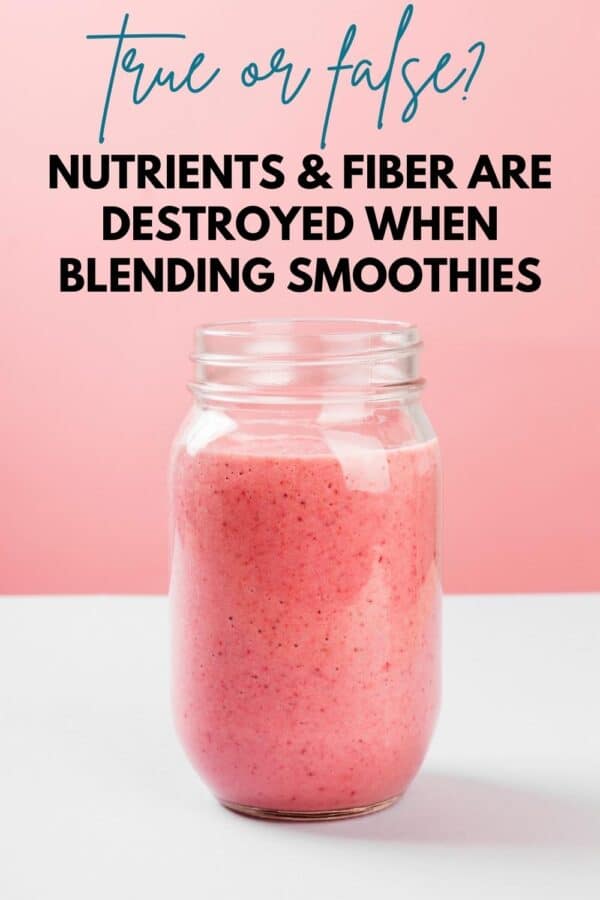 Final Thoughts
Small amounts of nutrient loss are inevitable with literally any food and any way of eating.
Does blending destroy nutrients? A very insignificant amount. There is still an overall net beneficial nutrient and health advantage to consuming smoothies.
Does blending fruit destroy fiber? No, and we have studies to prove that fiber content remains intact from the time you make the smoothie to it's fully digested.
TL;DR: If making smoothies or blending fruits and vegetables in any other form feels good to you, keep it up. There is no significant nutrient loss, and in fact you truly may be positively impacting your overall nutrition and health.
Still reading? Come join me on Instagram and let me know what you think of this article answering, "Does Blending Destroy Nutrients & Fiber?"