Have fun serving your kids this creamy, cheesy pasta with this take on Alfredo sauce - Cauliflower Alfredo Sauce!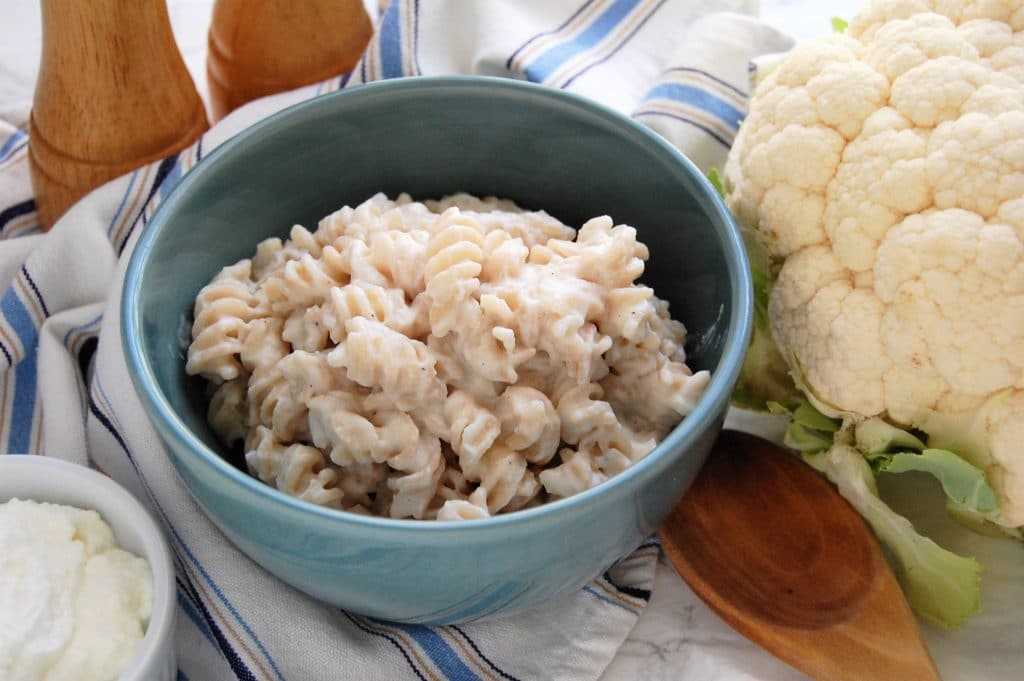 One request I get a lot is kid-friendly food. Now, I do want to clarify that my philosophy is that all food is kid-friendly food. Introduce your children to a variety of foods at a young age, and their palate will expand. When it comes time for dinner, mama makes one meal for everyone - no short order cooks here, we're all too busy to make more than one meal! So that means no back up cereal, peanut butter + jelly, or mac and cheese. Your kids will learn quickly that if they're truly hungry they'll eat what they're served. And if not, they may hunger strike a meal or two, but will likely more than make up for it and start eating like a grown man in the next day or two.
I'm also a huge fan of introducing different and new foods (and re-introducing over and over) in their unique form, so kids can learn to appreciate their food for what it is. That said!! I know a lot of moms who love the idea of sneaky veggies or hidden veggies, so if their kid will only eat cheesy pasta, for example, they know they're eating a few vegetables that have been pureed in. Heck, I love the same idea because personally I'm of the philosophy of the more plants the better and you can't go wrong with more veggies!
When I first made this recipe I just threw a few ingredients into the blender and it came out so amazing I knew that I was going to have to re-make it and record the measurements to share with y'all!
It's not dairy-free, as it uses fat-free or part-skim ricotta (I've made it both ways). The great thing about that though, is that it adds a little pop of protein, too (although you're welcome to serve this with white beans, tofu, shrimp, chicken, etc.).
If you and your kids aren't scared of color we've taken the base recipe you've seen below and added other veggies, too. I added a roasted red bell pepper once, you could blend cooked beets or carrots for a more yellow / orange "mac and cheese" type color, you can add tomatoes (grab a can from the pantry!) for a creamy tomato sauce, or even add a whole package of spinach like we did here.
Let me know if you play with it and and what your family finds your favorite extra veggies on. It's such a great base, and makes a good amount, too (I have grown to LOVE leftovers - either everyone has lunch the next day or half the batch goes in the freezer for an easy meal another night!).  Take care!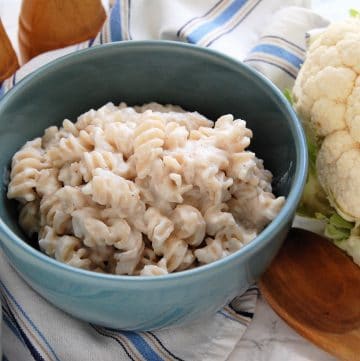 Ingredients
4

cups

cauliflower

about 1 small head of fresh cauliflower, although I've used frozen, too

1

cup

ricotta cheese

I've tested it with both fat-free and part-skim with good results

⅓

cup

milk

½

teaspoon

salt

½

teaspoon

garlic powder

½

teaspoon

lemon juice

⅛

teaspoon

black pepper
Instructions
Steam cauliflower (you can use a microwave or a steamer in a pot on the stove top - it'll take about 5-7 minutes using frozen cauliflower in the microwave and 8-10 minutes in the steamer on the stove top).

In a high-speed blender or food processor puree all the ingredients together.

Sauce can be served immediately over pasta or veggie-noodles, or can be frozen for 1-2 months for a future meal.
Let's hang out!
Instagram @nutritiontofit | Twitter @nutritiontofit | Facebook @nutritiontofit