This kid-approved creamsicle clementine smoothie is creamy, sweet, delicious and packs in a little protein and a vegetable!
Happy Labor Day! While I know today is not technically the official end of summer, it seems like it's the unofficial assumed farewell bash to the summer season. So while I admittedly have already been indulging in warm oatmeal breakfasts and pumpkin everything, let's take today to savor the flavors and fun of summer one last time!
This creamsicle clementine smoothie is one that I've been dreaming of for a long time. The flavors of a creamsicle, a kid summertime favorite, are so easily replicated here, making it super kid-friendly. First of all, what kid doesn't love the little cuties? I work with families and kids all day, every day and one of the favorite fruits I hear about are these beloved little clementines.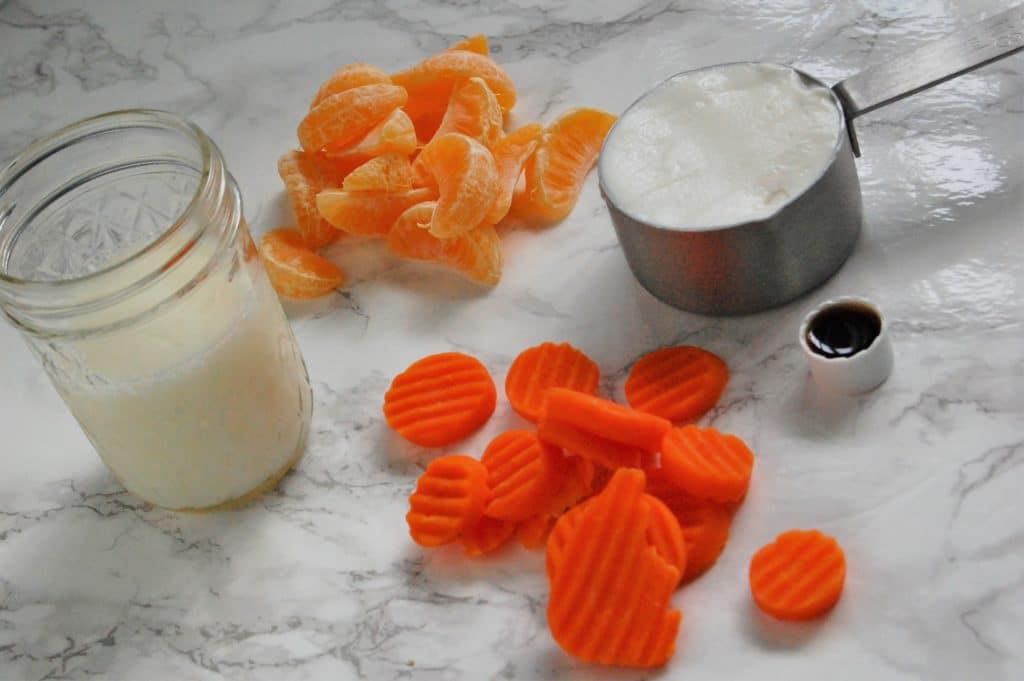 Should You Hide Vegetables in Your Kids' Food?
I also hear daily concerns about picky eating, particularly with vegetables. So let's chat about "hidden vegetables" or "sneaky veggies" for a minute. I know the topic of "sneaking" and "hiding" vegetables is one that comes with a lot of mixed feelings. I've worked with parents who really like the concept of hiding veggies and swear it's the only way to get their kids to eat vegetables.
But we need to play the long game here. The little victory you feel when you sneak a veggie into your kids' food is temporary, it's based on the immediate gratification of getting vegetables in your kid in this moment. But long term, it's not helping your child's relationship with food and vegetables. And if your child finds out that you snuck vegetables into their food without them knowing, it can lead to feelings of mistrust, which can be far more lasting and damaging than a season of eating vegetables.
That said, I'm not opposed to adding vegetables into things like sauces, smoothies, grated in meat dishes, and more. My caveat? Have your kids be part of the process. Let your child help you dump the ingredients in a blender. Maybe they'll see the carrots and go, "ew, these are gross!" but then when they add other ingredients they love (clementines, vanilla yogurt), they may be more willing to give it a try. This way there are no secrets, no deceit, and your child may get more curious about trying something new to them.
How to Make This Creamsicle Clementine Smoothie
Prep your ingredients, first. For the fruit, just peel the clementines. Carrots require a little extra effort, as I find they blend significantly easier when they are steamed and then cooled. The easiest way to do this is steam carrots for dinner one night, and steam extra that you can save for the smoothie.
Using a low fat or fat free vanilla Greek yogurt adds an extra little punch of sweetness, creaminess and protein. I added a little skim milk to my smoothie to have a thinner, smoother consistency and add an extra few grams of protein. If you prefer your smoothies thicker, you can always omit the milk!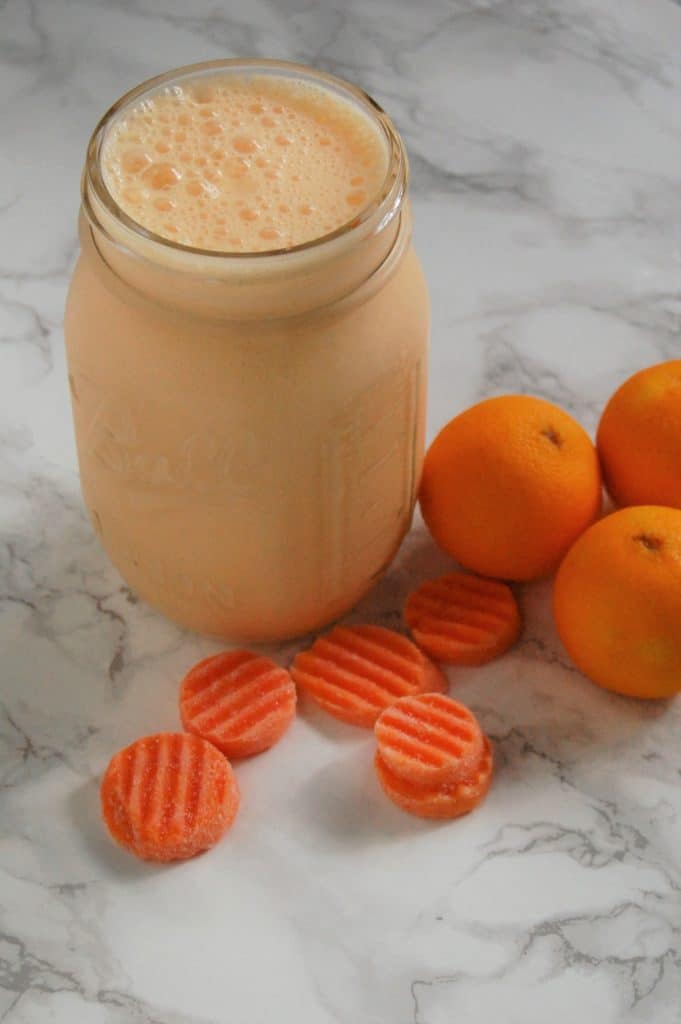 For more fruit and vegetable smoothies, check out the NTF 5-a-Day Green Smoothie and some of these smoothie recipes:
I hope you and your families enjoy this smoothie as much as we did! Have a healthy, fun last few days of summer!
Be well!
Lindsey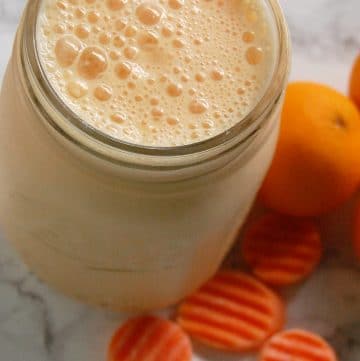 Clementine Cutie Creamsicle Smoothie
This smoothie is creamy, sweet, delicious and packs in a little protein and a vegetable! Kid-approved!free from: wheat/ gluten, egg, fish, shellfish, soy, peanut, tree nuts

Print
Pin
Rate
Ingredients
½

cup

steamed and cooled carrot slices

½

cup

orange or Clementine segments

½

cup

vanilla Greek yogurt

½

cup

milk

optional – omit for a thicker smoothie

½

teaspoon

vanilla extract

1

cup

ice cubes
Instructions
Blend all ingredients in a blender, serve and enjoy!
Nutrition
Calories:
182
kcal
|
Carbohydrates:
31
g
|
Protein:
14
g
|
Fat:
1
g
|
Saturated Fat:
1
g
|
Cholesterol:
6
mg
|
Sodium:
131
mg
|
Potassium:
564
mg
|
Fiber:
2
g
|
Sugar:
27
g
|
Vitamin A:
10942
IU
|
Vitamin C:
22
mg
|
Calcium:
182
mg
|
Iron:
1
mg