Check off five servings of fruits and vegetables in your day by following the NTF 5-a-Day Green Smoothie guide! Completely customizable.
In the social media world of wellness and nutrition with bright, bountiful Instagram images of fruits and vegetables aplenty, it can be really easy to forget that most people are not consuming enough fruits and vegetables every day. In 2017 the Centers for Disease Control released a study sharing that only 1 in 10 adults meet federal fruit and vegetable intake recommendations (1). Only 10%!!! And that's just meeting minimum recommendations, not surpassing for more optimal fruit and veggie intake - which many find beneficial and help them feel their best!
Adequate fruit and vegetable intake is so important. The World Health Organization states increasing fruit and vegetable consumption reduces the risk of noncommunicable diseases like cardiovascular disease and certain types of cancer (2). In 2013 they estimated 5.2 million deaths worldwide were due to inadequate fruit and vegetable intake. Between all the vitamins, minerals, fiber, antioxidants, plant sterols, flavonoids, and other benefits, consuming a variety of fruits and vegetables is critical for intake of essential nutrients and health.
And honestly? Even with my clients who feel like they're already trying to practice many health-enhancing behaviors, I find many are still not consuming the minimum recommended amount of fruit and vegetable servings daily. Which is where my NTF 5-a-Day Green Smoothie comes into play!
I understand smoothies aren't loved by all, and that's okay. But if you like smoothies, give this recipe guide a shot. If you're on the fence about smoothies or are finding yourself really struggling to meet minimum fruit and veggie intakes, try it. The beauty of this smoothie guide is that you can totally tailor it to your favorite flavors...and I'll even share my favorite veggies that don't have a big impact on the smoothie's flavor, too. 😉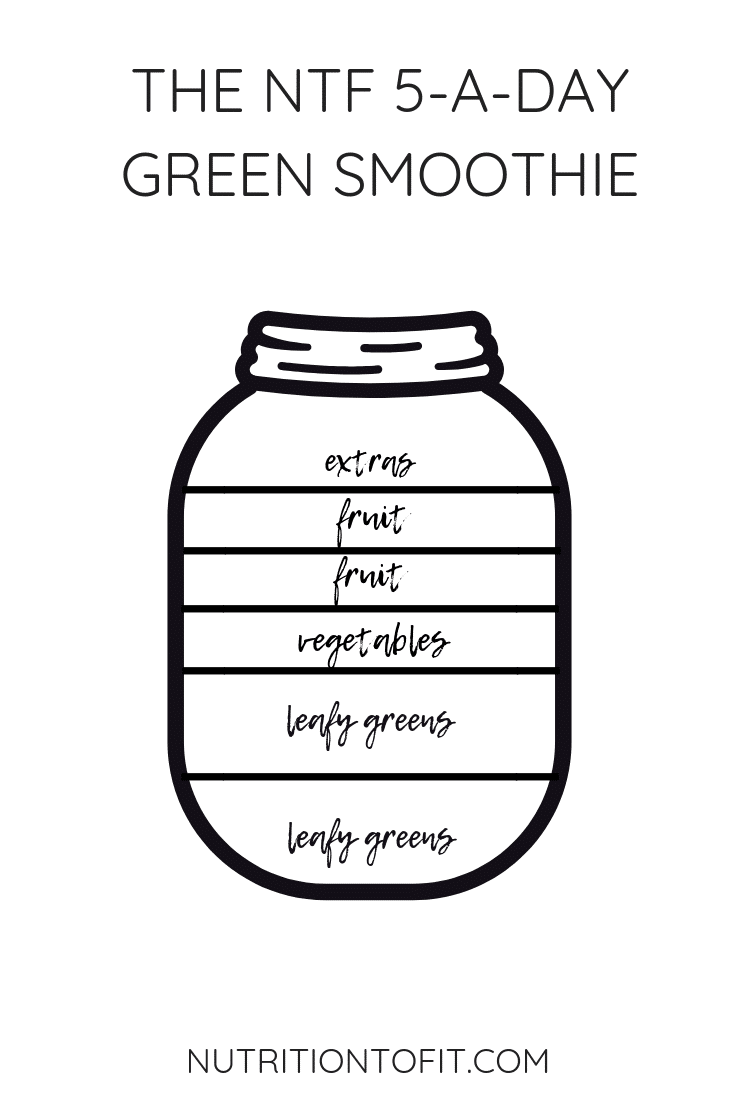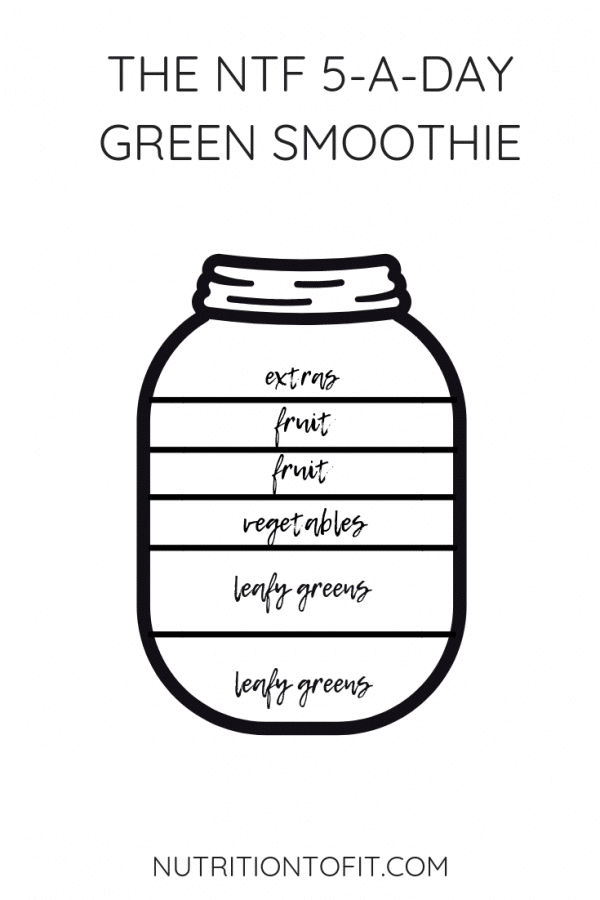 For the NTF 5-a-Day Green Smoothie you follow this simple tutorial and end up with a smoothie that contains (at minimum) 3 vegetable servings and 2 fruit servings. The Dietary Guidelines for Americans 2010 specifies one serving of vegetables to be ½ cup cut-up raw or cooked vegetables or one cup raw leafy greens and one serving of vegetables to be ½ cup fresh, frozen, or canned fruit (3). The fruit and veggie base of the NTF 5-a-Day Green Smoothie includes the following:
Two ½ cup servings of fruit
One ½ cup serving of vegetables
Two 1 cup servings of raw leafy greens
Why 5 servings of fruits and vegetables? Many reports show this to be the minimum produce intake needed, although needs vary based on sex and age. But generally, even though I encourage shooting for 9-10 servings of fruits and vegetables daily, 5 is a great minimum number that most of us still aren't meeting. I like to think of this smoothie as a fruit and vegetable insurance policy - gets me halfway to 9-10 servings in one go!
Fruit in Smoothies
I've already dispelled some of the unnecessary concern over sugar in fruit. Fruit is an important part of any diet that provides many essential nutrients, and fruit in smoothies can be a delicious and simple way to consume your fruit servings.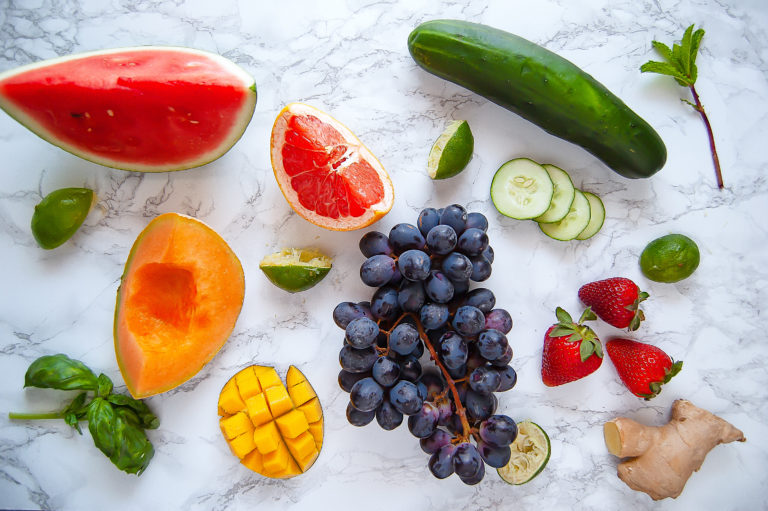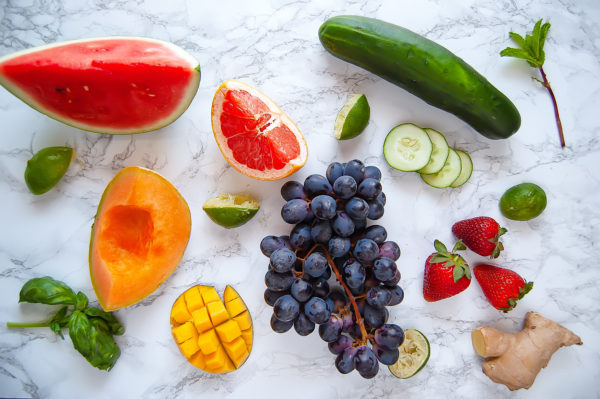 The NTF 5-a-Day Green Smoothie has two servings of fruit at ½ cup each - meaning stick with 1 cup of fruit total. Choose your fruits based on your favorite flavors and nutrition goals. Want a more dessert-like smoothie? Try using 1 cup of frozen banana slices for a creamy sweetness! Looking for lower sugar options? Try a ½ cup raspberries (very high in fiber with a lower glycemic index) and ½ cup avocado (avocado is the only fruit with zero grams sugar, with loads of nutrient-dense healthy fats).
Vegetables in Smoothies
If you're new to smoothies the idea of putting vegetables in them may seem strange, but it's actually a great way to boost the nutrition of a smoothie and add more vegetables to your day - and can often be done without much impact to flavor!
The base of the NTF 5-a-Day Green Smoothie is two cups (two servings!) of leafy greens. Leafy greens are a great addition to your daily diet and don't have to just be found in salads. You can add any of your favorite leafy greens to smoothies - spinach, kale, romaine, etc. If you're new to green smoothies, I'd suggest starting with a baby spinach or possibly even a baby kale, as they're more tender and neutral in flavor.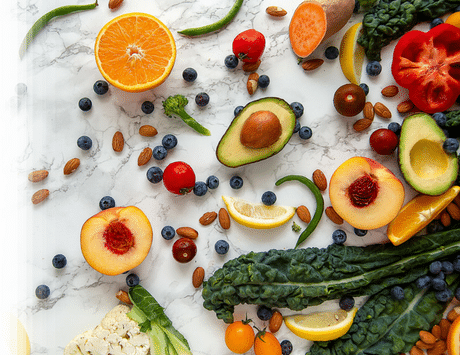 I've added a third serving of vegetables to the NTF 5-a-Day Green Smoothie with a ½ cup serving of an additional vegetable. And there are so many to choose from! Some of my favorites include:
Zucchini: frozen zucchini slices add minimal sugar and extra creaminess when blended into a smoothie.
Yellow Summer Squash: works the same as zucchini! I like to buy in season, slice, and freeze lots for future smoothies!
Cauliflower: this can minimally impact the flavor a bit more than zucchini, but definitely makes the smoothie taste fluffier.
Cucumber: added fresh or frozen slices, cucumber adds extra hydration to a smoothie and pairs well with summery flavors like watermelon, citrus, and strawberries.
Sweet Peas: peas are more of a starchier vegetable, but they often lend a subtle sweetness and contain more protein than other vegetables. This can be an exceptionally great option for kids!
Carrots: I like shredding carrots and adding to smoothies/ prepped smoothie bags. The natural sweetness of carrots goes well with many smoothies, and I love the flavors with mango and citrus.
Pumpkin: pumpkin is really high in vitamin A and fiber and makes a great addition to a smoothie, fall or not!
Truly you can use whatever veggies you have on hand and want to try! Be creative!
NTF Smoothie Extras
The "extras" in the NTF 5-a-Day Green Smoothie are a great place to add extras to help meet your personal needs and goals. Using your smoothie more as a meal? Try adding a quality protein powder, collagen peptides, or Greek yogurt. Even a couple tablespoons of dry oats can bulk up a smoothie with whole grain energy and fiber and helping keep you full to your next meal. Want a punch of added probiotics? Add yogurt, kefir, or kombucha. I love adding seeds, nuts, and nut butters for extra healthy fats to help better regulate blood sugar absorption. Give a caffeine boost with a little cold brew or green tea. Dial up the flavor with cocoa or cacao powder, pure vanilla extract, cinnamon, ginger, or any other spice/ flavor you'd like. You can also add "superfood" extras, like maca powder, adaptogens, spirulina, etc.
These smoothie extras are a great way to make a smoothie more flavorful, more nutritious, and provide more balanced macronutrients.
What Liquid to Add to Smoothies
You can use whatever liquid and however much you prefer! I tend to start with a half cup/ three-quarters cup and add more from there to get the consistency I like. If you're using fresh fruits you likely won't need to add much liquid.
As for what type of liquid, you can use plain water, coconut water, kombucha, kefir, cold brew, tea, milk/ milk alternative, etc. Check what you're craving. If something creamier, try an unsweetened almond milk or go with something like kombucha for a little tang or coconut water for more tropical flavors.
How to Meal Prep Smoothies
I know on busy weekday mornings it can be tough to pull out all your different smoothie ingredients so we prep NTF 5-a-Day Smoothie bags. I usually package the fruit and vegetables and any seeds/ nuts together, label, freeze, and then in the moment I'll add whatever I'm needing (i.e. collagen for some protein, my liquid of choice, etc.). Cuts the time tremendously!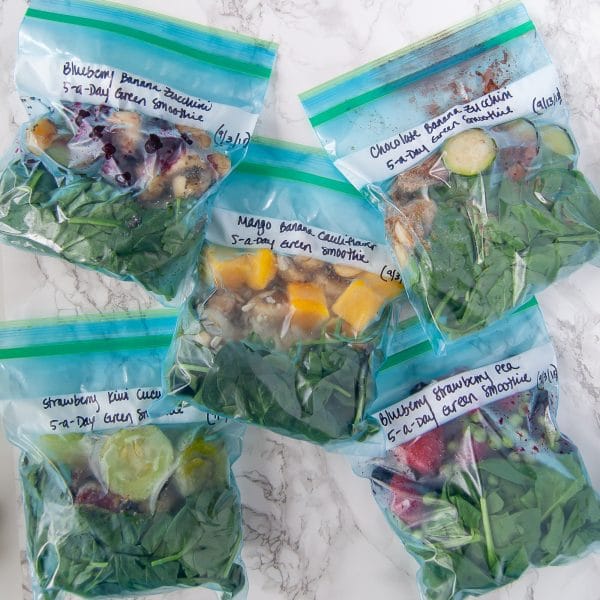 My husband is a teacher and loves starting the day with these smoothies for his health and energy. He actually has a small personal blender in his classroom along with his favorite protein powder, so he grabs a smoothie bag in the morning and blends with water and a scoop of protein when he gets to work.
Favorite Smoothie Combos
We usually blend up smoothies or prep smoothie bags with whatever fruits and veggies we have on hand (a great way to reduce food waste, too!), but here are a few favorite smoothie combos:
Mango Banana Cauliflower Green Smoothie
2 cups spinach, ½ cup frozen riced cauliflower (makes for easier blending), ½ cup banana slices, ½ cup frozen mango, 1 tablespoon raw sunflower seeds.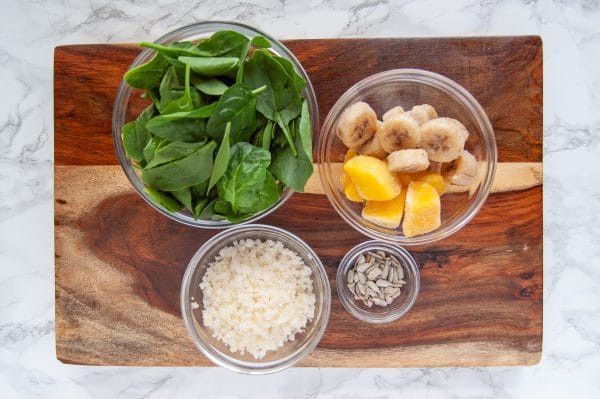 Chocolate Banana Zucchini Green Smoothie
2 cups spinach, 1 cup frozen banana slices, ½ cup frozen zucchini slices, 1 tablespoon cocoa powder, 1 tablespoon ground flax seeds.

Blueberry Strawberry Sweet Pea Green Smoothie
2 cups spinach, ½ cup frozen sweet peas, ½ cup frozen blueberries, ½ cup frozen strawberries, 1 tablespoon raw pumpkin seeds.

Blueberry Banana Zucchini Green Smoothie
2 cups spinach, ½ cup frozen zucchini slices, ½ cup frozen blueberries, ½ cup frozen banana slices, 1 tablespoon chia seeds.

Strawberry Kiwi Cucumber Green Smoothie
2 cups spinach, ½ cup frozen cucumber slices, ½ cup frozen strawberries, ½ cup frozen kiwi slices, 1 tablespoon ground flax seeds.
I would absolutely LOVE to see your NTF 5-a-Day Green Smoothie creations! Take a pic and share your best combos on social media (tag @nutritiontofit and #nutritiontofit so I see!). Live well and eat well!
References:
Centers for Disease Control and Prevention. (2017, November 16.) Only 1 in 10 Adults Get Enough Fruits or Vegetables.
World Health Organization. (2018, February 21.) Increasing Fruit and Vegetable Consumption to Reduce the Risk of Noncommunicable Diseases.
U.S. Department of Agriculture, U.S. Department of Health and Human Services. (2010, December.) Dietary Guidelines for Americans 2010: page 83.