Antipasto salad gets a light and fresh take with this zucchini noodle antipasto salad. A fun zucchini noodle pasta salad, it's perfect with any healthy summer meal.
Pasta salads like antipasto salads were something I remember never being hugely interested in when I was growing up - but I also never really enjoyed pasta that much (with the exception of mac and cheese), so no big surprise there! But as an adult my flavor preferences have broadened and I'm always looking to try new foods, flavors, and get creative in the kitchen.
When I saw my fridge was overflowing with fresh zucchini, thanks to all the amazing summer zucchini at such affordable prices right now, I knew it was the perfect opportunity to have a little fun! I decided to make my own take on an antipasto salad with this zucchini noodle antipasto salad.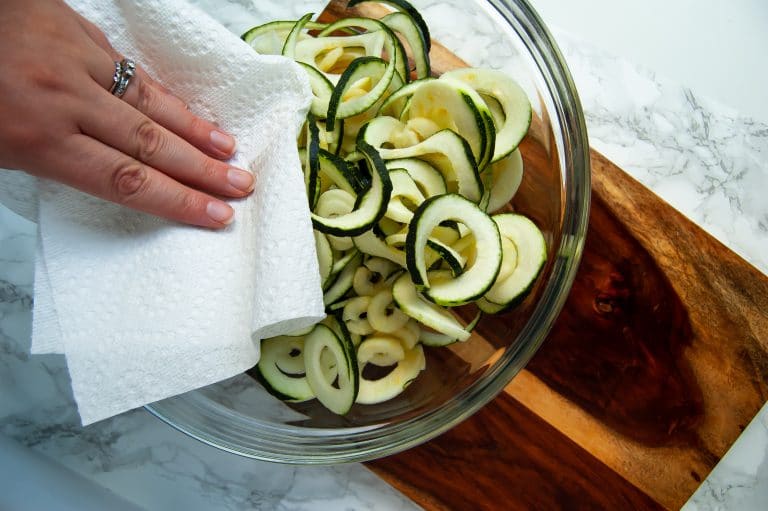 Nontraditional Antipasto Salad with Zucchini Noodles
This zucchini noodle pasta salad is a little nontraditional in several ways. The most obvious is the use of zucchini noodles instead of cold, cooked pasta noodles. Not only are the zoodles (zucchini noodles) more nutrient-dense, but it also takes less time to spiralize zucchinies than it does to bring water to a boil, cook pasta, drain it, and allow it to cool. Zucchini noodle salads are time-saving and healthy! Plus mesh perfectly with an antipasto salad recipe.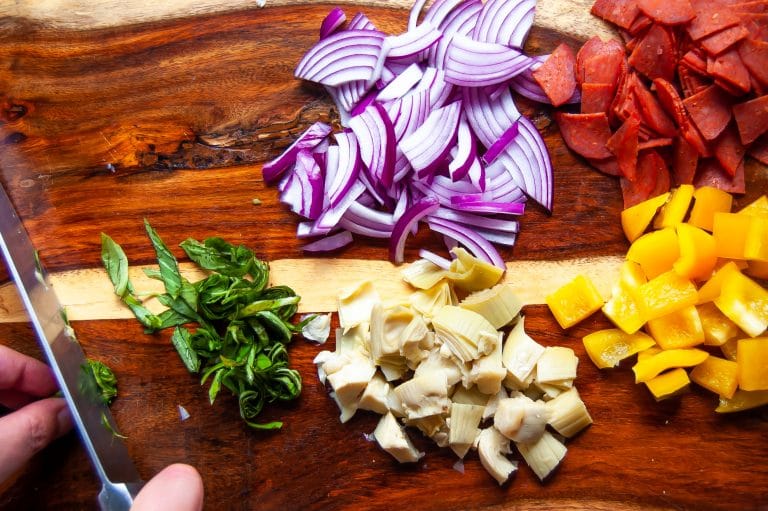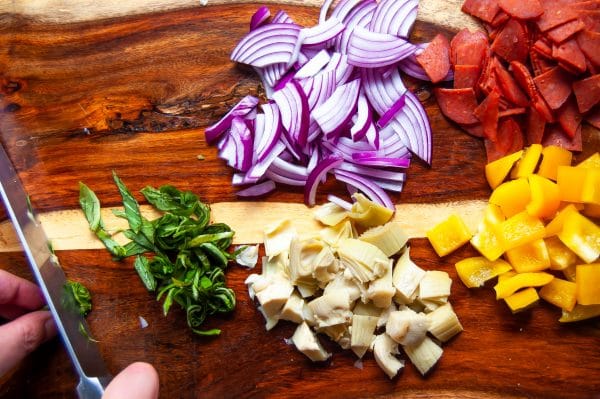 I've never been a big salami fan, so I subbed turkey pepperoni instead of the more traditional salami. Dairy hasn't exactly been my friend lately, so opted out of adding mozzarella or another fresh cheese and added garbanzo beans for more texture and fiber.
Then I loaded up on other vegetable additions (artichoke hearts, bell pepper, onion, tomatoes) and added more flavor with black olives and fresh basil.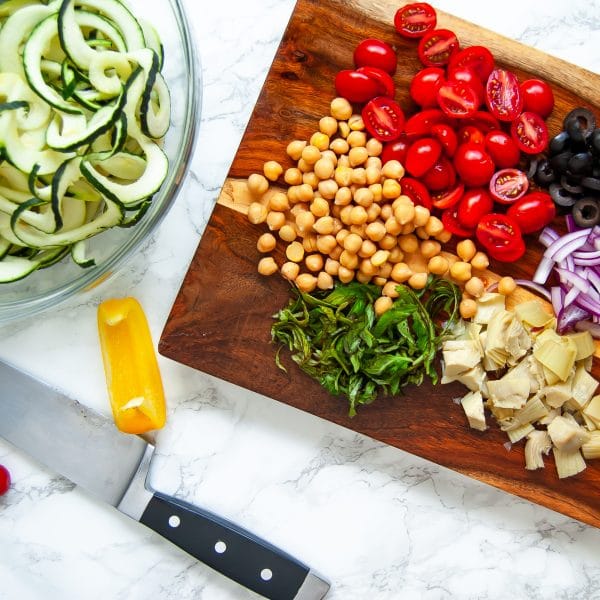 To add even more flavor, I whipped up a quick dressing with balsamic vinegar, olive oil, Italian seasoning, salt and pepper. Give it a good shake in a mason jar, then pour on top of your salad ingredients, toss, and done!
How to Customize Your Zucchini Noodle Antipasto Salad
Now, everyone has different dietary needs. My goal is to always give you options with recipes and nutrition articles to help you feel confident in the choices you're making so nutrition can more easily fit into your lifestyle. Whether you're dealing with medical conditions, have food allergies or sensitivities, or you're simply exploring new ways to add more fruits and vegetables to your diet, I want to offer options to help! Here are a few ways you can try to make this zucchini noodle antipasto salad your own:
Not sure about a zucchini noodle pasta salad? You can try half pasta and half zucchini noodles.
Instead of turkey pepperoni you can try cooked chicken sausage, diced chicken, cooked shrimp, or leave it out altogether.
Get creative and use your favorite vegetables or what you have on hand. Example: not a fan of raw onions? That's okay, leave it out or add a little extra bell pepper or tomatoes for more veggie power. Even add some other flavorful vegetable additions, like sun-dried tomatoes or sliced roasted red bell pepper.
Does dairy work for you? Try adding diced fresh mozzarella, or even a dairy-free mozzarella alternative you can find at specialty health food stores, if you'd like. You can even add diced avocado for extra creaminess.
I love beans and the fiber and other nutritious benefits they provide, but if beans don't work for you, don't sweat it - just leave it out!
Sensitive to balsamic vinegar? Substitute red wine vinegar, distilled vinegar, or even lemon juice instead.
Ultimately, you do you and make this zucchini noodle antipasto salad however you'll most enjoy it!
Now for some FAQs:
What spiralizer do you use?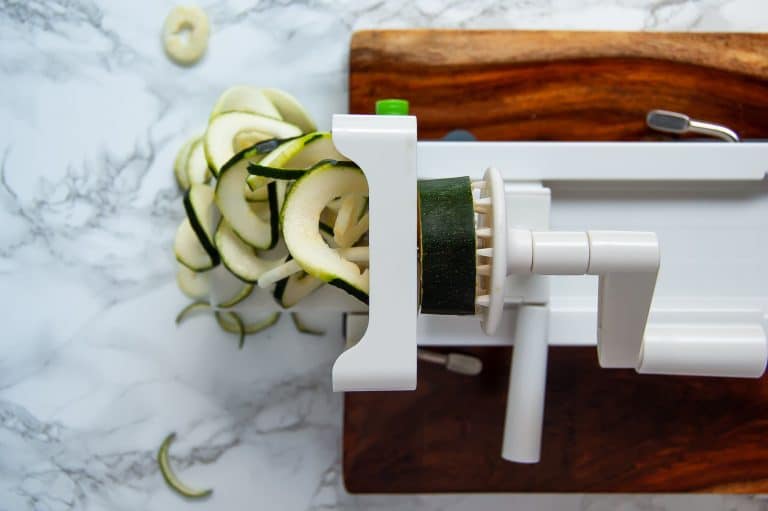 I use the Inspiralizer  (Amazon affiliate link). Of the several spiralizers I've tried, the Inspiralizer is the safest, sturdiest spiralizer I've tried that's capable of spiralizing tougher vegetables (like butternut squash and sweet potatoes) and not just zucchini.
What if I don't have a spiralizer and want to make this now?
You can try several options! If you want a zucchini ribbon effect, you can you a vegetable peeler to peel off thin, flat, long slices of zucchini ribbons. Alternatively, you could also just slice your zucchini into thin half moons and you'll still get all the same flavors and nutrients!
Is this zucchini noodle antipasto salad gluten-free?
Yes. It's also dairy-free, nut-free, egg-free, soy-free, etc. - free of the top eight most common food allergens!
How do I thinly slice my basil like that?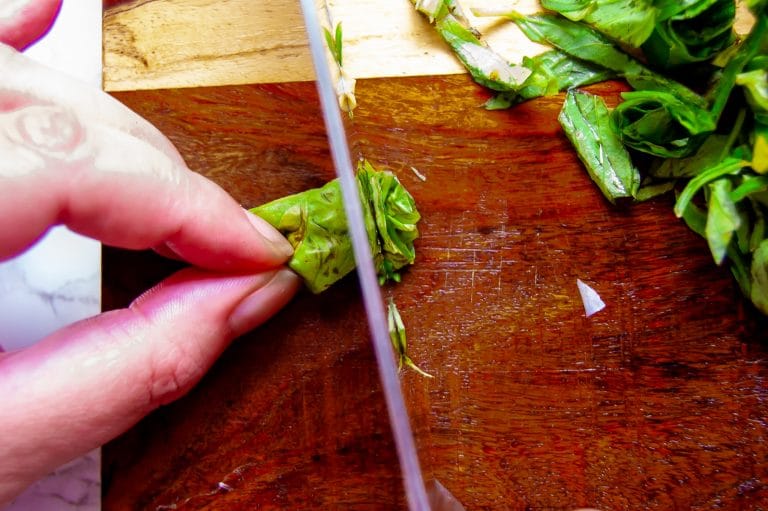 Place several basil leaves on top of each other, then roll them. Then you can take your sharp chef's knife and make thin slices.
What type of turkey pepperoni did you use?
I used Applegate Farms turkey pepperoni (it's dairy-free, gluten-free, and free of nitrates or nitrites besides those naturally occurring in sea salt and celery powder), but if you have any dietary restrictions, be sure to always read the ingredient list.
How long does this antipasto salad last?
This zucchini noodle antipasto salad will last 3-4 days (if you decide to add mozzarella or avocado, those may start to look a little less appealing after a day or two).
Want to try some other side dishes perfect for summer? Give these NTF faves a go!
I hope you enjoy this zucchini noodle antipasto salad as much as my family and I do! Let me know how you make it yours, and be sure to leave a comment and rate the recipe below! It always makes my day when you share your NTF creations with me, so feel free to share on Instagram or Facebook (tag @nutritiontofit and #nutritiontofit) and pin it to Pinterest to remember to make later! Live well!
Zucchini Noodle Antipasto Salad
Antipasto salad gets a light and fresh take with this zucchini noodle antipasto salad. A fun zucchini noodle pasta salad, it's perfect with any healthy summer meal.
free from: gluten, egg, soy, dairy, tree nuts, peanuts, fish, shellfish

Print
Pin
Rate
Ingredients
For the Salad:
2

medium zucchinis

spiralized

½

cup

turkey pepperoni

quartered

½

cup

artichoke hearts

chopped

½

cup

bell pepper

diced

¾

cup

grape tomatoes

halved

¼

cup

black olives

sliced

¼

cup

red onion

thinly sliced

¼

cup

basil

thinly sliced

½

cup

garbanzo beans

rinsed and drained
Instructions
Toss all salad ingredients in a large glass bowl.

Combine the dressing ingredients in a small mason jar, seal the lid, and shake vigorously to mix the dressing. Alternatively, you can place the dressing ingredients in a small bowl and whisk together.

Pour the dressing over the salad ingredients and toss to combine.

Can be served immediately or made several hours in advance. Store leftovers in an airtight closed container in the refrigerator and use within 3-4 days.
Nutrition
Calories:
164
kcal
|
Carbohydrates:
10
g
|
Protein:
8
g
|
Fat:
9
g
|
Saturated Fat:
1
g
|
Cholesterol:
24
mg
|
Sodium:
623
mg
|
Potassium:
384
mg
|
Fiber:
2
g
|
Sugar:
4
g
|
Vitamin A:
925
IU
|
Vitamin C:
34.5
mg
|
Calcium:
37
mg
|
Iron:
1.6
mg