Any good scalloped potato dish will give you creamy, delicious potatoes while any potato gratin will give you decadently cheesy potatoes. This healthy scalloped potato gratin recipe combines the best of both worlds, but with some lighter modifications! Serve this at your holiday table and your guests will leave with their taste buds satisfied, but not overly full.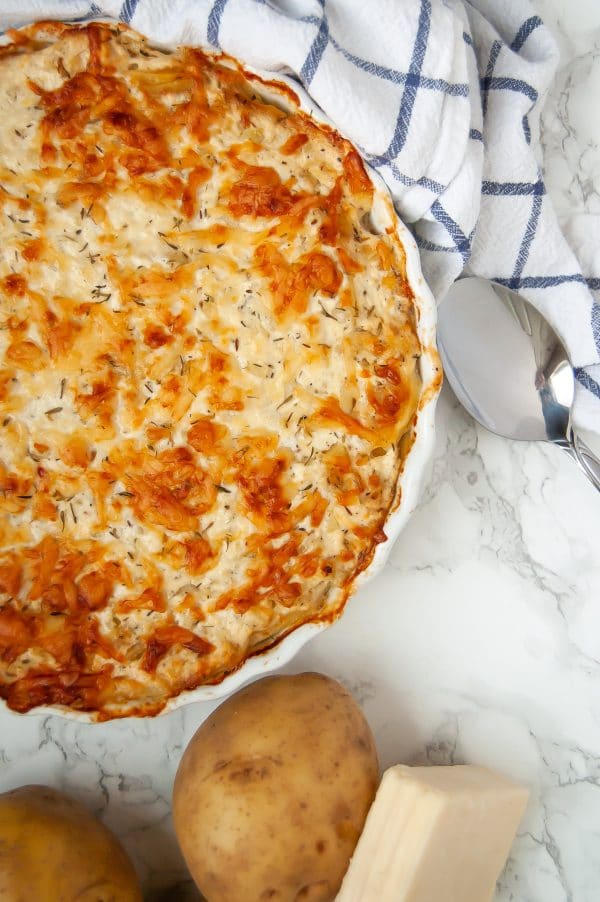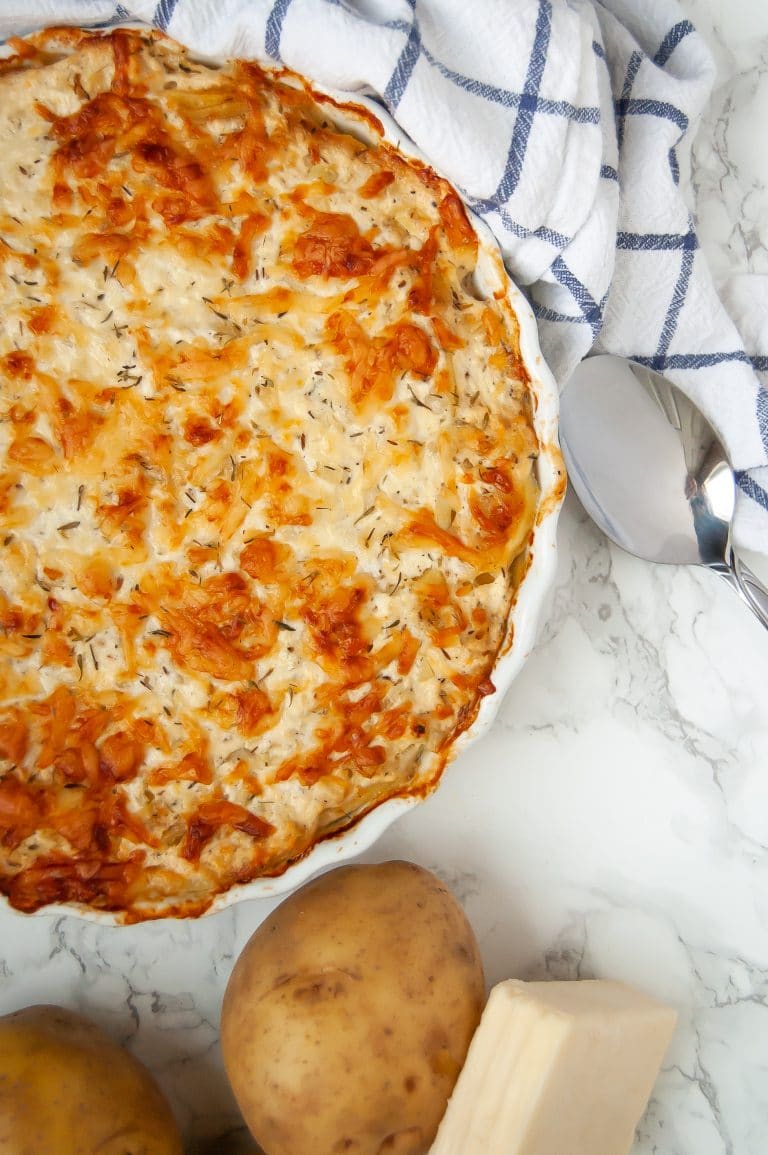 Healthy Scalloped Potato Gratin
I'll be totally honest - I don't think any type of scalloped potatoes or potatoes au gratin have ever landed on any holiday table, growing up or as an adult. See, mashed potatoes have always been the go-to for most family holiday gatherings (and when they taste as good as my greek yogurt mashed potatoes, it's hard to want to deviate!). The few times we have deviated we've kept it simple with a basic roasted potato or even simple baked sweet or white potatoes.
Plus, my mom always told us a story growing up how in college my dad ate so much potatoes au gratin that he never wanted to eat it again! So she never made it, holiday or not! 
But when I was asking what kind of holiday recipe/ holiday side dish you guys wanted to see a healthier recipe for on the blog, scalloped potatoes and potatoes au gratin kept coming up. And seriously - I do my absolute BEST to deliver what you guys want! 
Also seriously? THANK YOU! I'm not sure why it took me so long to make this, but I am a happy to add these lighter scalloped potatoes gratin to my family's side dish rotation!
Scalloped Potatoes vs Potatoes Au Gratin
Scalloped potatoes = creamy potato perfection.
Potatoes au gratin = cheesy potato perfection.
Scalloped potato gratin = the best of both worlds! This is basically just a baked, layered potato dish with a creamy sauce and cheese, all topped with cheese that gets melty, bubbly, golden brown.
The Healthy Hack in This Scalloped Potato Gratin
And to make it even better, I used a healthy hack to lighten up this scalloped potato gratin a bit so my family and I can still indulge in creamy, cheesy potatoes without an instant stomach ache. What's the healthy hack? Simple: greek yogurt.
All I did was nix the heavy cream  and/ or whole milk that's in most scalloped potato recipes and made a creamy sauce based out of greek yogurt instead. Especially if you're looking for a more balanced side dish better for blood sugar regulation, this scalloped potato gratin with the healthy hack still has the carbs from the potatoes and fat from the cheese, but more protein from the greek yogurt.
How to Make a Scalloped Potato Gratin
Making this gratin isn't the quickest potatoes au gratin recipe, but once you get some basic slicing and assembly out of the way, most of the work is done in the oven!
Peel and slice your potatoes very thinly. You can either use a sharp chef's knife to slice the potatoes into ¼-inch thick rounds or you can use a mandolin slicer. Warning: be careful if you're using a mandolin slicer! Many chefs and cooks I know (myself included!) have horror stories going along with their scars and battle wounds from using a mandolin.
If you're using a block of cheese to freshly grate yourself (which I highly recommend!), go ahead and grate your cheese now. Bonus cheese tip? As much as there's a ton of flavor in aged sharp cheddar cheeses, avoid using an aged cheddar in this recipe as aged cheeses don't seem to melt quite as luxuriously!
Whisk together your greek yogurt-based creamy sauce.
Assemble by layering your potatoes, sauce, and cheese a couple times.
Place it your assembled scalloped potato gratin in the oven and let it back away until the potatoes are tender and the cheesy top is bubbling and golden brown.
Equipment I used in this recipe (affiliate links):
Essentials: baking dish or pie pan, bowls, whisk, spoons
mandolin slicer - this one includes cut-resistant gloves, which I highly recommend for safety! (You can also use a sharp chef's knife instead!)
Looking for other recipes for a holiday menu? Try these!
Don't forget, whenever you make an NTF recipe be sure to share it to social media (@nutritiontofit #nutritiontofit) for a chance to be re-shared!
Scalloped Potato Gratin
Thinly sliced yukon gold potatoes are baked in a lighter greek yogurt-based creamy sauce and cheese for a lighter, healthier favorite holiday side dish!
free from: wheat/ gluten, soy, egg, fish, shellfish, tree nuts, peanuts
Ingredients
2

lbs

yukon gold potatoes

peeled and thinly sliced into rounds no more than ¼" thick

1

tablespoon

extra virgin olive oil

¼

medium

yellow onion

finely chopped or grated

2

garlic cloves

finely chopped or grated

1

cup

nonfat, plain greek yogurt

½

cup

water

1

teaspoon

salt

½

teaspoon

ground pepper

½

teaspoon

dried thyme

1

cup

freshly grated cheddar cheese

¼

cup

parmesan cheese
Instructions
Preheat oven to 350 degrees. Prepare a 9x9" baking pan or pie pan by spraying or brushing with a little olive oil.

Heat olive oil in a 10-inch skillet over medium heat. Add onion and garlic and saute until translucent.

Whisk in ½ cup water, Greek yogurt, and spices. Turn off heat.

Layer half the potatoes in the bottom of the baking dish and top with half the creamy yogurt sauce, half the cheese, and all the Parmesan cheese.

Repeat with another layer of potatoes, sauce, and cheddar cheese.

Bake for 60-75 minutes, until potatoes are fork tender and top is covered in golden brown bubbly cheese.

Allow to cool slightly before serving and enjoy!
Nutrition
Calories:
136
kcal
|
Carbohydrates:
12
g
|
Protein:
8
g
|
Fat:
5
g
|
Saturated Fat:
3
g
|
Cholesterol:
14
mg
|
Sodium:
361
mg
|
Potassium:
423
mg
|
Fiber:
2
g
|
Vitamin A:
135
IU
|
Vitamin C:
10.7
mg
|
Calcium:
165
mg
|
Iron:
3.1
mg