Your favorite peanut butter chocolate treat gets a makeover with this healthy buckeyes recipe, perfect for a healthy holiday dessert or snack!
While I enjoy the peanut butter chocolate combo, my husband LOVES it. Like every birthday dessert request always includes some peanut butter chocolate combination! I wanted to make a healthier twist on a classic holiday chocolate peanut butter treat, and this recipe for healthy buckeyes does NOT disappoint! He even brought one batch to his coworkers and they disappeared to rave reviews in no time!
Something else I've learned? Taste preferences for peanut butter must be strong enough to pass on to our children. 😉 My two-year-old daughter helped me make a couple batches of these healthy buckeyes and even without the chocolate coating she about lost her mind she loved the peanut butter filling so much!
Healthy Peanut Butter Buckeyes 
Modifications
I made several pretty substantial modifications to this buckeye recipe, but the end result is a peanut butter buckeye that doesn't taste sickeningly sweet, but is still sweet enough (especially when dipped in chocolate) to taste like a treat. The ingredient swaps add fiber and protein, which in combination with the fats in peanut butter yields a treat that is much gentler on your blood sugar. Oh yeah - especially because there is no added sugar in the peanut butter filling!
Check out the ingredients I used:
Garbanzo Beans (aka chickpeas): this gives more body and stability to the buckeye filling, while also adding nutrients, fiber, and plant-based protein. 
Peanut Butter: obvious, right? You NEED peanut butter for buckeyes! Although if you have an allergy you can absolutely sub with sunflower seed butter or any other nut/ seed butter you tolerate/ prefer (cashew butter or almond butter would truly be delicious, too!).
Medjool Dates: these little fruits are packed with natural sweetness, micronutrients, and fiber. They're a completely natural and fruit-based way to add sweetness to a recipe without actually adding sugar. Just be sure to remove their pits before adding to the food processor!
Vanilla: a little flavor that makes them a little more "desserty".
Collagen Peptides: This ingredient is completely natural, and we've made it with and without. If you're looking to increase the protein in your healthy buckeyes, unflavored collagen peptides are a great way to add a boost of protein without adding any flavor or textural changes. You could likely use any protein powder you prefer, but I suspect it will more greatly impact the flavor/ texture. Oh, and head's up: collagen is typically bovine or marine-sourced, so your buckeyes won't be vegan or vegetarian if you add it! (Read more about collagen in this research-based post on collagen benefits and side effects and this post answering common collagen questions).
Healthy Buckeyes Recipe Tips
It takes a little bit of time to get the ingredients for your peanut butter filling smooth. You'll add all the filling ingredients into a food processor and process anywhere from 5-8 minutes, depending on the size and strength of your food processor. Be sure to occasionally stop processing and pause to scrape down the sides of the bowl to help expedite the process!
I found the filling easiest to work with when it was cool. Since it got rather warm after all that processing, I refrigerated the filling about 30 minutes prior to rolling into balls. If it's a particularly warm day or your kitchen is warm, you may want to refrigerate the balls prior to dipping in chocolate. 
Speaking of chocolate! I love using dark chocolate. Taste-wise I prefer it, and I find visually it looks nice, creating a greater contrast with the peanut butter filling that's a little darker than traditional buckeyes. Bonus is that dark chocolate typically has less sugar and more antioxidants than milk chocolate. That said - use whatever you have/ prefer!
I find these healthy buckeyes are best stored in the refrigerator after they're made. Especially if you're using a natural peanut butter, there can be a little separation if left at room temp too long. They're fine to leave out at room temperature during a party, however! 😉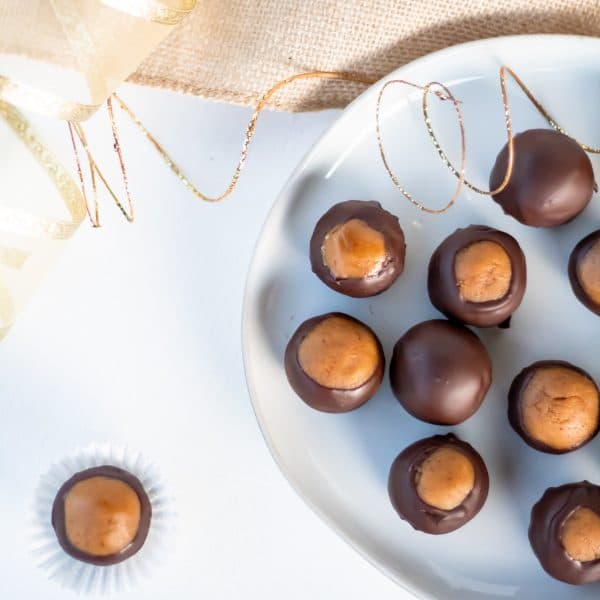 Tips for Clean Chocolate Dipping
Okay, so maybe this is just me, but chocolate dipping usually results in a total kitchen mess for me (and I wish I could blame it on my toddler, but the fact is, I'm just not that coordinated haha). And not only can my hands and counter end up a mess, but that usually translates to messy-looking chocolate dipped buckeyes or chocolate covered strawberries. However, after several rounds of recipe testing these healthy buckeyes and trying to get them pretty for pictures, I have a few tips!
Thin the chocolate with a small amount of coconut oil. I found 1.5 teaspoons coconut oil for every ½ cup chocolate to be a sweet spot of making the chocolate a little thinner so it dips smoothly, but not too thin. 
Use a fork to remove the buckeye from the melted chocolate, allowing excess chocolate to drip through the fork tines.
To help remove excess chocolate (and thus prevent a giant pool of melted chocolate at the base of your buckeye) try using your hand to tap the wrist of the hand holding the fork. You'll see the excess melted chocolate come off faster!
Slide a toothpick underneath the fork tines to scrape off excess chocolate, again helping to avoid the giant messy glob of chocolate under your pretty buckeyes.
Gently transfer to a silicone baking sheet or piece of parchment paper over a baking sheet. 
Now full disclosure, I totally still had a little chocolate on my hands, but these methods greatly helped keep everything cleaner, including my buckeyes!
Want More Healthy Desserts to Try?
Try these Nutrition to Fit healthy dessert recipes!
When you make these healthy buckeyes, be sure to take a picture and share to social media, and tag me (@nutritiontofit and #nutritiontofit) so I can see! And of course, leave a comment and rate the recipe below so others can see, too!
Healthy Buckeyes
Your favorite peanut butter chocolate treat gets a makeover with this healthy buckeyes recipe, perfect for a healthy holiday dessert or snack!

free from: wheat/ gluten, dairy, soy, egg, shellfish, fish, tree nuts
Ingredients
14.5

oz

can garbanzo beans

rinsed and drained

½

cup

peanut butter

5

medjool dates

pitted

1

teaspoon

vanilla extract

6

tablespoon

collagen peptides

optional

½

cup

dark chocolate chips

1 ½

teaspoon

coconut oil
Instructions
Combine garbanzo beans, peanut butter, dates, and vanilla in food processor. (If adding optional collagen peptides for added protein, you can add here, too!) Process for 5-10 minutes (depending on the size and strength of your blender), occasionally stopping to scrape down sides. Stop when everything is one, smooth, homogenous mixture.

Refrigerate peanut butter filling for 30 minutes to make for easier ball rolling.

Roll into 20 balls (approximately 2 tablespoons each). If your kitchen is warm or it's a warm day, you may need to chill again another 10-20 minutes before dipping in chocolate.

Melt dark chocolate chips with coconut oil. You can use a double boiler, or you can use the microwave. If melting in the microwave be sure to microwave just 30 seconds at a time, stirring before adding more time.

Dip each peanut butter buckeye into the chocolate (about ½ to ¾ of the way up the sides of the ball to get the classic buckeye look). Remove ball with a fork. Gently tap the wrist of the hand holding the fork to remove excess melted chocolate. Slide a toothpick underneath the fork tines to scrape off any excess melted chocolate dripping down. Gently transfer to a silicone baking sheet or parchment paper lined baking sheet.

When all buckeyes are coated, refrigerate another 30 minutes until set.

I recommend storing in the refrigerator, although they can be left out at a party. Enjoy!
Notes
Nutrition information is for one buckeye WITH the collagen peptides added. 
Without collagen peptides, each buckeye is: 100 kcal, 11 g carbohydrates, 1 g fiber, 6 g sugar,  5 g total ft, 2 g saturated fat, 4 g protein, 141 mg potassium, 91 mg sodium, 0.2% DV Vitamin A, 2.7% DV calcium, 2.7% DV iron.
Nutrition
Calories:
114
kcal
|
Carbohydrates:
11
g
|
Protein:
6
g
|
Fat:
5
g
|
Saturated Fat:
2
g
|
Sodium:
113
mg
|
Potassium:
141
mg
|
Fiber:
1
g
|
Sugar:
6
g
|
Vitamin A:
10
IU
|
Calcium:
27
mg
|
Iron:
0.5
mg