This triple chocolate peppermint bark recipe is my husband's absolute favorite holiday treat! The peppermint bark is layered with peppermint-laced semi-sweet chocolate and white chocolate and topped with crushed candy canes and a bittersweet, dark chocolate drizzle. It's the perfect holiday dessert to enjoy with loved ones or gift to friends!
Triple Chocolate Peppermint Bark Recipe
Maybe it's because I'm pregnant and overly sentimental these days, but I can't get enough of sharing some of my favorite holiday traditions and foods with you guys! Between the traditions behind our stockings in the affordable, healthy stocking stuffer guide to our Christmas Eve and Christmas morning traditions when I shared my Christmas breakfast casserole. Now it's time to share one of our favorite holiday traditions since my husband and I were newlyweds: making peppermint bark!
Now I know there are a zillion ways to make peppermint bark or buy it already made, but this is the recipe my husband loves that I make him year after year. It's slightly more complicated than a basic "melt and layer chocolate and white chocolate and top with crushed candy canes" recipe, but it's worth it.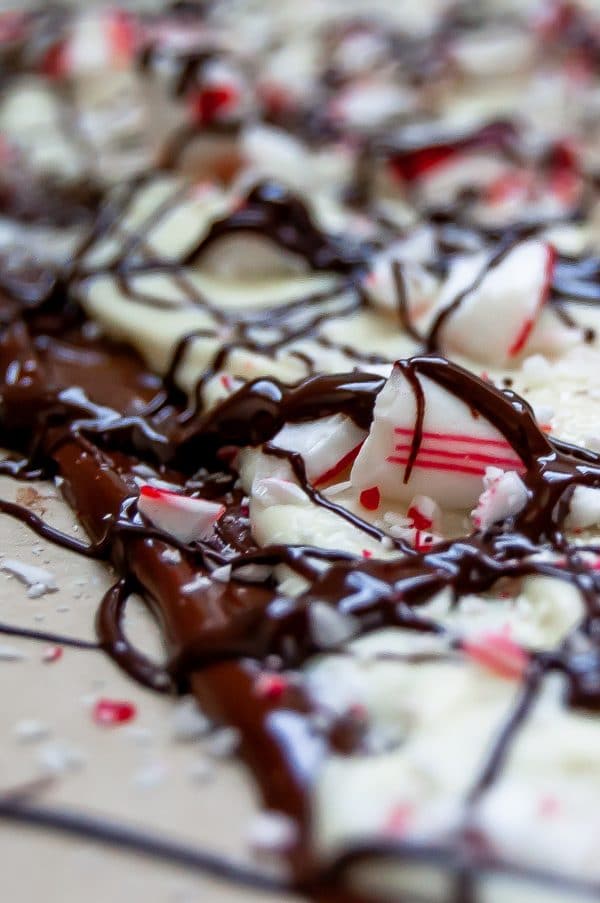 How to Make Peppermint Bark
This Nutrition to Fit peppermint bark requires three chocolates (milk or semi-sweet, white chocolate, and bittersweet/ dark), peppermint extract, coconut oil, and crushed candy canes. Here are the basics of how I make it:
Melt semi-sweet or milk chocolate with peppermint extract and coconut oil and spread in a thin layer on a baking sheet lined with a silicone baking mat or parchment paper. Chill until firm and set.
Melt white chocolate with peppermint extract and coconut oil, then gently and quickly spread on top of the hardened semi-sweet chocolate layer.
While the white chocolate is still soft, generously sprinkle crushed candy canes all over the surface. Drizzle with melted bittersweet chocolate. If you get a little heavy handed with the bittersweet chocolate, feel free to sprinkle a little more of the crushed candy cane "dust" on top. 🙂
Chill until completely set, break into smaller pieces, and enjoy!
How to Keep Peppermint Bark From Separating
While I've only had this issue a couple years, I have noticed if I try to break apart the peppermint bark into smaller pieces too soon after being chilled and hardening, occasionally the semi-sweet and white chocolate peppermint bark layers will separate. 
The best way to combat this and leave your white chocolate peppermint bark layer where it is, is to let it sit out at room temperature several minute prior to breaking apart.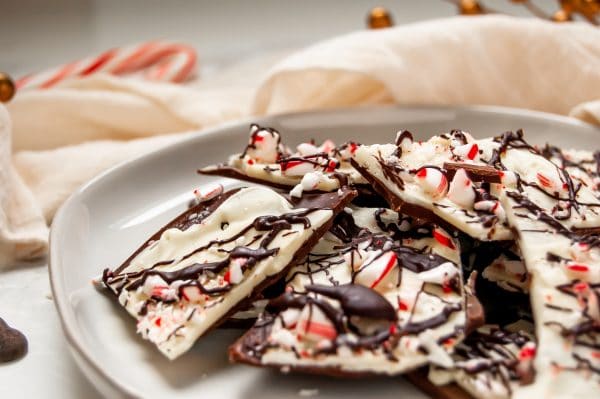 How To Store Peppermint Bark
My husband and I both personally love the taste of chilled peppermint bark. There's something about biting into a cold piece of triple chocolate peppermint bark that brings all the peppermint flavor even more to life!
We store ours in an airtight glass container in the fridge for this reason. You can totally leave your peppermint bark out in an enclosed container on the counter at room temperature, too, but be careful! If your kitchen gets really warm, or if you live in Florida like us and can still have some really warm/ hot days in December, you may run the risk of the peppermint bark getting a little too soft, especially because the coconut oil won't help it set as hard if it's not cool.
You can also keep peppermint bark up to a week. It can be frozen as well, but I would thaw before consuming and still use within a month.
How to Make Peppermint Bark Vegan, Allergy-Friendly, Dairy-Free, etc.
While this peppermint bark recipe is already gluten-free, I'm completely familiar with the need to customize recipes based on preferences, lifestyles, and allergies, as that's something I practice myself. 
While it is not soy-free, I did find a vegan, dairy-free white chocolate (affiliate link) that is meltable and available to order on amazon.
For all my other chocolate needs (semi-sweet and dark, here), I love Enjoy Life Foods. Their chocolate has the simplest ingredients and is always vegan, free of the top 8 most common food allergens (and more, including sesame-free), and melts well. I can find them at most grocery stores, including Walmart, but you can also order on Amazon: dark chocolate chips and mini semi-sweet chocolate chips (affiliate links).
Aside from finding ingredients that work for your needs, use whichever kind of chocolate you prefer! You can double the white chocolate instead of semi-sweet and make a strictly white chocolate peppermint bark. Go with all dark or bittersweet chocolate for a dark chocolate peppermint bark. Or, keep it like me with a variety of tastes with a triple chocolate peppermint bark!
Don't forget the equipment you need for this recipe (affiliate links):
Want some other festive treats? Try these other Nutrition to Fit holiday dessert recipes:
Triple Chocolate Peppermint Bark
This triple chocolate peppermint bark is a delicious holiday treat, perfect for enjoying with family or giving as an edible holiday gift to loved ones!
free from: gluten, egg, fish, shellfish, tree nuts, peanuts
Print
Pin
Rate
Ingredients
1

cup

semi-sweet chocolate chips

1

cup

white chocolate chips

1 ½

tablespoon

dark chocolate chips

1 ⅛

teaspoon

coconut oil

divided

⅛

teaspoon

peppermint extract

divided

2

candy canes

crushed
Instructions
Line a baking sheet with a silicone mat or piece of parchment paper.

Melt semi-sweet chocolate in a microwave-safe container in 30 second increments until melted. Stir in between each 30 seconds. Add a few drops of peppermint extract (half of the ⅛ teaspoon) and a ½ teaspoon coconut oil and stir until smooth.

Spread chocolate on lined baking sheet into a thin layer (it's easiest to use an offset spatula). Freeze for 10 minutes or refrigerate until firm.

Repeat chocolate melting process with white chocolate, a few drops of peppermint extract, and ½ teaspoon coconut oil. Set aside.

Melt dark chocolate with ⅛ teaspoon coconut oil and set aside.

Using the back of a heavy spoon or a rolling pin, crush candy canes in a sealed plastic bag.

Quickly spread the white chocolate layer on the hardened chocolate layer.

While white chocolate is still soft and not yet hardened, sprinkle crushed candy canes on top.

Drizzle dark chocolate over peppermint bark.

If desired, sprinkle any last remaining crushed peppermint dust over the bark.

Refrigerate until firm, about 30-45 minutes.

Using your hands or the back of a firm spoon or mallet, break peppermint bark into smaller pieces. (if the chocolate layers are separating, let the chocolate come to room temperature before breaking. Enjoy!
Notes
Nutrition information will vary based on exact chocolate types and brands used.
Nutrition
Calories:
127
kcal
|
Carbohydrates:
13
g
|
Protein:
1
g
|
Fat:
7
g
|
Saturated Fat:
4
g
|
Cholesterol:
2
mg
|
Sodium:
11
mg
|
Potassium:
93
mg
|
Sugar:
11
g
|
Vitamin A:
10
IU
|
Vitamin C:
0.1
mg
|
Calcium:
30
mg
|
Iron:
0.7
mg