This sparkling berry cherry limeade is a refreshing, low-sugar drink that's easy to make at home with a few simple, real food ingredients.
When we were growing up we would occasionally stop at a Sonic restaurant for a strawberry or cherry limeade as a fun treat. Sonics are long gone locally, but with this humid summer heat a cold, bubbly cherry limeade sounds beyond refreshing. I knew I wanted to make a homemade limeade recipe, but with a couple twists.
I have been loving cherry berry flavor combinations lately, so I went with a berry cherry limeade flavor. Then, of course, I knew I wanted to keep the ingredients as simple as possible without a lot of sugar.
Healthy Sparkling Berry Cherry Limeade Ingredients:
Berries and cherries: I used raspberries for my berries, but you can certainly use strawberries, blueberries, mixed berries, or whatever you prefer (or have on hand). For both the raspberries and cherries I used frozen fruit that I thawed; you can use fresh or frozen fruit (thawed) interchangeably.
Lime juice: fresh limes take a little longer to squeeze and juice but I swear there's a noticeable difference in the taste and freshness compared to bottled lime juice (if you do use bottled, make sure it's one without artificial ingredients and preservatives and it's 100% lime juice).
Honey: limes and raspberries can both be a bit tart. Just a touch of honey goes a long way to cut through the tartness and add a subtle hint of sweetness. If you're looking for a sweeter berry cherry limeade, feel free to sweeten to taste.
Sparkling water (or seltzer water): with the only ingredient carbonated water, this is the perfect way to add some bubbly to the sparkling berry cherry limeade without dousing it in a high fructose corn syrup-laden soda.
How to Make a Cherry Limeade at Home:
Now I'm sure there are loads of techniques and recipes out there, but all I did was combine my thawed fruit, lime juice, and honey in a blender and gave it a quick blend to combine all the ingredients. I didn't want the fruit skins, pulp, or seeds in my limeade, so I strained the blended fruit mixture through a fine mesh sieve (Amazon affiliate link). If you have a nut milk bag or cheesecloth (also Amazon affiliate links), you could also pour your fruit mixture through there to strain the seeds away.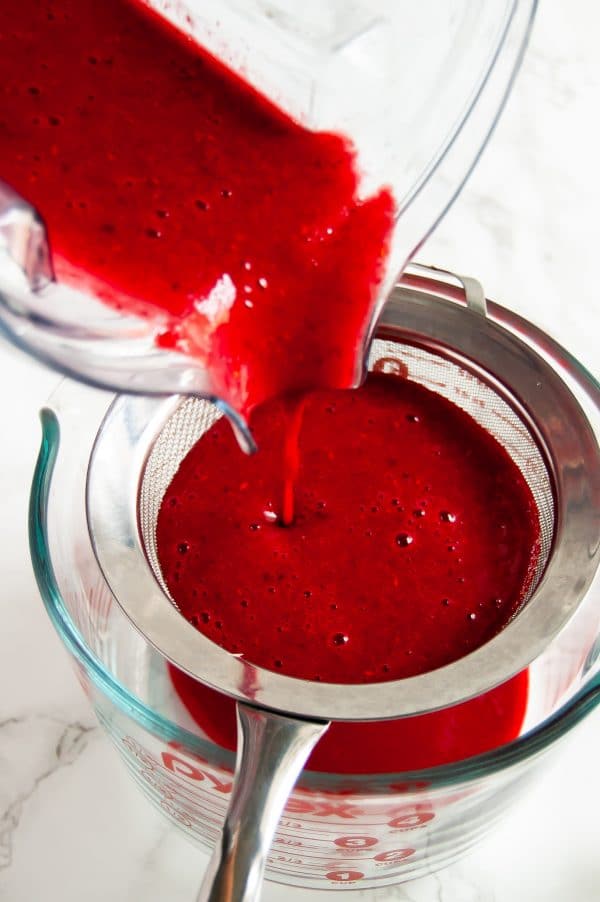 And side note - you don't have to toss the seeds if you don't want to! I spread them on a cracker as a seedy "jam" that my daughter enjoyed when she woke up from her nap. You could also add them to a smoothie for a boost of more fiber!
Now, if you're making this whole recipe to be enjoyed by several people at once, I would recommend combining the berry cherry limeade fruit puree and the sparkling water in a pitcher and serving immediately.
If you're making in advance or only drinking 1-2 servings at a time, I would recommend waiting to add sparkling water immediately before serving. If you're making a single serving, just place ⅓ cup of the puree in a glass with ice, top with ¾ cup sparkling/ seltzer water, give it a quick stir and it's ready to be enjoyed.
Want more healthy beverage recipes?
Try these Nutrition to Fit healthy beverage recipe favorites:
If you give this sparkling berry cherry limeade a try, be sure to comment and rate this recipe below and share your pictures to social media (tag @nutritiontofit and #nutritiontofit). Enjoy it, and live well!
Sparkling Berry Cherry Limeade
This sparkling berry cherry limeade is a refreshing, low-sugar drink that's easy to make at home with a few simple, real food ingredients.
free from: gluten, dairy, soy, egg, fish, shellfish, peanuts, tree nuts
Ingredients
1

cup

cherries

1

cup

raspberries

½

cup

lime juice

2

tablespoon

honey

3

cups

seltzer water

ice to serve with

optional lime slices for garnish
Instructions
Combine the cherries, raspberries, lime juice, and honey in a blender and blend for 30 seconds on medium to high speed until it's a smooth puree.

Strain the fruit puree through a fine mesh sieve or through a nut milk bag or cheesecloth.

If serving several people immediately: combine fruit puree in a pitcher with sparkling seltzer water and immediately pour over ice.

If serving one person: place ⅓ cup puree in a glass over ice, add ¾ cup sparkling water, and give it a quick stir.

If making in advance: refrigerate the puree in a sealed jar or container up to 4-5 days. Combine with sparkling seltzer water immediately prior to serving.
Notes
You can substitute any berries preferred for raspberries. You can also substitute agave or another liquid sweetener for honey.
If you desire a sweeter beverage, feel free to add more honey to the puree to taste. 
Nutrition
Calories:
76
kcal
|
Carbohydrates:
20
g
|
Sodium:
75
mg
|
Potassium:
157
mg
|
Fiber:
2
g
|
Sugar:
14
g
|
Vitamin A:
35
IU
|
Vitamin C:
19.4
mg
|
Calcium:
34
mg
|
Iron:
0.3
mg