Meet your sweet cravings with this black forest grass-fed whey protein smoothie - a satisfying, no sugar added, high-protein smoothie!
This post is sponsored by Naked Nutrition. 
I have always had a sweet tooth. It's a pretty equal opportunity sweet tooth  - ice cream, cookies, brownies, cheesecake, milkshakes, everything is fair game! Especially if there's chocolate. 😉 I swear since I had my baby and have been exclusively breastfeeding (and sleep-deprived...) the sweets cravings have been worse! Especially in the afternoon. But here's the deal - while I'm all for the occasional indulgence, I really would rather satisfy these sweet cravings in a more nutritious, satiating way.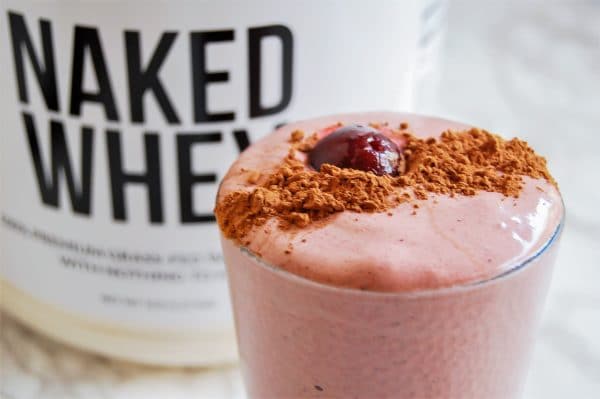 I know I'm not alone in this, either. I work with a lot of busy moms (and busy dads, too!), and one of the top questions that pops up is for recommendations for craving-satisfying, high-protein, easy snacks. That's why I am super thrilled to share my Black Forest Grass-Fed Whey Protein Smoothie sponsored by the cleanest protein powder I've found - Naked Nutrition.
When it comes to protein powders, I've always loved the idea of being able to add a little bit to my oatmeal or a whey protein smoothie to easily increase the protein, but I've never found a protein powder I've loved. So many protein powders out there lack nutritional integrity. They're often full of artificial sweeteners, "artificial and natural flavorings" (whatever that means), and a bunch of other random ingredients.
Naked Nutrition Grass-Fed Protein Powder Review
That's why when I discovered Naked Nutrition and their line of truly pure, high quality, "naked" protein powders, it was like a breath of fresh air! Naked Nutrition's goal is to strip away the marketing and gimmicks that so many companies use and to focus solely on transparency with their products. Products that truly have the purest ingredients. Check out their Grass-Fed Naked Whey Protein Powder. It comes from the milk of cows fed a 100% grass-fed diet from small dairy farms in California. The milk from the cows is non-GMO, non-denatured, and has no rBST or rBGH. The Naked Whey has no artificial sweeteners, flavors, or colors. It's gluten-free, soy-free, and free of growth hormones. It's processed in a clean way, as it's cold processed and uses acid and bleach-free processing. Plus, again there is only one ingredient. It's awesome!
Unflavored not your thing? They have flavored options that consist of ONLY grass-fed whey, coconut sugar, and either dried strawberries, raw cacao, or vanilla.
Whey Protein Smoothie with Naked Nutrition
Are you a vegan or looking for a dairy-free option? Naked Nutrition has a bunch of other options (that I am seriously DYING to get my hands on!). They include pea protein, organic brown rice protein, goat whey protein, egg white protein, powdered peanut butter, and many more! I'm excited, too, because you can make a simple whey protein smoothie by shaking with water (or even a coconut water, milk, almond milk, etc.), or you can get creative with endless shake and smoothie options, put some in your morning oats, blend in French toast batter, bake into high-protein cakes and cookies, etc.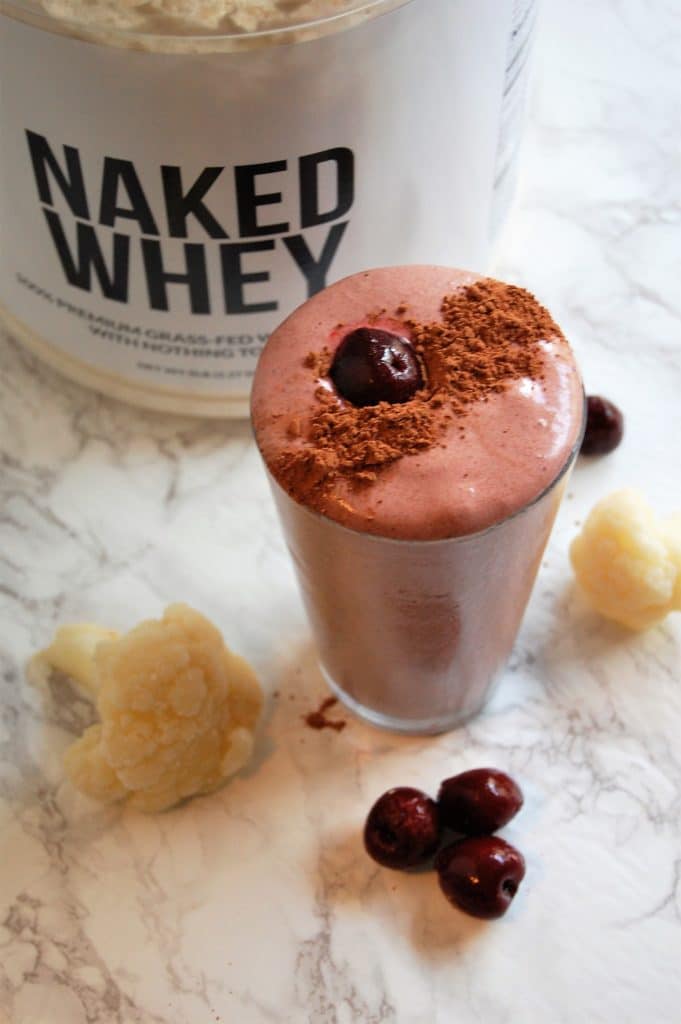 I wanted to share an absolutely delicious whey protein smoothie that the husband and I have been enjoying lately. It uses Naked Whey protein, frozen cherries and a date for sweetness, cocoa powder, and my new favorite veggie add-in for smoothies: cauliflower! I swear it disguises into the smoothie and you just end up tasting a black forest whey protein smoothie full of fruit, veggies, and that wonderfully pure grass-fed Naked Whey that gives it a luscious, frosty creaminess.
Check out Naked Nutrition today and let me know how you're trying Naked Whey! And of courses, if you give this smoothie a try, be sure to rate the recipe and leave a comment below and share to social media (tag @nutritiontofit and #nutritiontofit).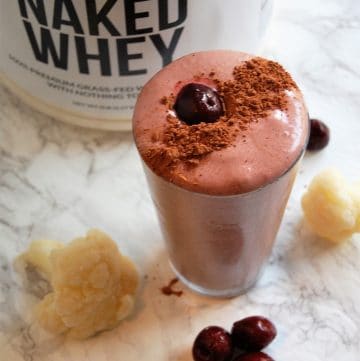 Black Forest Grass-Fed Whey Protein Smoothie
Meet your cravings with this black forest grass-fed whey protein smoothie - a satisfying, sweet, high-protein smoothie!
free from: gluten, soy, egg, fish, shellfish, tree nuts, peanuts
Print
Pin
Rate
Ingredients
2

scoops

Naked Nutrition Grass-Fed Naked Whey Protein

1

cup

frozen cherries

½

cup

frozen cauliflower florets

1

Medjool date

pitted

2

tablespoon

cocoa powder

½

cup

skim milk

(or other milk substitute)
Instructions
Blend all ingredients in a high-powered blender on high until smooth and creamy.
Nutrition
Calories:
176
kcal
|
Carbohydrates:
28
g
|
Protein:
17
g
|
Fat:
2
g
|
Cholesterol:
26
mg
|
Sodium:
56
mg
|
Potassium:
534
mg
|
Fiber:
4
g
|
Sugar:
21
g
|
Vitamin A:
220
IU
|
Vitamin C:
16.9
mg
|
Calcium:
154
mg
|
Iron:
1.4
mg