These Apple Pie Overnight Oats are deliciously creamy and full of the flavors of apple pie! They're also full nourishing ingredients like oats, chia seeds, flax seeds, applesauce, Greek yogurt, cinnamon, and more. Loaded with protein and fiber, they make a fantastic healthy, balanced breakfast you can grab-and-go.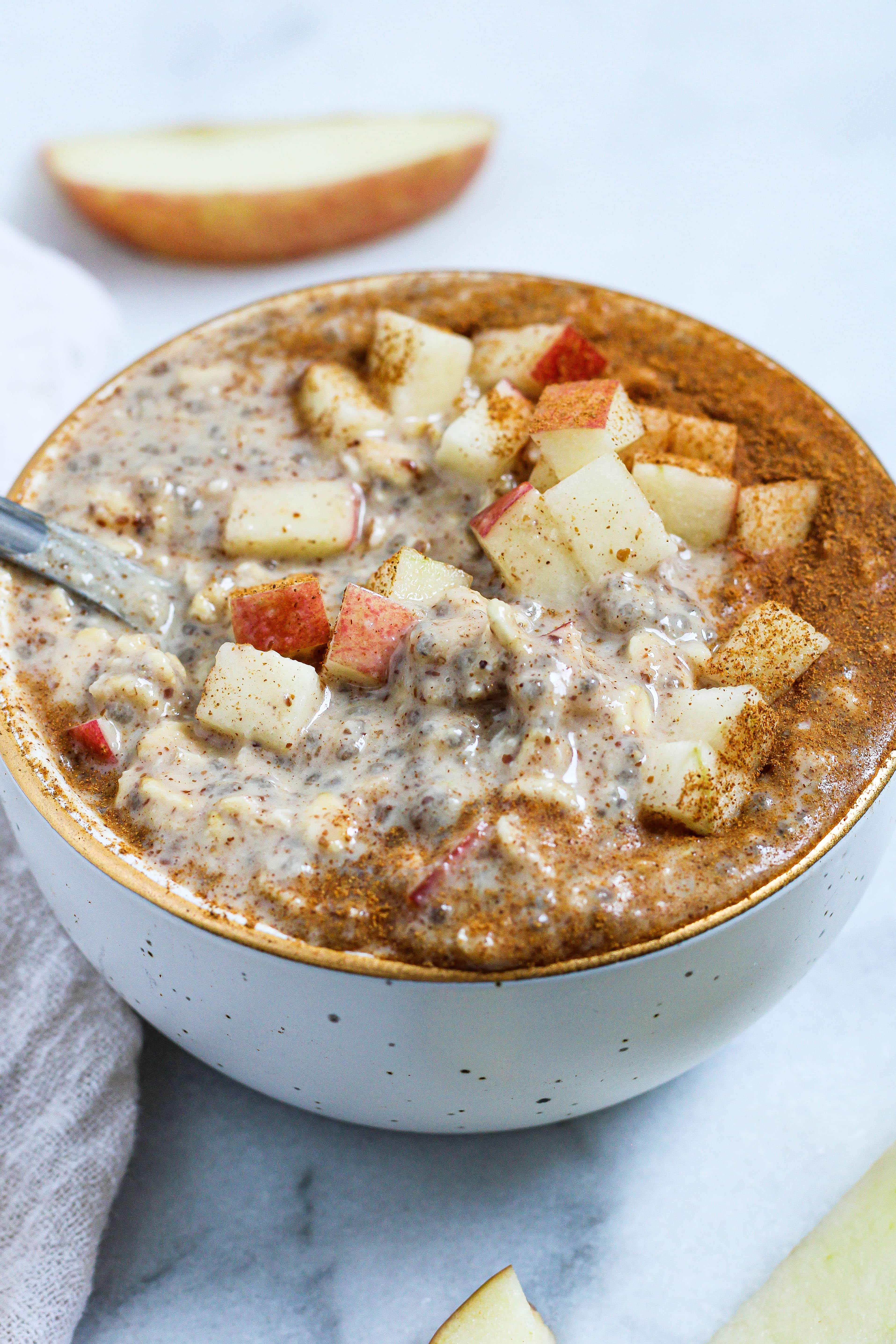 Why You'll Love These Apple Pie Overnight Oats
These apple overnight oats pair sweet flavors of autumn with creamy, delicious overnight oats.
They're relatively low maintenance - you don't need to cook the apples like in some other recipes. (I've tested multiple ways and this was the favorite version of every person in my family!)
Despite how sweet and dessert-like they taste, they're actually an incredibly balanced breakfast! They've got protein, fiber, and healthy fats.
You need less than 10 minutes of hands on time to create a satisfying grab-and-go breakfast.
Featured Ingredients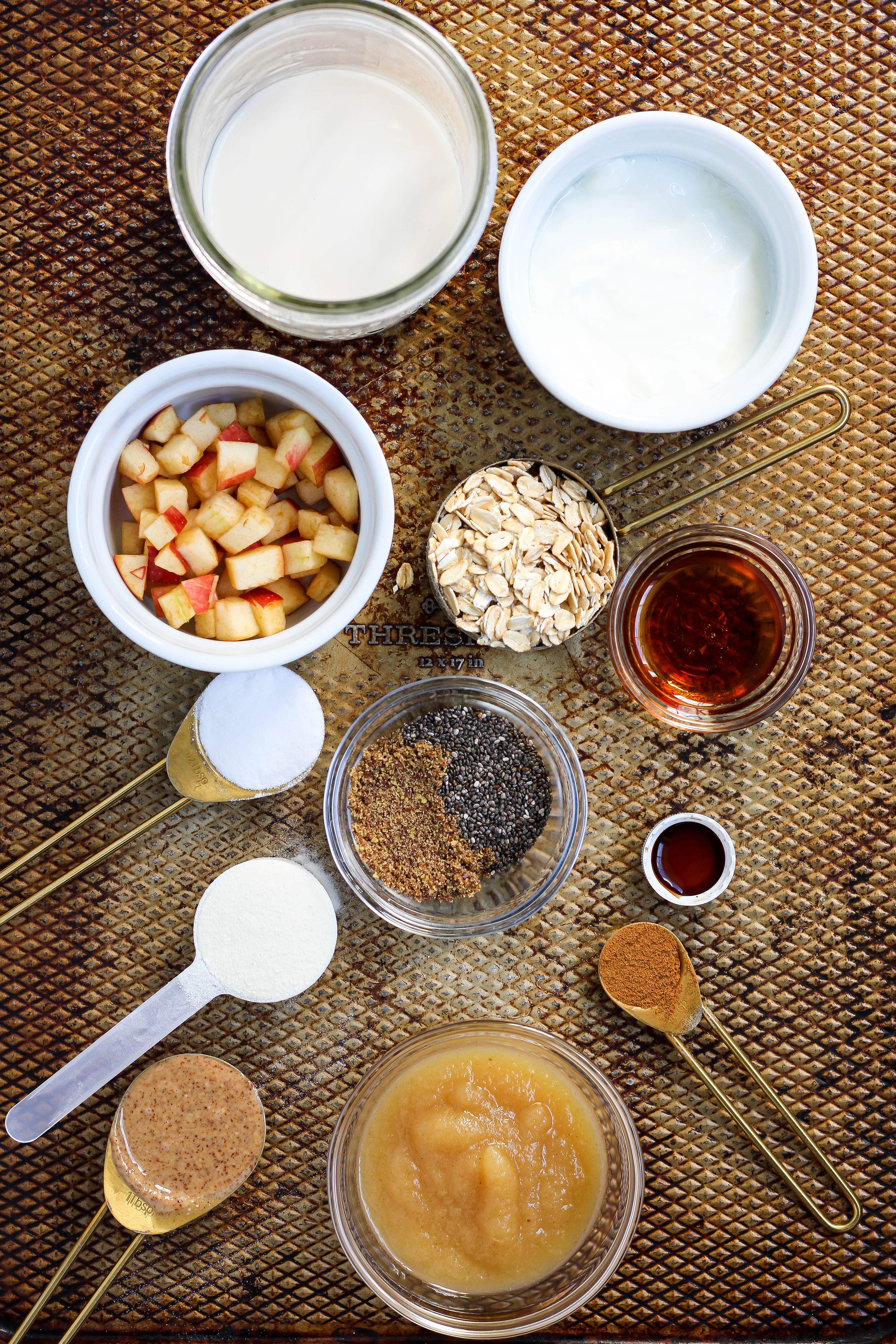 Old-Fashioned Oats: I recommend using old-fashioned oats for a classic overnight oats texture. If you do choose steel cut or quick cut oats, know those will impact the absorption amount and time.
Applesauce: Adding a little unsweetened applesauce to the oats mixture carries some apple pie flavor throughout the oats. It adds some natural sweetness, too!
Apple: Some other recipes cook their apples first, and I'll be honest - I totally thought that was going to be more apple pie-like, too! But after testing it multiple ways, my family loves the juicy crispness and fresh, bright apple flavor of the raw diced apple stirred in!
Cinnamon: This adds the best flavor to the oats and the apple topping. And really helps create more apple pie vibes!
Maple Syrup: You can use maple syrup or whatever your preferred sweetener is. I find maple syrup really makes a huge impact in the caramelized apple topping, personally, so I use maple syrup there. But inside the oats, I personally use allulose to sweeten to reduce the total added sugar. You do what works for you!
Flax & Chia Seeds

: I like to use a mix of both flax and chia seeds for both nutrition (adds more healthy fats, fiber, and a little protein) and function (helps absorb liquid and creates an ideal creamy overnight oats texture).

Greek Yogurt: Greek yogurt adds the best creaminess, plus nutritional benefits, too, like more protein and calcium.
Milk of Choice: I use unsweetened almond milk in this recipe and in the nutrition calculations, but use whatever milk you prefer to drink.
Almond Butter: This makes these apple overnight oats taste even creamier and more decadent. Plus it's a nutrient-dense ingredient, adding more healthy fats, protein, fiber, vitamins, and minerals.
Best Tips for This Recipe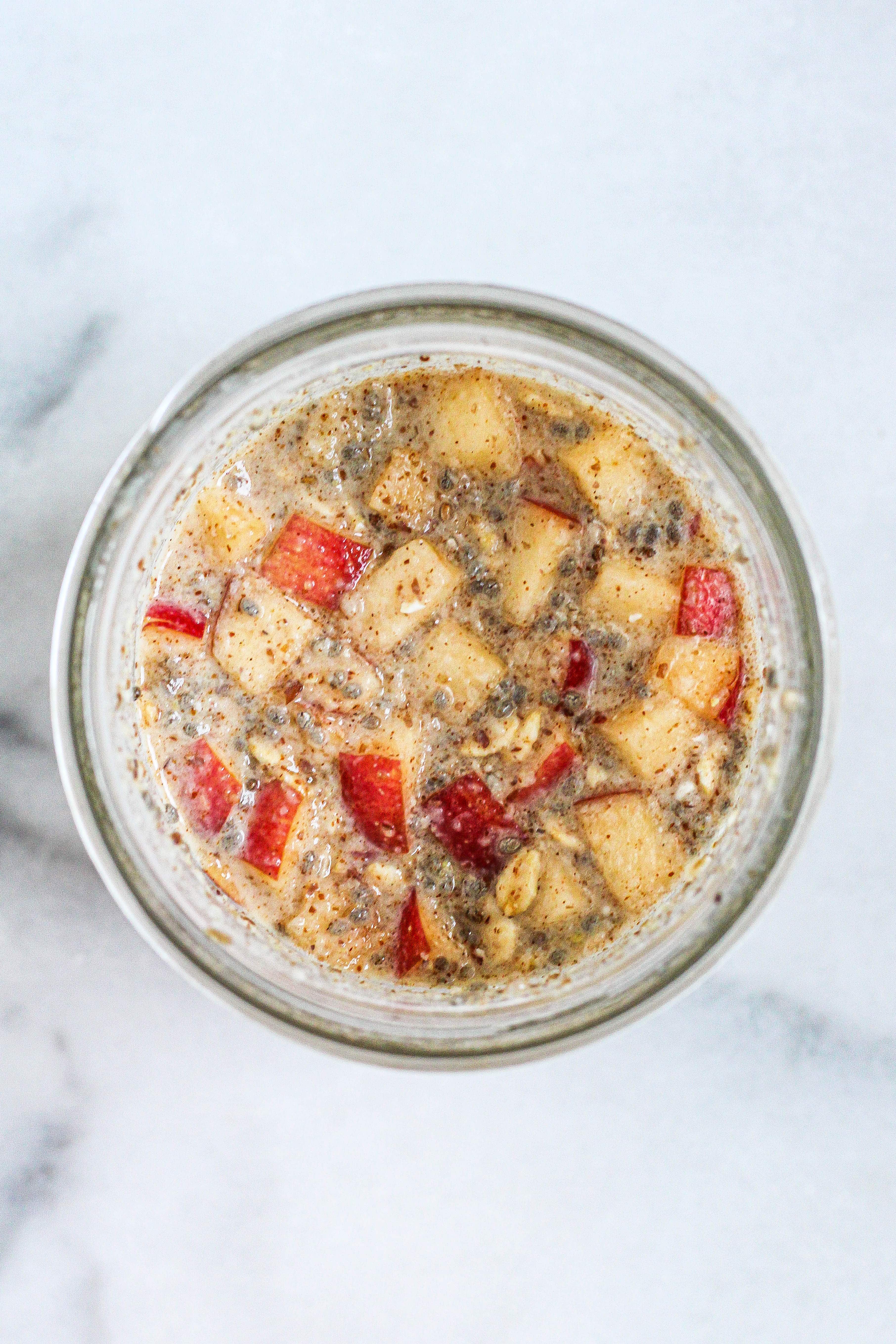 Use old-fashioned oats - they work best for overnight oats. Using steel cut oats will require more liquid and a longer absorption time, whereas using quick oats may require less liquid and/ or less absorption time.
After you stir the overnight oats, let them set on the counter for a few minutes while you put everything away and tidy up. Then, before you refrigerate your oats overnight, give them a second stir. This second stir is KEY for preventing the oats and seeds from settling at the bottom.
Add additional protein if you want. We all have different needs and I know many folks find they feel better consuming 20-30 grams (or more!) protein in the morning. If that's you, feel free to add a vanilla or unflavored protein powder of your choice. (I love adding a scoop of collagen peptides - it's an easy, flavorless way to boost the protein that doesn't impact the texture, either!)
Always give your oats a stir in the morning before eating to see if you need to add a splash or two of milk to create your desired consistency.
Half the fun of overnight oats is in the toppings. I love adding some extra diced apples and cinnamon on top, but you do you! Try raisins, craisins, pumpkin seeds, chopped walnuts, sliced almonds, a drizzle of almond butter, toasted coconut flakes - have fun!
Recipe Q&A
Are these applesauce overnight oats gluten-free?
Overnight oats are gluten-free as long as you're using certified gluten-free oats.
Do you eat these apple pie overnight oats hot or cold?
Either! Overnight oats are often consumed cold, but they can easily be warmed.
To warm up your overnight oats, heat them in a microwave-safe container in the microwave for 30 seconds at a time, stirring between each set.
Alternatively, you can reheat in a pot on the stove over medium heat, but you'll likely need to add a little more liquid here as some liquid is cooked out while reheating.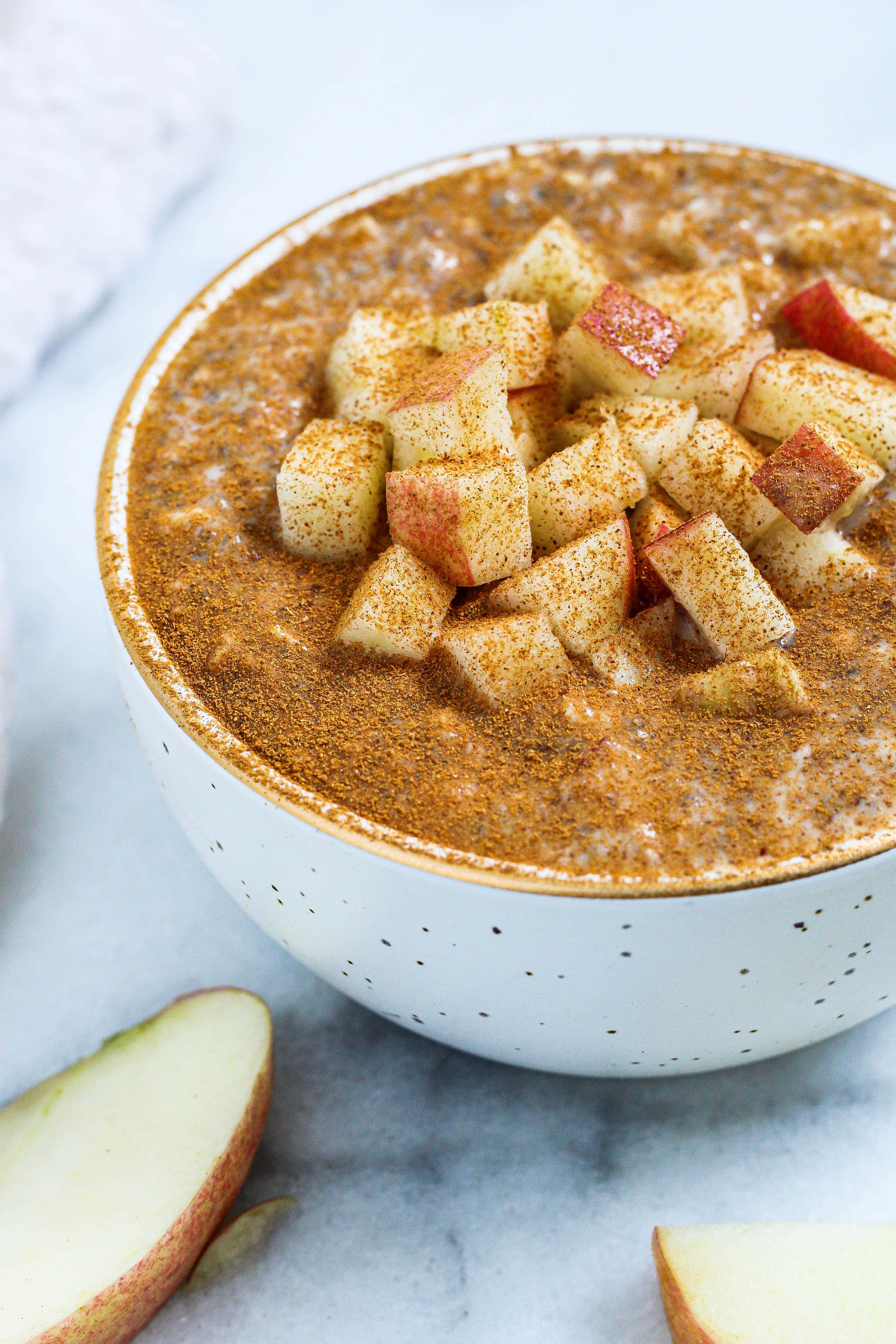 Are overnight oats healthy?
Overnight oats can absolutely be a part of a healthy, balanced diet. (But remember - it's not really about individual foods, but more so about your overall eating pattern.)
But overnight oats, like these, are typically a great source of fiber (especially soluble fiber) and often contain protein from certain types of yogurts, milks, and protein powders.
How long do overnight oats last?
Overnight oats last about 3 days in the fridge.
If you need to prepare overnight oats for beyond 3 days, I would suggest prepping the dry ingredients in a mason jar, then sealing it and storing it in your pantry. The night before you need them, simply add the coconut milk and yogurt.
Why are my overnight oats too thick/ thin?
There could be several reasons for absorption issues with your overnight oats. Different protein powders, types of milk, yogurts, and types of oats (i.e. old-fashioned vs. quick) can all alter how much liquid is absorbed.
Plus we all have personal preferences, too, so some (like me!) may prefer overnight oats a little thicker and creamier, and some may prefer them thinner.
Play around with your specific ingredients to see if you need to adjust liquid levels to suit your preferences.
More Delicious Overnight Oats Recipes
Did you make this recipe? Give it a 5★ rating below! For more healthy recipes and tips to create your own balanced relationship with food and health, be sure to follow Nutrition to Fit on Instagram!
Apple Pie Overnight Oats
Apple Pie Overnight Oats are deliciously creamy and full of the flavors of apple pie! They make a healthy, grab-and-go breakfast, too!
Ingredients
¼

cup

old-fashioned oats

1

tablespoon

ground flax seeds

1

tablespoon

chia seeds

½

teaspoon

cinnamon

⅓

cup

unsweetened almond milk

or milk of choice

¼

cup

nonfat Greek yogurt

¼

cup

unsweetened applesauce

1

tablespoon

almond butter

½

teaspoon

vanilla extract

1-2

teaspoons

maple syrup

¼

cup

diced apple
Instructions
Combine all overnight oats ingredients (oats, flax, chia, cinnamon, milk, Greek yogurt, applesauce, vanilla, almond butter, and sweetener) in a jar. Stir until evenly incorporated.

Add diced apples and stir again.

Cover and refrigerate oats overnight, or at least 4 hours.

When you're ready to enjoy your oats, give them a stir to see if you like the consistency or if you need to adjust with another splash or milk or two.

Add any desired toppings and enjoy!
Notes
Note: I often add a scoop of collagen peptides or half a scoop of protein powder to these overnight oats. Collagen peptides don't typically affect absorption, but most protein powders will require a little extra milk - adjust accordingly!
Nutrition
Calories:
395
kcal
|
Carbohydrates:
47
g
|
Protein:
16
g
|
Fat:
17
g
|
Saturated Fat:
1.6
g
|
Polyunsaturated Fat:
7
g
|
Monounsaturated Fat:
6.9
g
|
Cholesterol:
3.1
mg
|
Sodium:
89
mg
|
Potassium:
503
mg
|
Fiber:
11
g
|
Sugar:
21
g
|
Vitamin C:
2
mg
|
Calcium:
361
mg
|
Iron:
3.9
mg
Still here? Save this Apple Pie Overnight Oats recipe to Pinterest -- or go make them now and share a pic to Instagram (tag me!) when you're done!