Protein overnight oats are such an easy and tasty, healthy breakfast! These overnight oats with protein powder are high in both protein and fiber, making it a healthy, filling, satisfying breakfast. With just 5 minutes of prep time, overnight proats are easy to grab-and-go on busy mornings -- and super delicious, too!
I'm obsessed with these high protein overnight oats! Easy, nutritious, and delicious - who doesn't love chocolate for breakfast? (Okay, there's a vanilla version for those who prefer that!)
As a registered dietitian and balanced nutritionist, I've shared this easy breakfast recipe with my clients, and I always get such great feedback. So it's high time I share it here, too!
Why You'll Love Protein Overnight Oats
They're delicious. Seriously, we enjoy them so much - one of my favorite ways to start the day.
Versatile: you can make them with so many flavor combinations and they can even be enjoyed hot or cold.
Overnight proats are SO easy. Low maintenance is the name of the game here. All this recipe requires is less than 5 minutes to throw a few ingredients in a mason jar or storage container, shake, and refrigerate overnight. Then they're ready in the morning!
You only need 5 ingredients. That's it! And that's whether you make the chocolate version or the vanilla!
Protein overnight oats are nutritionally balanced. Seriously, this recipe has it all - high in protein, fiber, energizing carbs, and heart-healthy fats. You'll be nourished and fueled for a busy day ahead.
Recipe Ingredients
You'll need the following ingredients to make this recipe:
Old fashioned rolled oats - yes, it has to be old fashioned oats. Instant oats are cut into smaller pieces, so they absorb differently than old fashioned oats.
Chia seeds - adds fiber, healthy fat, and a little more protein. They also help thicken and create the ideal overnight oats texture.
Protein powder - adds a big punch of protein and flavor (if you're using a flavored variety)
Cocoa powder (or vanilla extract for the vanilla version) - gives a really rich and fudgy chocolate flavor, and it actually adds more fiber, protein, and is a good source of iron!
Almond milk - I personally enjoy almond milk in this recipe, but you can use any kind of milk you like or have on hand.
What Type of Protein Powder Should You Use?
It depends! When it comes to food and nutrition, there's never just one right answer. The best protein powder for you is one that best fits your needs! Consider your taste preferences, if you tolerate artificial sweeteners, any food allergies, whether you're a vegetarian or vegan, etc.
Whey Protein Powder
My current personal favorite is Optimum Nutrition Gold Standard 100% Whey Protein in Double Rich Chocolate. They make other flavors too, but I'm partial towards this chocolate flavor.
Plant-Based Protein Powder
If you're looking for a plant-based alternative, Orgain makes a plant-based protein powder several of my clients enjoy. (I personally find it a little too sweet for my preferences, but everyone is different with different tastes!).
Single Ingredient Protein Powder
Want a protein powder that's a plain Jane so you can customize sweeteners and flavors to your liking? Naked Nutrition is the way to go. They make an unflavored whey protein powder and unflavored pea protein powder that each contain only the single ingredient, whey or pea protein.
How to Make Protein Overnight Oats, Step-by-Step
In a wide-mouth pint-sized mason jar or other storage container, add all of the ingredients.
Seal the lid on the container, then shake about 10-15 seconds until all the ingredients are evenly combined.
Place in the fridge overnight, or at least 2-3 hours.
In the morning, give your oats a quick stir before eating. Don't forget to top with anything you'd like to add for taste and/ or nutrition! (I love adding fresh berries and sometimes nut or seed butter or even chocolate chips - I like these Lily's stevia-sweetened dark chocolate chips!)
Note that based on the protein powder you use or your preferences for how thick you like your overnight oats, you may need to adjust the amount of milk used.
Storage & Reheating
Overnight oats can be both stored and eaten out of the same container. You need a container with an airtight seal, like these 16 ounce wide-mouth glass mason jars or these 22 oz glass meal prep containers.
How to Meal Prep Overnight Oats
If you want to make a bunch of these protein overnight oats ahead, you can make the full recipe and leave them in the refrigerator up to 3 days.
If you want to prep a bunch of overnight oat containers even further in advance, or if you don't have fridge space, prep only the dry ingredients:
Place the oats, chia seeds, cocoa powder, and protein powder in the jar, then seal the jar and store in your pantry or in a dry environment.
When you're ready to make your overnight oats, add the almond milk (and vanilla, if you're making the vanilla option), shake, store overnight, and enjoy in the morning!
Warming Up Overnight Oats
Protein overnight oats can be enjoyed hot or cold. To warm up your overnight oats, heat in the microwave, stirring frequently. Start at 30-60 seconds, then add 10-15 seconds until your oats are at your desired temp.
Different Flavor Variations
There are so many ways you can flavor your protein overnight oats. One fun way is to try different flavored protein powders. Here are some fun flavors I've seen:
You can also add flavor and variety by adding toppings. (This can be a great place to add some gentle nutrition, too!)
Overnight Oat Toppings
Here are some protein overnight oats topping ideas:
Fresh fruit
Frozen fruit (add before refrigerating, so the fruit will thaw and soften some overnight)
Dried fruit
Nut and seed butters
Chopped nuts
Seeds, like pumpkin or sunflower seeds
Hemp hearts
Shredded coconut
Chocolate chips
Some fun topping combinations:
Banana + peanut butter
Mango + shredded coconut
Raspberries + dark chocolate chips
Shredded coconut + slivered almonds (really good with chocolate fudgy overnight oats!)
Blueberries + lemon zest
Blackberries + almond butter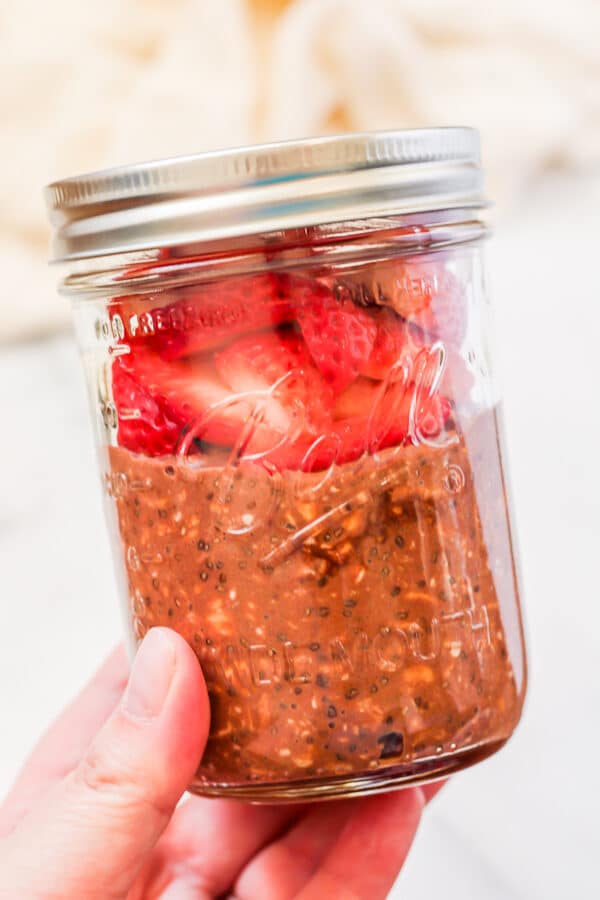 Frequently Asked Questions
Do you eat overnight oats cold?
You absolutely can! It's totally your preference, but overnight oats are absolutely safe to enjoy cold. They can be quite refreshing in the summer months!
Can you heat overnight oats?
You absolutely can heat overnight oats! Same with eating them cold - it's truly up to you and your preference of you how like to eat your oats. Warm them up in a microwave, stopping to stir frequently, and you'll be set!
Are overnight oats safe?
Overnight oats are perfectly safe to consume. Some folks get concerned about phytic acid in oats, dubbing it an "anti-nutrient" as phytic acid can slightly inhibit some nutrient absorption (iron, zinc, and calcium) at the time you're eating that current meal.
Research shows us that phytic acid is rarely a concern if you're eating an overall balanced diet.
But, if you're concerned about the phytic acid content of oats, rest assured that soaking foods higher in phytic acid, especially overnight, is one way to reduce phytate content (study 1, study 2).
Are there benefits of overnight oats vs cooked?
Nutritionally speaking, not really! Overnight oats and cooked oats are pretty nutritionally equivalent.
The main benefit of overnight oats is how much time it saves you on busy mornings! Low prep and no cook is hard to beat!
Are overnight oats good for weight loss?
No single food, including overnight oats, is going to have any effect on your weight, no matter how nutrient-dense it is. Your weight is an outcome independent of specific foods, but more related to your genetics, environment, medical conditions, medications, and your habits, including your eating habits.
Does nutrition play a role in weight management? Sure, but it's important to remember that eating an overall balanced diet is going to be more important to you finding your feel good weight than any one specific food.
Are protein overnight oats healthy?
That said, these high protein overnight oats are something that I would consider generally healthy, as a dietitian.
Many of my clients find that starting their day with a higher protein breakfast, around 20-30 grams, helps them be more satisfied throughout the day. Which can prevent overeating and binging later.
Know, too, that "healthy" is subjective. The foods that help one maintain their health may or may not work for you - and that's okay! Honor the body you have. As a registered dietitian nutritionist, I suggest eating a variety of nourishing foods that help you feel good and achieve or maintain your health, balanced with the foods you love. Remember - an election isn't won with every vote, but the majority. Your health is the same way - the overall dietary pattern is what matters most.
Overnight Oats Nutrition
The fudgy variety of these protein overnight oats contain 357 calories, 33 grams protein, 39 grams carbs, 11 grams fiber, and 10 grams fat. They're also an excellent source (provides 20% daily value or more) of magnesium, potassium, vitamin E, vitamin K, calcium, copper, iron, phosphorus, selenium, zinc, and omega-3 fatty acids.
Please note that these nutrition stats are based on using ¾ cup unsweetened almond milk and Optimum Nutrition Double Rich Chocolate 100% Whey Protein Powder. Nutrition information will vary based on type of protein powder used, type of milk used, and if you adjust the amount of milk based on your preferences/ how absorbent your protein powder is.
Other Related Healthy Oat Recipes You'll Love
Did you make this recipe? Give it a 5★ rating below! For more healthy recipes and tips to create your own balanced relationship with food and health, be sure to follow Nutrition to Fit on Instagram!
Protein Overnight Oats
Protein overnight oats are an easy, healthy breakfast, packed with protein for a solid start to a busy day.
Ingredients
½

cup

old-fashioned oats

1

tablespoon

chia seeds

1

tablespoon

cocoa powder

1

scoop

protein powder

¾

cup

unsweetened almond milk
Instructions
In a wide-mouth pint-sized mason jar or other storage container, add all of the ingredients.

Seal the lid on the container, then shake about 10-15 seconds until all the ingredients are evenly combined.

Place in the fridge overnight, or at least 2-3 hours.

In the morning, give your oats a quick stir before eating. Don't forget to top with anything you'd like to add for taste and/ or nutrition!
Video
Notes
You may need a little more or less milk based on your protein powder (some can make the overnight oats thicker than others) and based on how thick you prefer your overnight oats.
*For a vanilla option, use a vanilla protein powder, omit the cocoa powder, and add 1 teaspoon vanilla extract.
*Nutrition information does not include toppings and will vary based on type of protein powder and milk used.
Nutrition
Calories:
357
kcal
|
Carbohydrates:
39
g
|
Protein:
33
g
|
Fat:
10
g
|
Saturated Fat:
1.8
g
|
Polyunsaturated Fat:
3.7
g
|
Monounsaturated Fat:
2.8
g
|
Cholesterol:
35
mg
|
Sodium:
190
mg
|
Potassium:
621.7
mg
|
Fiber:
11
g
|
Sugar:
2
g
|
Vitamin A:
379
IU
|
Vitamin C:
0.2
mg
|
Calcium:
559
mg
|
Iron:
5.3
mg