Tomato basil chicken kebabs make an easy, healthy chicken kebab recipe with a simple, flavorful tomato basil marinade. These tomato basil chicken kebab are perfect for fresh summer grilling! Save this recipe to Pinterest to make later.
I just love kebabs - like to the point that I've celebrated my summer birthday with a grilled kebab dinner! They're so simple but so tasty, and offer endless flavor variations! Chicken kebabs have always been my favorite, especially when peppered with plenty of vegetables. And while kebabs are Middle Eastern in origin, I took the flavor profile of these tomato basil chicken kebabs a little more Mediterranean and Italian in direction by blending a fresh and simple tomato basil marinade.
This is definitely one of those recipes where I had a feeling I'd like it. I mean, I've already told you about my deep affinity for chicken kebabs, so it'd be hard to go wrong, right? Especially when I love tomato basil flavors together. But honestly? I totally underestimated how simple, fresh, and delicious these tomato basil chicken kebabs would be! They're SO good, and pretty healthy, too!
How healthy are chicken kebabs for you?
Chicken kebabs are moderately healthy. These tomato basil chicken kebabs in particular utilize lean boneless, skinless chicken breast that are skewered alongside tomatoes, which actually increase their nutritional potency and health benefits when they're kicked.
The potential health issue with grilled chicken kebabs is lies in HCAs. All meats, poultry, and fish contain amino acids (like creatine) and sugars, which when cooked produce heterocyclic amines (HCAs), a potential cancer-causing compound. Higher amounts of HCAs are present in different types of meat (beef more than poultry or fish) and in proteins cooked at higher temperatures (like frying and high-heat grilling) at longer durations (i.e. medium-rare steaks will have a lower HCA content than well-done steaks).
With these tomato basil chicken kebabs, while some HCAs will be present (just because it's a cooked animal protein), you can reduce the amount by grilling over a lower temperature and turning frequently (to help prevent char). Because the chicken is cut into small pieces, they won't take as long to cook, and the shorter cooking time will help minimize HCAs as well.
Additionally, having a low sugar marinade full of high-antioxidant foods (like tomatoes and basil) can help minimize the harmful effects of HCAs from grilling.
So again - short answer? These grilled chicken kebabs are moderately healthy that I personally have no problem consuming in moderation, but do what works for you!
Other FAQs:
What's in the chicken kebab marinade?
Chicken kebab marinades can be quite diverse, but this particular tomato basil marinade is a simple blend of fresh ingredients: tomatoes, fresh basil, olive oil, and salt and pepper. You can use any variety of tomato you prefer.
I don't have a grill, can I make these chicken kebabs in the oven?
Sure thing! Place the chicken kebabs on a sheet pan (or two) and cook at 450 degrees Fahrenheit for 10 minutes, then flip the chicken kebabs and cook another 10-15 minutes. I strongly recommend using a meat thermometer (affiliate link) in your kitchen to ensure food safety. Your chicken kebabs are done when they reach an internal temperature of 165 degrees.
How to serve chicken kebabs?
However works for you! You can serve your chicken kebabs in a pita, over a whole grain like brown rice or quinoa (or even cauliflower rice for more veggies!), with a potato (LOVE my grilled hasselback potatoes), and with plenty of veggies. I've served these tomato basil chicken kebabs with creamy cucumber salad, 5-minute broccoli kale quinoa salad, and blueberry panzanella salad.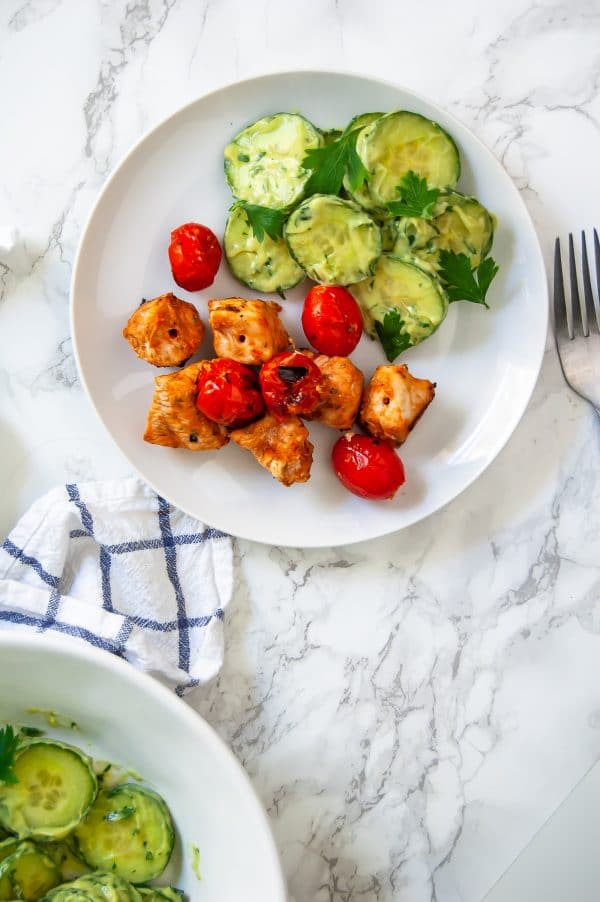 Want some other summer grilling recipes?
Try these NTF faves!
When you gives these tomato basil chicken kebabs a try, be sure to let us know what you think! Rate the recipe and leave a comment below, and as always be sure to share a pic to social media (tag @nutritiontofit and #nutritiontofit). Live well!
Tomato Basil Chicken Kebabs
Tomato basil chicken kebabs make an easy, healthy chicken kebab recipe with a simple, flavorful tomato basil marinade. These tomato basil chicken kebab are perfect for fresh summer grilling!

free from: gluten, dairy, soy, egg, fish, shellfish, peanuts, tree nuts
Ingredients
1

cup

tomatoes

chopped

¼

cup

fresh basil

packed

2

tablespoon

olive oil

¼

teaspoon

salt

¼

teaspoon

pepper

1.5

lbs

chicken breast

boneless, skinless

2

cups

grape tomatoes
Instructions
To your blender, add marinade ingredients (1 cup tomatoes, basil, olive oil, salt, and pepper). Blend until smoothly combined. Remove ¼ cup of the marinade and set aside in an airtight container to refrigerate and reserve for a dipping sauce for later.

Cut chicken breasts into 1-inch cubes. In an airtight storage container or bag, combine remaining marinade and chicken. Toss to combine and marinate at least 30 minutes.

Lightly oil grill grates and turn grill on.

Grill chicken kebabs for 4-5 minutes per side, turning once. They will be done when the chicken internal temperature reads 165 degrees.

Serve with reserved marinade as a dipping sauce.
Nutrition
Calories:
184
kcal
|
Carbohydrates:
2
g
|
Protein:
24
g
|
Fat:
7
g
|
Saturated Fat:
1
g
|
Cholesterol:
72
mg
|
Sodium:
232
mg
|
Potassium:
596
mg
|
Sugar:
1
g
|
Vitamin A:
705
IU
|
Vitamin C:
11.7
mg
|
Calcium:
15
mg
|
Iron:
0.6
mg