Overnight chia oats are a healthy meal prep breakfast recipe. They're delicious on their own or topped with your favorite fruit.
Do you ever go through phases of wanting the same food over and over for breakfast? I do! I'll have days and weeks where all I want is avocado toast with eggs. Then sometimes it's smoothies and other times it's these overnight chia oats.
These overnight chia oats are my current go-to because they are SO easy. I can meal prep a single portion for myself or make ahead enough for grab-and-go breakfasts for my husband, my daughter, and myself for a few days.
Plus, with the recipe being so simple, it goes well with most any kind of flavors or fruits I'm craving in the moment (check out some of my favorite variations later in the post!).
Nourishing Ingredients
These overnight chia oats have just a few simple ingredients, but they provide a variety of macronutrients and micronutrients, too.
Oats: I like to use old-fashioned oats (be sure to use certified gluten free if needed). Oats are a complex carbohydrate that provide energy along with some protein, fiber, and micronutrients like thiamin, magnesium, phosphorus, zinc, manganese, selenium, and iron.
Chia Seeds: Chia seeds are a tiny but mighty little seed full of protein, fiber, healthy fats, and micronutrients like B vitamins, calcium, copper, iron, magnesium, manganese, phosphorus, selenium, and zinc.
Milk of Choice: Exact nutrient profile will vary depending on type of milk used, but this can either provide little (i.e. unsweetened almond milk) or additional protein and fat (i.e. cow's milk or soy milk).
Nut or Seed Butter of Choice: Use what you have and what you need (i.e. go with a seed butter if allergic to nuts). But no matter the nut or seed butter used, this will add healthy fats, a little protein, and help keep your overnight oats a little more balanced from a macronutrient standpoint.
Honey: a little goes a long way, but I find a little sweetness makes these overnight oats immensely more enjoyable. If honey isn't your thing, you can blend in some dates, use something like stevia or monkfruit, or substitute another sweetener like maple syrup, agave, coconut sugar, or brown sugar. Note: if you have a child under age one that will be consuming this, leave out the honey!
Collagen Peptides: Collagen is not an essential ingredient to these overnight chia oats. You can make them exactly the same and just leave out the collagen and it will still taste great. But - collagen peptides are one way to add protein without affecting taste or texture. 20 grams of collagen peptides doesn't change the dish in anyway, yet adds 18 grams of protein. Read more about the research on collagen here, along with answers to collagen FAQs.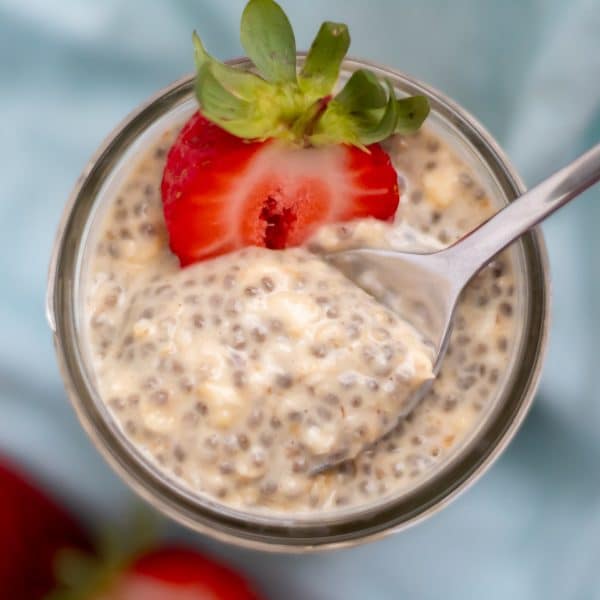 How to Make Overnight Chia Oats
These overnight chia oats couldn't be more simple to prepare. Start by whisking together your milk, nut/ seed butter, honey, and collagen.
Simple meal prep tip: if you're planning on making multiple servings, I love just blending everything into the blender to blend everything quickly and evenly!
Pour your liquid into a mason jar and then add the oats and chia seeds. Seal the mason jar, then shake-shake-shake the overnight chia oats mixture together. Place it in the fridge overnight (or at least a few hours). You can enjoy it as is or top with a half cup of your favorite chopped fruit or other toppings (i.e. nuts, seeds, cacao nibs, mini chocolate chips, unsweetened shredded coconut, cinnamon, etc.).
Overnight Chia Oats Recipe Variations
Because this is such a straightforward recipe, I love making countless variations of it! Here are some of my favorites:
Chocolate PB Banana Overnight Chia Oats
Keep the recipe the same, using peanut butter, and also blend a tablespoon of cocoa powder into the liquid. Before serving, add half a chopped banana and a teaspoon of mini chocolate chips.
Blueberry Almond Overnight Chia Oats
Keep the recipe the same, using almond butter. Before serving, stir in a half cup of fresh blueberries (or thawed frozen blueberries) and top with a teaspoon of slivered almonds.
Raspberry Lemon Overnight Chia Oats
Same recipe, but use cashew butter and blend the juice and zest from half a lemon into the liquid ingredients. Before serving top with (or stir in) a half cup of fresh (or thawed frozen) raspberries.
Shop the Ingredients
Need to stock up on the essentials to make this recipe? Here are the items in my pantry that I use to make these chia overnight oats all the time. P.S. I always try to find the best prices/ price per ounce, personally! (All Amazon affiliate links):
More Nourishing Breakfast Recipes
Try some of these other popular breakfast recipes that can be made ahead!
Enjoy this simple overnight chia oats recipe? Share to Pinterest and with your community on Facebook and Instagram! Thank you, and live well!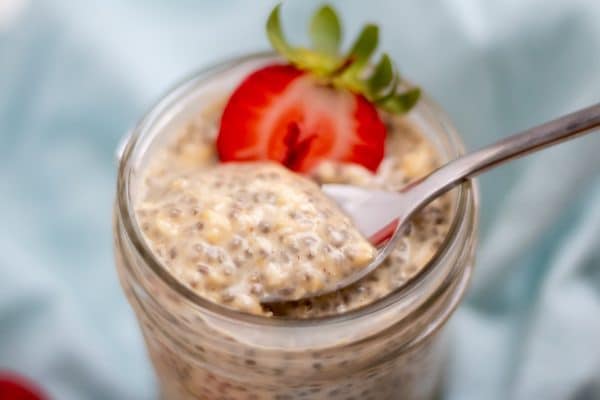 Overnight Chia Oats
Overnight chia oats are a healthy meal prep breakfast recipe. They're delicious on their own or topped with your favorite fruit.

free from: wheat/ gluten, dairy, soy, egg, fish, shellfish, peanuts, tree nuts
Ingredients
¼

cup

old-fashioned oats

(gluten-free if needed)

2

tablespoon

chia seeds

1

tablespoon

nut or seed butter of choice

1

teaspoon

honey

20

grams

collagen peptides

(optional)

⅔

cup

milk of choice
Instructions
Whisk together milk of choice, honey, nut/ seed butter, and collagen peptides. You can also quickly combine all the ingredients by blending in a blender on medium to high speed for 30-60 seconds.

Pour liquid in a mason jar and add oats and chia seeds. Stir, or (once the lid is on) shake the mason jar to combine.

Refrigerate overnight (or at least a few hours). Stir again just before serving and top with any desired toppings.
Notes
Nutrition information is calculated with peanut butter, unsweetened almond milk, and does include collagen peptides. If omitting collagen or using an alternative protein source, information will vary.
Nutrition
Calories:
400
kcal
|
Carbohydrates:
34
g
|
Protein:
29
g
|
Fat:
19
g
|
Saturated Fat:
3
g
|
Polyunsaturated Fat:
1
g
|
Monounsaturated Fat:
1
g
|
Trans Fat:
1
g
|
Cholesterol:
1
mg
|
Sodium:
178
mg
|
Potassium:
171
mg
|
Fiber:
12
g
|
Sugar:
7
g
|
Vitamin A:
1
IU
|
Vitamin C:
1
mg
|
Calcium:
171
mg
|
Iron:
3
mg