Need some high protein salad ideas? As a registered dietitian, adding protein to a salad is one of my top suggestions to make a salad a more filling meal. Check out this list of 21 easy salad protein ideas you can add to any salad.
Salad Protein Benefits
Prioritizing protein in your salads is smart. One of three macronutrients (along with fat and carbohydrates), protein has a variety of benefits, including:
21 High Protein Salad Ideas:
Try mixing and matching these salad protein ideas to create the most satisfying high protein salads!
1. Chicken
Chicken can be enjoyed on a salad in many ways: grilled, pulled, roasted, barbecued, baked, in the air fryer, or even a scoop of a chicken salad or dip (like my healthy buffalo chicken dip). For busy weeknights, you can even grab a rotisserie chicken, or try the following salad recipes for inspiration: Southwest Chicken Avocado Salad, Honey Mustard Chicken Salad.
Chicken Nutrition: A 3.5-ounce (100-gram) serving of cooked chicken breast provides 165 calories, 31 grams of protein, and 3.6 grams of fat.
2. Steak or Beef
Red meat can sometimes get a bad reputation, but it's actually a nutrient-dense protein! It's an excellent source of niacin, vitamin B6, vitamin B12, phosphorus, zinc, and iron, with a 100-gram serving providing over 25% of the recommended daily intake for these nutrients. You can top a salad with a lean cut of steak (try my cast iron sirloin steak), or even with ground beef, like taco-seasoned beef for a taco salad.
Beef Nutrition: A 3.5-ounce (100-gram) serving of cooked top loin, lean beef provides 155 calories, 23 grams of protein, and 6.4 grams of fat.
3. Turkey
Turkey is another versatile protein with options like deli turkey or ground turkey. Try repurposing leftovers like turkey meatballs or even Thanksgiving turkey (or this more everyday weeknight-friendly air fryer turkey breast).
Turkey Nutrition: A 3.5-ounce (100-gram) serving of 93% lean ground turkey provides 220 calories, 27 grams of protein, and 11.6 grams of fat.
4. Chicken Sausage
While not a traditional choice, chicken sausage is a delicious addition to a salad. It's usually higher in protein and lower in fat and calories that traditional pork sausage. Plus there are so many chicken sausage varieties and flavors now! Amp up the flavor by air frying, roasting, or searing chicken sausage slices first. You can also try a sheet pan dish (like my reader-favorite autumn chicken sausage sheet pan dinner) and serving it over a bed of leafy greens.
Chicken Sausage Nutrition: Nutrition will vary depending on the brand and flavor used, but one link of Aidell's Chicken & Apple Smoked Sausage provides 180 calories, 13 grams of protein, and 12 grams of fat.
5. Tofu
Tofu is a fantastic plant-based protein source. If you're new to tofu, it's great at absorbing whatever flavors you cook with it, and can also be transformed into a deliciously crispy dish by roasting, pan frying, or air frying.
Tofu Nutrition: A 100-gram serving of extra firm tofu provides 98 calories, 10 grams of protein, and 5.2 grams of fat.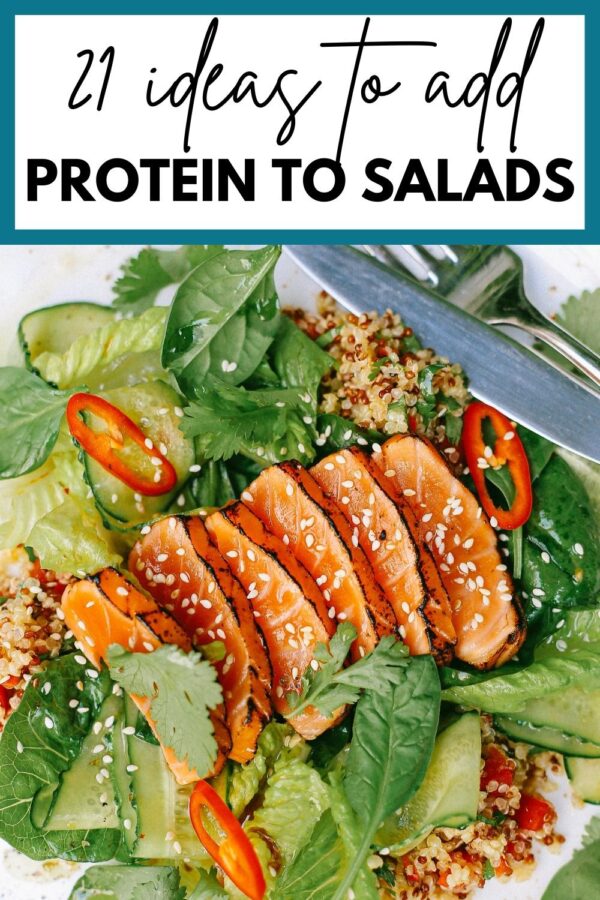 6. Hard Boiled Eggs
Hard boiled eggs are super convenient for salads. They can easily be meal prepped (I love using the Instant Pot to make hard boiled eggs!), or can even be bought at grocery and convenience stores. And if you're confused if eggs are healthy, well - good news! They are - and not just the egg whites. Egg yolks also provide a little protein, but also contain a tremendous amount of nutrients, like fat-soluble vitamins and essential compounds like choline.
Egg Nutrition: One large egg provides 74 calories, 6 grams of protein, and 5 grams of fat.
7. Deli Meat
Channel a classic chef's salad or deli cobb salad by adding deli meat to your salad. Deli meat comes in a variety of meats, like turkey, chicken, ham, and roast beef, and most are fairly lean protein options. You can also add more flavor by choosing options like peppery roast beef or buffalo deli chicken.
Concerned about nitrates/ nitrites or the high sodium content of deli meat? Here are a couple suggestions:
Choose a deli meat option with minimal ingredients - Trader Joe's makes a delicious oven roasted deli turkey where the only ingredients are turkey and salt.
Select lower sodium varieties.
And of course, talk to your doctor if you have concerns if something like deli meat is a fit for your personal health history, medications, etc.
Deli Meat Nutrition: Nutrition will vary based on the type of meat, but a 100-gram serving of deli turkey breast provides 112 calories, 13.5 grams of protein, and 3 grams of fat.
8. Crab Meat
Crab meat and imitation crab meat alike both provide protein, but authentic crab meat contains more. Imitation crab meat is significantly more affordable, though, so if that's your preference, that's fine, too - remember, part of finding nutrition to fit your life and health includes your budget! You can use fresh crab, canned crab, crab cakes, or make a crab salad.
Crab Meat Nutrition: A 100-grab of steamed, hard-shell crab provides 82 calories, 18 grams of protein, and 0.7 grams of fat.
Imitation Crab Meat Nutrition: a 100-gram serving provides 95 calories, 8 grams of protein, and 0.5 grams of fat.
9. Salmon
Salmon is a fantastic seafood option, packed with protein, as well as the heart healthy essential omega-3 fatty acids. Fresh and frozen salmon go great on a salad (like with my grilled orange herb salmon or foolproof instant pot salmon), or for an even more affordable option, try canned salmon - as is or use in my easy salmon patties.
Salmon Nutrition: A 3.5-ounce (100-gram) serving provides 156 calories, 27 grams of protein, and 5.6 grams of fat.
10. Shrimp
Shrimp is another popular seafood that makes an excellent protein for salads. It's full of lean protein and a variety of micronutrients (like selenium, iron, vitamin B12). And again, you can use any kind of shrimp that fits your budget, needs, and preferences - fresh, frozen, canned, or already cooked from the store (super convenient for busy days!)
Shrimp Nutrition: 3.5-ounces (100-grams) of cooked shrimp provides 99 calories, 24 grams of protein, and 0.3 grams of fat.
11. Tempeh
Tempeh is another plant-based protein option. With Indonesian roots, it's typically made from fermented soybeans, although it can be made from other beans and whole grains, too. It's chewy, firmer than tofu, and bears a nutty flavor. It can be prepared in lots of ways, like grilling, frying, pan-frying, air-frying, sauteing, or baking. Don't forget to toss it in a marinade before you cook it to add more flavor and fun!
Tempeh Nutrition: A 3.5-ounce serving (100-grams) provides 195 calories, 20 grams of protein, and 11.4 grams of fat.
12. Beans
Beans are an incredibly versatile plant-based protein. Unlike tofu and tempeh, most beans and legumes are not complete proteins. Which is fine, just pair them with other foods throughout your meal/ day to ensure you're consuming all essential amino acids. Try pairing beans with rice, breads, or crackers to create a complete protein. Beans are also a great source of carbohydrates and fiber, a resourceful food that does a lot for us nutritionally! Try my vegan bean burgers or roasted chickpeas for fun salad additions!
Bean Nutrition: 100-grams of cooked black beans (a little more than half a cup) provides 132 calories, 9 grams of protein and 0.5 grams of fat.
13. Lentils
Lentils are another plant-based protein packed with lots of nutrition. Similar to beans, they're not a complete protein (again - not a dealbreaker, just something to be aware of!). They also pack in a lot of fiber and can help promote heart health, improved cholesterol, digestive health, and weight management. If you need a little salad inspo, try my Greek lentil salad (it's SO good!).
Lentil Nutrition: 100-grams of cooked lentils (a little more than half a cup) provides 116 calories, 9 grams of protein, and 0.4 grams of fat.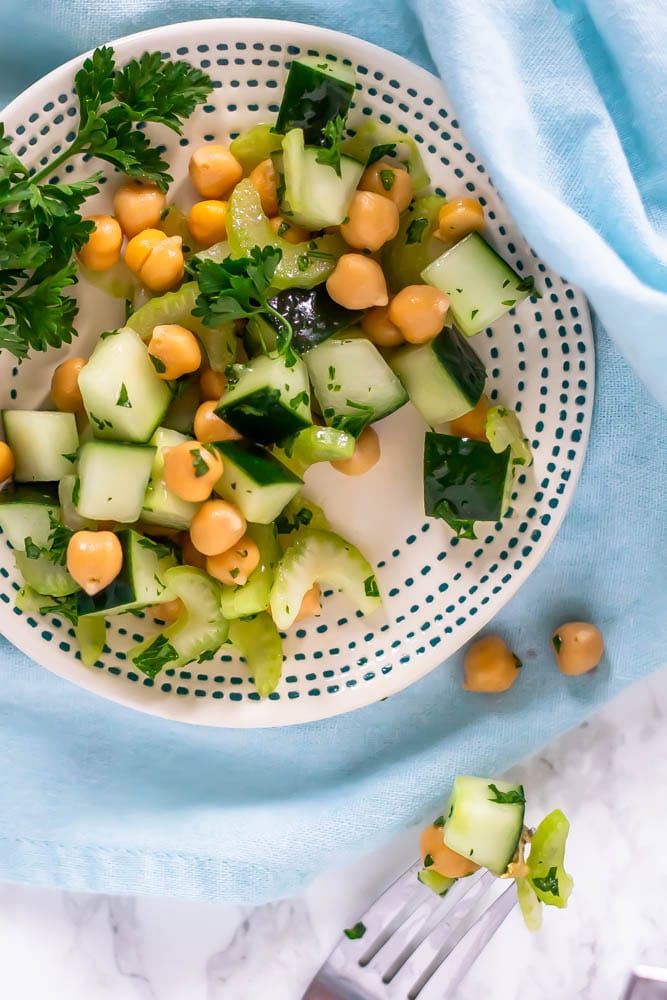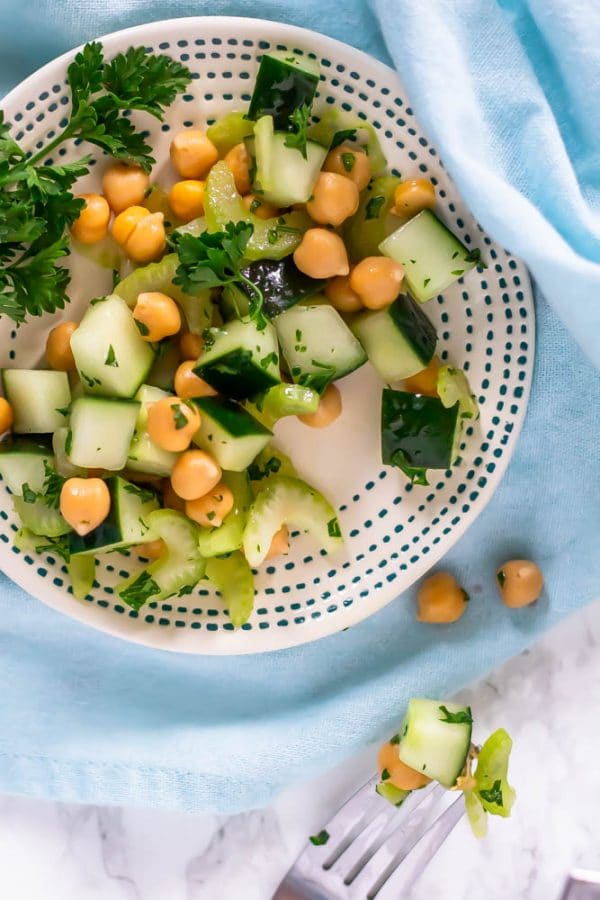 14. Chickpeas
Chickpeas, or garbanzo beans, are a type of bean or legume, but I personally love them so much they get their own highlight. One reason I love them is because chickpeas are so versatile. You can air fry, roast, or pan-fry them to make them crispy and delicious, toss them in salads like my cucumber chickpea salad, marinate them, or transform them into dips (like this pizza dip). Or turn them into sweet healthy buckeyes for a treat alongside your salad.
Chickpea Nutrition: 100 grams of cooked chickpeas (a little over a half cup) provides 164 calories, 9 grams of protein, and 2.6 grams of fat.
15. Edamame
Edamame, or soy beans, are similar in texture to many beans, but being soy-based like tofu and tempeh, they're a complete protein. They make a delicious, and colorful, addition to salads that provide fiber, protein, and vitamins and minerals. You can find them fresh in some stores (like Trader Joe's) or find them both shelled and unshelled in the freezer section.
Edamame Nutrition: A 100-gram serving (a little over a half cup) provides 121 calories, 12 grams of protein, and 5.2 grams of fat.
16. Cheese
Cheese is a source of fat, but it also provides protein, too. As a dietitian, I don't recommend cheese as a main protein source of a meal, but it can absolutely contribute to the overall protein content of a meal. Try add something super fun like my popular air fryer mozzarella sticks alongside your salad!
Cheese Nutrition: the nutrition will vary based on the type of cheese, but one slice (17 grams) of cheddar cheese provides 70 calories, 4 grams of protein, and 5.9 grams of fat.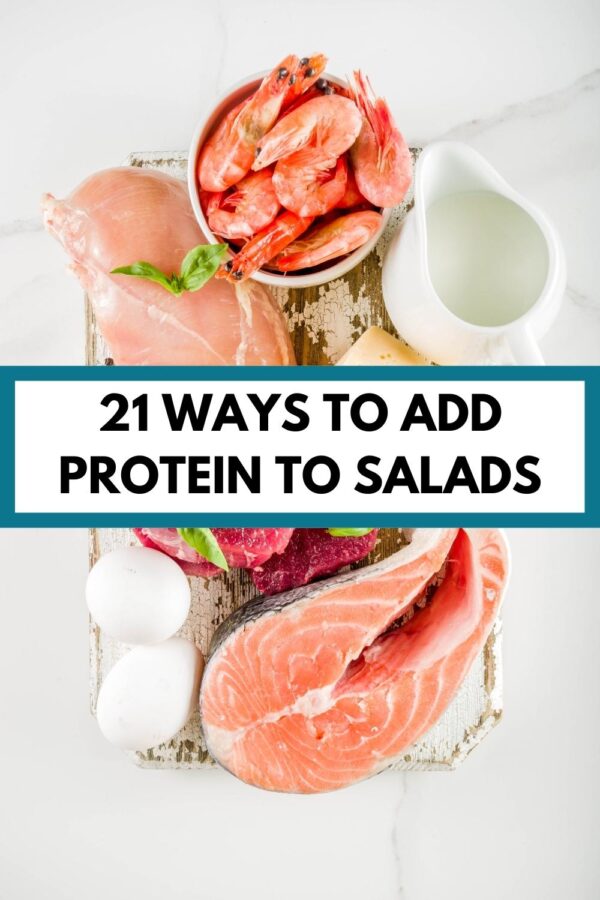 17. Nuts & Seeds
Nuts and seeds are also primarily a fat source, but can provide a little protein, too. They can bring more satisfaction to a salad, and there are a lot of ways you can use them:
Walnuts in a waldorf salad
Pecans in a harvest salad with chopped apples and white cheddar
Pumpkin seeds in a kale salad with dried cranberries
Peanuts in a Thai-inspired salad
Almonds in a salad with fresh berries and goat cheese
Sunflower seeds in a house salad
Hemp hearts sprinkled on a Caesar salad
Pistachios in a baby arugula salad
Nutrition information will vary based on the nut or seed, but two tablespoons of dry roasted almonds provides 113 calories, 3.4 grams of protein, and 9.8 grams of fat.
18. Whole Grains
Whole grains are a carbohydrate (yes, your salad needs carbs, too!), but they contain some protein, too! Check out the protein content of several whole grains:
None of these whole grains provide a significant amount of protein on their own, but I think it's important to recognize the minor ways that protein can add up from ingredients like whole grains, nuts, seeds, and cheeses.
19. Burger Patties
A burger can make a fun salad addition! Or truly, any kind of "patty" type food. Think along the lines of beef burgers, turkey burgers, shrimp burgers, salmon patties, crab cakes, etc. These can be a really convenient option, too, with some stores selling frozen shrimp burgers, turkey burgers, beef burgers, and even high protein veggie burgers!
Remember that convenience is not synonymous for "bad" and if something like a convenient frozen turkey burgers helps bring some balance to your salad, that's A-okay in my book!
20. Chickpea Pasta
If you're a fan of pasta salads or love adding some noodles to your salad, I 10/10 recommend trying chickpea pasta (or other legume-based pastas). For most brands, the only ingredient is chickpeas. Some brands, like Banza, contain chickpeas, pea starch, tapioca, and xanthan gum.
Nutrition information may vary on the brand, but a 2 ounce (56 gram) dry serving of Banza chickpea pasta provides 190 calories, 11 grams of protein, and 3 grams of fat.
21. Leftovers
Repurposing leftovers over a salad can be a great way to reduce food waste, create more balanced meals with less effort, and change up your leftovers slightly, if you don't like to eat the same thing all the time.
Some of my personal favorites to put on a salad: healthy chicken cordon bleu, taco stuffed peppers, Korean-inspired ground turkey, healthy buffalo chicken dip, and barbecue chicken and zucchini skewers.
Pair a Salad with Protein on the Side
Hopefully you can see by now that there are many proteins for salads. But if you're still not feeling it, know, too, that you can always pair your salad with a protein on the side. Some of my favorite ideas include: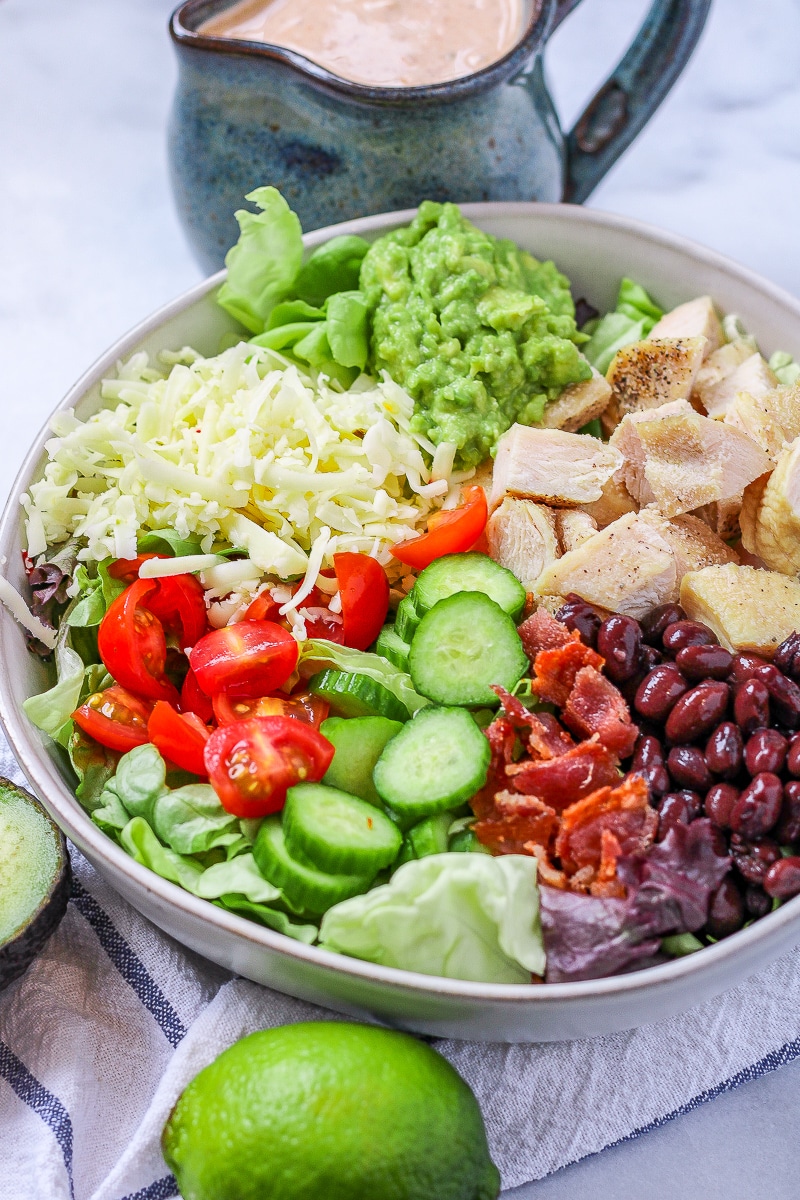 Salad Recipe Inspiration
TL;DR: Add Some Protein to Your Salad!
There are countless options, even vegetarian ones, that give you plenty of salad protein inspiration. Prioritizing proteins for salads will help turn your salad into a more well-balanced meal that will actually keep you nourished and satisfied.
Note: All nutrition information came from the USDA's FoodData Central.
Article was first published 2/20/22 and was modified and republished 1/29/23.