Tender and juicy, this air fryer turkey breast cooks much faster than the oven, making it great for a small Thanksgiving dinner, but also simple and quick enough for an everyday meal!
Why You Should Make a Turkey Breast in the Air Fryer
Cooking a turkey breast in the air fryer compared to the oven is a sure fire way to save time, making this entree simple enough and hands-off enough for a weeknight dinner.
With many folks partaking in much smaller Thanksgiving dinners this year, this is a great way to enjoy turkey for a smaller crowd, without having to cook a whole turkey (or take as long as cooking a whole turkey takes in the oven!).
Even if you are having a smaller gathering, making this turkey breast in the air fryer frees up the oven for any other dishes, like pies, rolls, pumpkin muffins, sausage, baked pears, roasted vegetables, and pumpkin pie crumble bars.
Air fryers are one of my favorite cooking methods, as they make food items crispy outside (yet tender inside!), and cook in less time, using less energy, too!
What You Need:
Ingredients
The main ingredient you need is a turkey breast! You'll also want a little fat (I used my favorite extra virgin olive oil, but you can use any oil or butter) and a little seasoning.
For seasoning, I personally love using the blend indicated in the recipe below – a little salt, pepper, and herbes de provence seasoning blend. Wait, what kind of seasoning blend now?!
Herbes de Provence is an aromatic herb and spice blend, traditionally including thyme, basil, rosemary, savory, marjoram, oregano, bay leaf, and lavender.
This particular blend I was using also included dried lemon peel, and citrus is always a lovely complement to turkey!
Other seasoning blends you can use could include:
Italian seasoning blend
Poultry seasoning blend
Fresh herbs (rosemary, thyme, and sage are fantastic with turkey)
You can always add your own citrus zest (limes and oranges go well!) and freshly cracked pepper. Before adding any salt though, be sure to check if any salt is in any seasoning blend you may be using – you definitely don't want to make it too salty!
Turkey Breast Tips
Aim for a turkey breast that is 3-4 pounds in weight (but know if it's smaller or larger, you can always adjust time and just make sure the turkey breast cooks to 165 degrees for doneness).
Make sure the height of your turkey breast will fit and be able to close the air fryer basket without it touching the heating component above.
A turkey breast with skin on will be best to help the breast stay moist, but you can still have a juice, tender turkey breast even without.
Bone in turkey breast also works, but may take a little longer time (but can add flavor! And bonus – save the bone to make some turkey broth afterwards)!
Equipment Needed
This page may contain affiliate links. Read my full disclosure here.
Of course, aside from a cutting board and carving knife at the end, the main piece of equipment you need is an air fryer! Now which air fryer is best?
My general philosophy is whichever one you have! That said, if you're in the market for one, my personal preference is for a larger air fryer (i.e. a 6-quart air fryer). These not only hold more, but typically have a larger base of the "frying" basket, which is great for recipes that require food to be placed in a single layer.
I have the Instant Pot Vortex 6 quart Air Fryer and I love it. It's insanely easy and intuitive to use and I've been so impressed with everything I've made!
Air Fryer Turkey Breast Recipe Tips
The recipe is pretty straightforward, but here are a couple tips for best execution:
Check for doneness by temperature, not time. Use a meat thermometer to ensure the turkey breast reaches 165 degrees Fahrenheit in the middle of the breast to know it's done.
Even if you have a skinless turkey breast, or even a "turkey breast roast", still flip it about halfway through cooking to give a more even cook without drying out the meat.
Once done, remove the turkey breast and place it on your cutting board but let it rest! I highly recommend "tenting" the breast with foil for at least five minutes (basically just take a piece of foil and gently tent/ place it over the breast). This will help they turkey breast retain its juices and stay moist and tender when you do carve into it.
How to Serve as Part of a Balanced Meal
If you're a nutrition coaching client of mine, you know I encourage creating simple, balanced meals as a calorie counting-free way of gentle nutrition!
This air fryer turkey breast makes an awesome lean protein, so be sure to pair with some: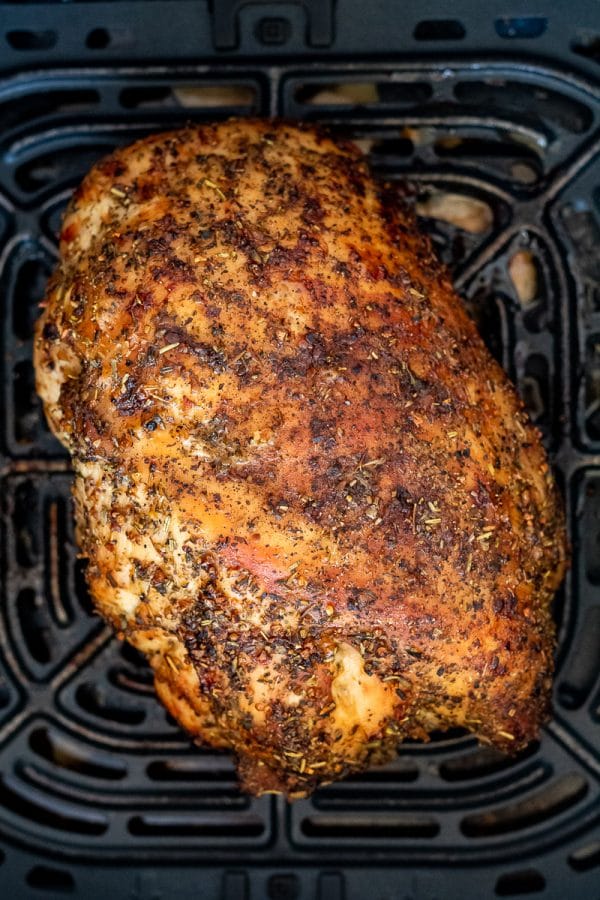 Recipes for Leftover Turkey
Have any leftover turkey breast? Try these recipes:
Did you make this recipe? Give it a 5★ rating below! For more balanced nutrition and simple, healthy-ish recipes, be sure to follow me on Instagram!
Air Fryer Turkey Breast
Tender and juicy, this air fryer turkey breast cooks much faster than the oven, making it great for a small Thanksgiving dinner, but also simple and quick enough for an everyday meal!
Print
Pin
Rate
Ingredients
1

turkey breast or turkey breast roast (3-4 lbs)

(skinless, skin-in, bone-in, or boneless)

2

tsp

extra virgin olive oil

2

tsp

herbes de Provence

½

tsp

black pepper

½

tsp

salt

(omit if your seasoning blend contains salt)
Instructions
Rub the turkey breast or turkey breast roast all over with olive oil. Combine herbes de provence, pepper, and optional salt and rub all over all sides of the turkey breast.

Place turkey breast in the air fryer basket (if your turkey breast has skin on, start with skin side down). Cook at 350° for 20 minutes, then turn over and cook an additional 20-30 minutes, or until the internal temperature of the turkey hits 165°. Note that bigger and bone-in turkey breasts will take on the longer side.

Remove cooked turkey breast and place it on a cutting board. Cover it with foil and let it rest at least 5-10 minutes before carving. Enjoy!
Notes
Nutrition information based on 10 servings from a 3 lb edible portion of cooked turkey breast.
Nutrition
Calories:
208
kcal
|
Protein:
41
g
|
Fat:
4
g
|
Saturated Fat:
0.9
g
|
Polyunsaturated Fat:
0.8
g
|
Monounsaturated Fat:
1.5
g
|
Cholesterol:
108.9
mg
|
Sodium:
134.8
mg
|
Potassium:
340.4
mg
|
Vitamin A:
15.6
IU
|
Calcium:
12.8
mg
|
Iron:
1
mg