If you need an on-the-go meal or healthy summer side dish, this healthy chickpea quinoa salad with turnip greens is for you. Dressed in an orange basil dressing, this plant-based salad recipe uses fresh turnip greens in a nutritious and wholesome way.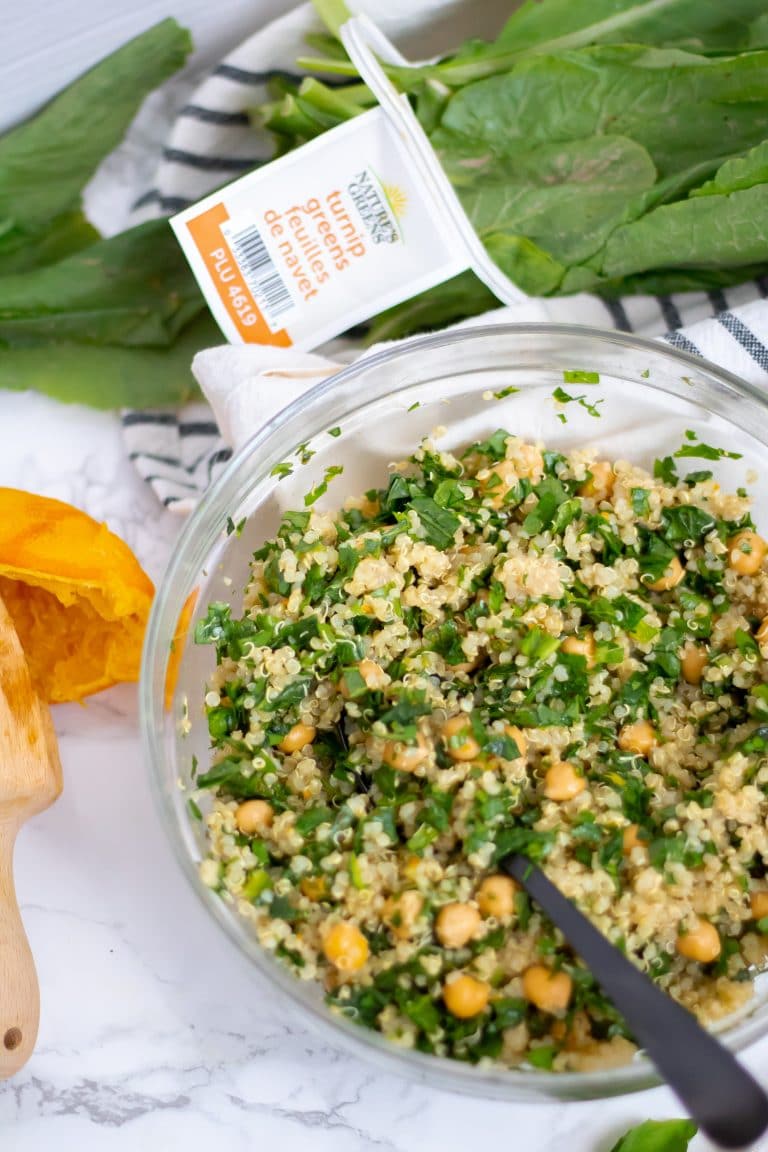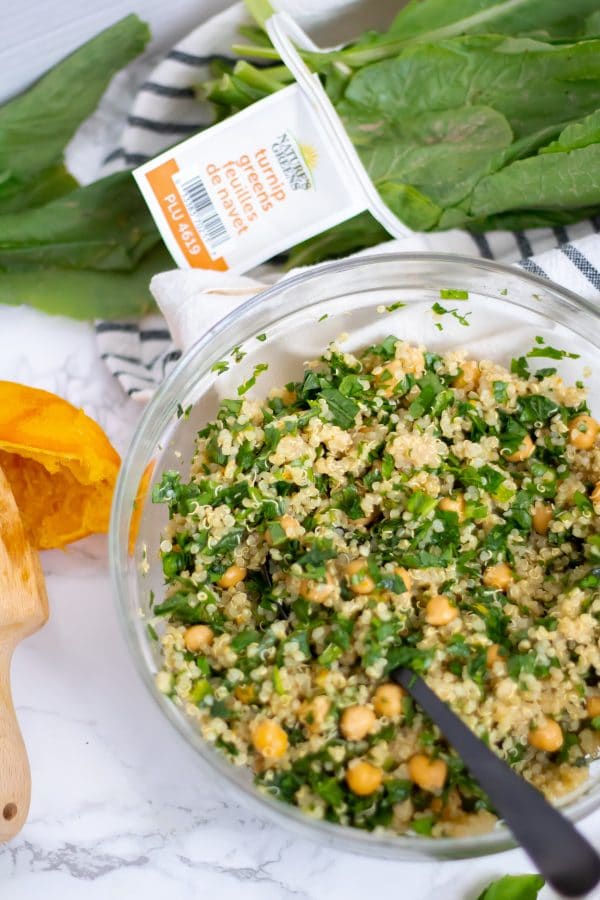 This post is brought to you by our friends at Nature's Greens. Thank you for your support of Nutrition to Fit and the select brands we love.
When I think of summer, I think of FUN! And so much of that fun is on the go. I know personally we've got loads of on-the-go fun planned this summer, with day trips to the beach, afternoons at the park, road trips to the mountains, hiking adventures, and picnics and barbecues for holidays and birthdays. And with a recipe like this chickpea quinoa salad with turnip greens, you can have wholesome on-the-go options that are packed with nutrition and convenience.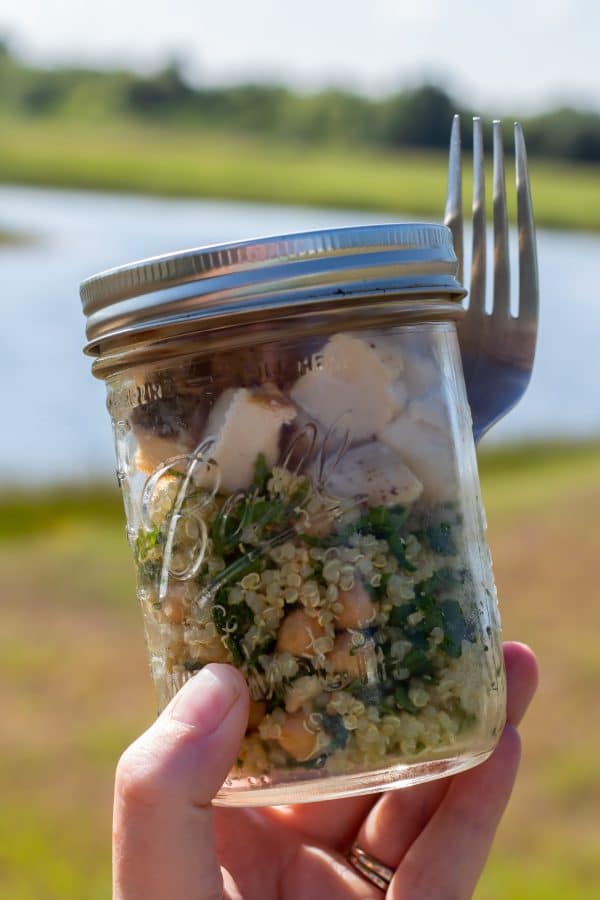 Healthy On-the-Go Meals
When it comes to on-the-go activities, meals can sometimes be overlooked. Snacks are great and all, but there's something so much more satisfying with an actual meal. I love having healthy on-the-go meals ready to throw in a cooler, or even next to an ice pack in a backpack on a hike.
What makes a balanced, nutrient-dense, on-the-go meal? Here are a few things I like to include:
Vegetables:

micronutrients are crucial to keep our body's systems functioning adequately, so I always love to include some nutrient-dense vegetables, like these farm fresh turnip greens.

Complex Carbohydrates

: carbs have become controversial in our age of over-complicating nutrition, but at the end of the day, carbs (especially complex carbs, like whole grain quinoa in this recipe) provide energy. This quick energy can help keep you fueled on your hike and with enough energy to keep up with your kids playing at the beach or park.

Protein

: at its simplest, protein is another source of energy that can help keep our muscles fueled and recovered from higher activity. I used a plant-based protein, chickpeas, in this turnip greens salad. If you find your body has higher protein needs or that you prefer some animal protein, this chickpea quinoa salad makes a fantastic pairing with grilled chicken or salmon, or even alongside a burger.

Healthy Fats

: I used my favorite heart healthy oil (extra virgin olive oil) in the dressing. From a nutritional standpoint, fats will help keep your body satisfied, promote better blood sugar regulation, and are essential in the absorption of fat-soluble vitamins, like those that turnip greens are rich in.

Flavor

: nutrition and wholesome meals are great, but they're even better when they taste good! This chickpea quinoa salad with turnip greens provides some slight nuttiness and earthiness from the quinoa and chickpeas, a vibrant peppery flavor from the turnip greens, and lightly sweet and fragrant notes from the olive oil, basil, and fresh orange juice and zest.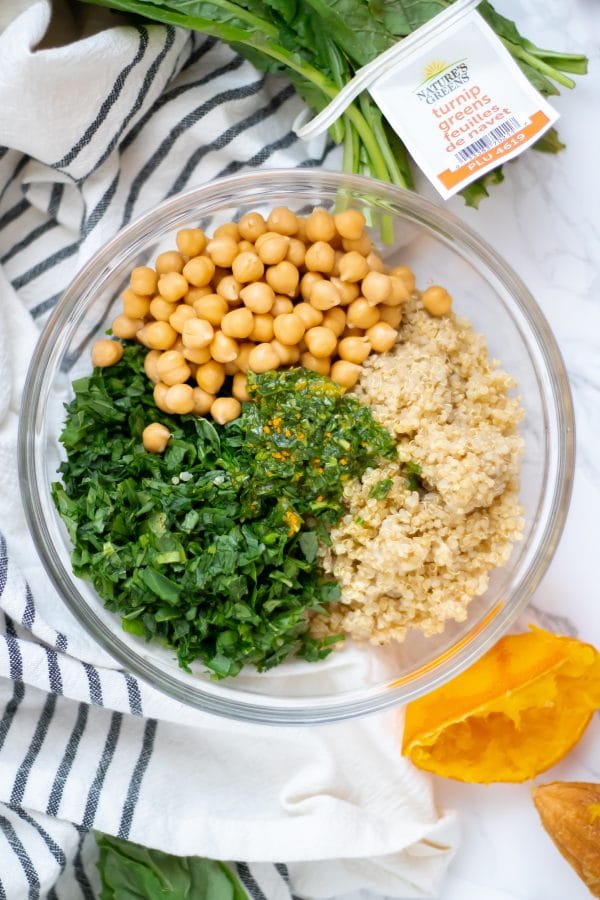 Convenient Nutrition is Perfect for On-the-Go
Thanks to some simple ingredients, this turnip greens and chickpea quinoa salad pairs the best of both worlds: nutrition and convenience!
Nature's Greens are ready to go when you are, with their convenient pre-washed and ready-to-cook and serve leafy greens: turnip greens, mustard greens, collard greens, and kale. They also offer bunches of greens, including the above greens and even cilantro.
One of my favorite tricks when consuming raw turnip greens (or any raw dark leafy greens!) is to chop the raw leaves down into smaller pieces. This takes an already tender turnip green leaf and makes it even softer and easier to consume more! Plus, when pairing with other smaller ingredients (like the quinoa and chickpeas here) it allows the textures and flavors to be more evenly distributed in each bite.
Another convenient perk? I find Nature's Greens products very affordable and accessible. Even if I'm shopping at Walmart (which I do often, living in a smaller town), I'm always able to find Nature's Greens to add to my cart.
Turnip Green Chickpea Quinoa Salad Recipe Tips
While this recipe is straightforward, here are a few tips:
When using canned chickpeas, be sure to drain and rinse them before use. This way, even if you're unable to find no salt added or reduced sodium beans, draining and rinsing your beans will reduce the sodium content by 40%. 

Feel free to use white quinoa, red quinoa, tri-color quinoa, or even quinoa that's ready to go with a quick thaw or reheat (i.e. in the freezer section or microwavable quick grains area in the rice aisle).

I typically cook quinoa in water, but alternatively you can cook it in stock or broth for additional flavors.

You can use bottled orange juice instead of the juice and zest from a whole orange, but the zest adds SO much more flavor and is absolutely worth it.

Dried herbs can also be substituted, but same with the orange zest - the slight extra effort with fresh basil is totally worth it.

If you're using whole turnip green leaves, you can slice or tear the thicker stem away before chopping (see above image).

If you're using whole turnip green leaves, you can also use the larger leaf as a convenient "wrap" for an even more on-the-go way to eat this chickpea quinoa salad!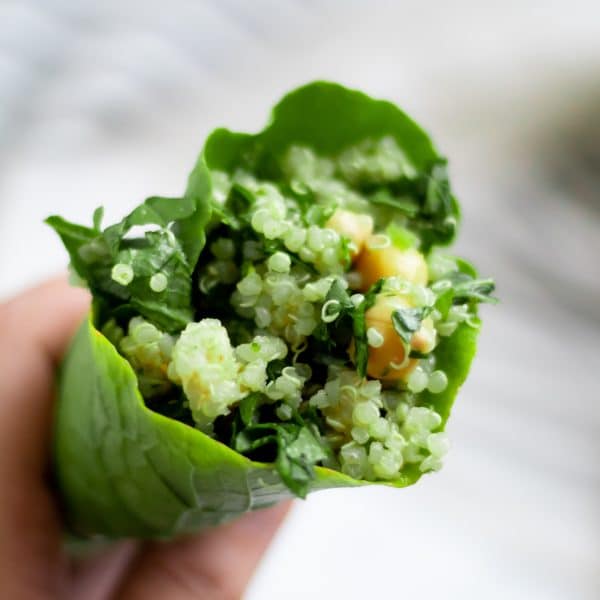 Want more healthy and convenient on-the-go meals?
Try some of these favorites:
Don't forget to pin this recipe on Pinterest, or share with a friend on social media - be sure to use the hashtags #nutritiontofit, #naturesgreens, and #farmfreshgreens so we can see your creations! Live well!
Chickpea Quinoa Salad with Turnip Greens
If you need an on-the-go meal or healthy summer side dish, this healthy chickpea quinoa salad with turnip greens is for you. Dressed in an orange basil dressing, this plant-based salad recipe uses fresh turnip greens in a nutritious and wholesome way.
free from: wheat/gluten, soy, dairy, egg, shellfish, fish, tree nuts, peanuts
Ingredients
⅔

cup

quinoa

(approximately 2 cups cooked)

1

orange, zest and juice

2

tablespoon

finely chopped fresh basil

3

tablespoon

extra virgin olive oil

1

cup

finely chopped Nature's Greens turnip greens

15

oz

chickpeas

(drained and rinsed)
Instructions
If cooking quinoa from scratch, bring 1 ⅓ cup water to a boil, add ⅔ cup dry quinoa, cover, reduce to a simmer, and cook 15 minutes. Quinoa is when it is fluffy and all of the water has been absorbed and cooked off. Let quinoa cool. While quinoa is cooking you can chop your basil, turnip greens, and zest and juice your orange.

Whisk together dressing ingredients (orange juice and zest, olive oil, and basil) in a small bowl.

In a large bowl, combine the quinoa, turnip greens, and chickpeas. Add the dressing and toss to combine.

Can be served immediately or made up to 24 hours in advance.
Nutrition
Calories:
155
kcal
|
Carbohydrates:
19
g
|
Protein:
5
g
|
Fat:
7
g
|
Saturated Fat:
1
g
|
Sodium:
151
mg
|
Potassium:
206
mg
|
Fiber:
4
g
|
Sugar:
2
g
|
Vitamin A:
875
IU
|
Vitamin C:
13
mg
|
Calcium:
45
mg
|
Iron:
1.4
mg