This Popcorn Trail Mix is one of my kids' favorite after school snacks! Popcorn is a fun, kid-friendly whole grain perfect for snacking, but may not be very filling on its own. Make popcorn a nourishing, healthy snack with mix ins like nuts, seeds, dried fruit, and chocolate chips for added fun and balanced nutrition.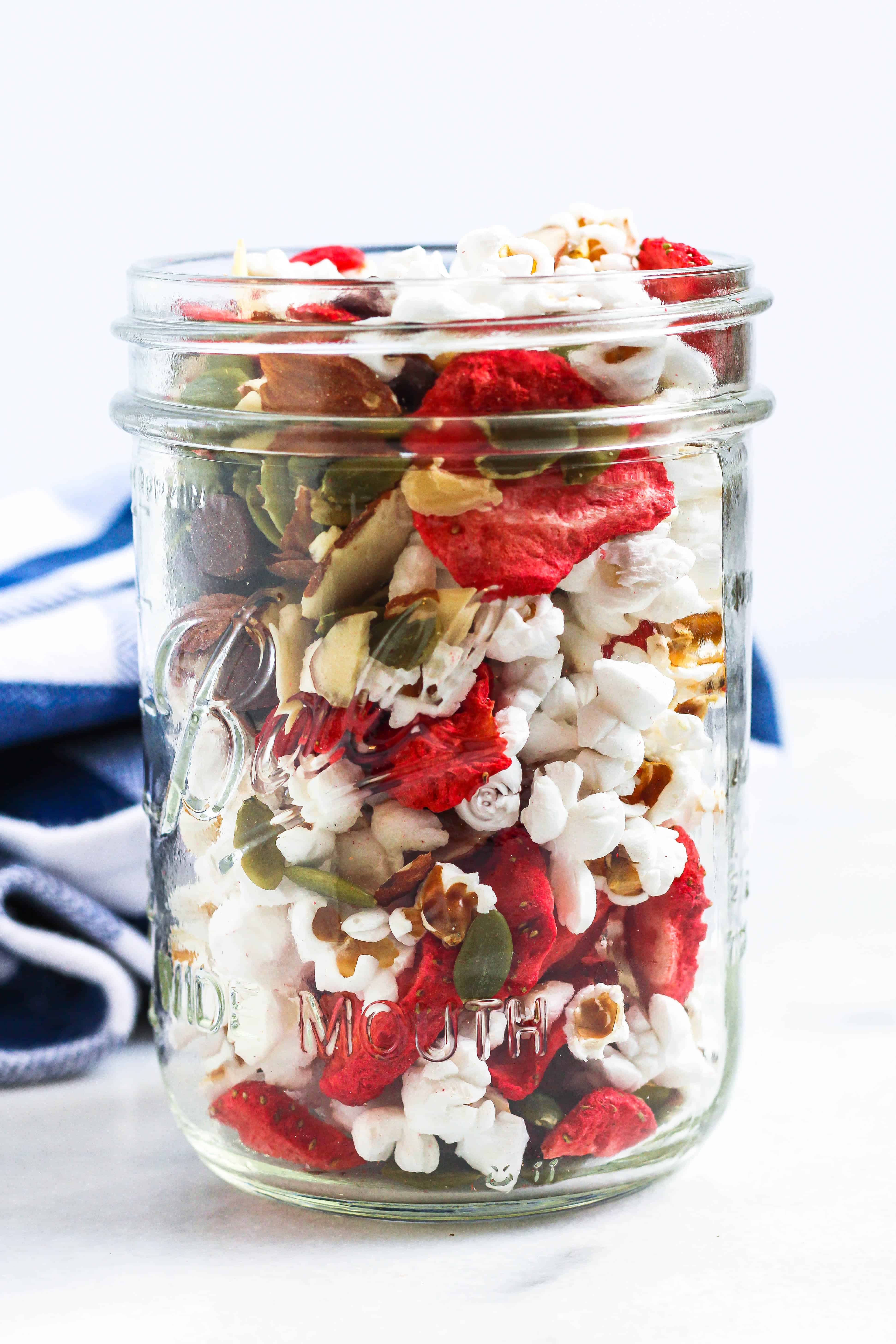 Why You'll Love This Snack:
Popcorn Trail Mix is super fun. And while it's very kid-friendly, it's a great snack for grown ups, too!
If you have kids, this trail mix is a really fun way to get kids hands on in the kitchen. Set out a bunch of mix-ins and let them get creative with making their own snack.
It's a very customizable snack, easy to personalize to fit your needs.
Popcorn is naturally gluten-free, making it a very allergy-friendly snack, depending on mix-ins. (In fact, sometimes we'll make it nut-free so it can be taken to my kids' nut-free school and preschool for snacks or as part of a lunch.)
If y'all do family movie nights (or your kids have movie nights with their friends), this makes a great movie night activity and snack!
Suggested Popcorn Trail Mix Ingredients:
Since the only real mandatory ingredient for Popcorn Trail Mix is popcorn, you can get really creative! I like to think about adding foods that can add nutritional balance (popcorn is mainly carb, so can you add protein and/ or fat?), vitamins and minerals (like with fruit, nuts, seeds), and fun (like chocolate chips or M&Ms).
Here are some of our favorite sweet popcorn trail mix ingredients:
Freeze-dried strawberries
Banana chips
Dried Cranberries
Dried apricots
Dry roasted almonds
Roasted peanuts
Dark chocolate roasted almonds
Whole grain cereals
Chocolate chips (I love Lily's for a sugar-free, stevia-sweetened option)
M&Ms (any flavor!)
Flavored Skinny Dipped Almonds or Cashews
Pumpkin seeds
Yogurt covered raisins
Crumbled apple chips
Dried cherries
Maple cinnamon roasted nuts
Mini peanut butter cups
Granola
And here are some delicious savory trail mix ingredients:
Crunchy chickpeas
Pretzels
Wasabi peas
Everything but the bagel seasoning
Seaweed snacks (break into smaller pieces)
Sunflower seeds
Pumpkin seeds
Salted walnuts or pecans
Crunchy lentils
Crunchy broad bean snacks
Moon cheese
Parmesan cheese crisps
Popcorn Trail Mix Q&A:
Is popcorn healthy?
The definition of healthy is subjective, but popcorn can absolutely be consumed as part of an overall balanced, healthy eating pattern.
Nutritionally, air-popped popcorn has less than 100 calories for a whopping 3 cups - making it a very high-volume snack! Popcorn is also a whole grain, containing nearly 4 grams of fiber per 3 cup serving. It also contains a variety of vitamins and minerals, like:
Vitamin B1
Vitamin B3
Vitamin B6
Iron
Magnesium
Phosphorous
Potassium
Zinc
The reason popcorn can get a bad rep from a health perspective, is many times popcorn is enjoyed doused in oil, butter, and salt. And while that totally can make for a delicious treat, generous amounts of those additions would make buttery popcorn better off as a "sometimes" food vs. a "most of the times" food.
What's the best type of popcorn to buy?
I generally recommend buying plain popcorn kernels that you can pop yourself (in the microwave, on the stove top, or in an air popper). Another option is to buy microwave popcorn or pre-popped popcorn, but look for minimal ingredients - all you really need is some kind of oil and salt.
And while buttery movie-theater popcorn is delicious, I generally recommend that as more of a special treat type thing, not an every-day after school snack, type thing.
What's the best way to pop popcorn?
There's no real "best" way to pop popcorn - whatever works for you is your best way. Normally I'm all about the microwave for convenience - either ready-pop bags or some popcorn kernels poured in a brown paper bag.
Currently our microwave is broken, so we're using a stove top popping method or just buying pre-popped.
One method I do NOT recommend is the air fryer. It's too difficult to get consistent results, it takes too long, and can be a fire hazard with the popcorn popping directly into the heating unit.
How long will popcorn trail mix last?
The popcorn will taste best fresh, but it will be good for up to a week.
What's the best way to store popcorn trail mix?
Store popcorn trail mix in an airtight container at room temperature for up to one week.
Where can I get fun ingredients to add to trail mixes?
Anywhere you shop! I live in a very rural area, so I do much of my shopping at Walmart (you'd be surprised at the extent of their offerings!) and via Amazon (several ingredients linked above), and other delivery services, like Thrive Market.
Thrive Market has a lot of really fun, health-conscious foods. They're often at great prices, and for those who live in more rural/ somewhat inaccessible areas like myself, it's the only way to get some of the foods and ingredients they offer!
If you're curious to try Thrive Market, try with my affiliate link to get 40% off your first purchase.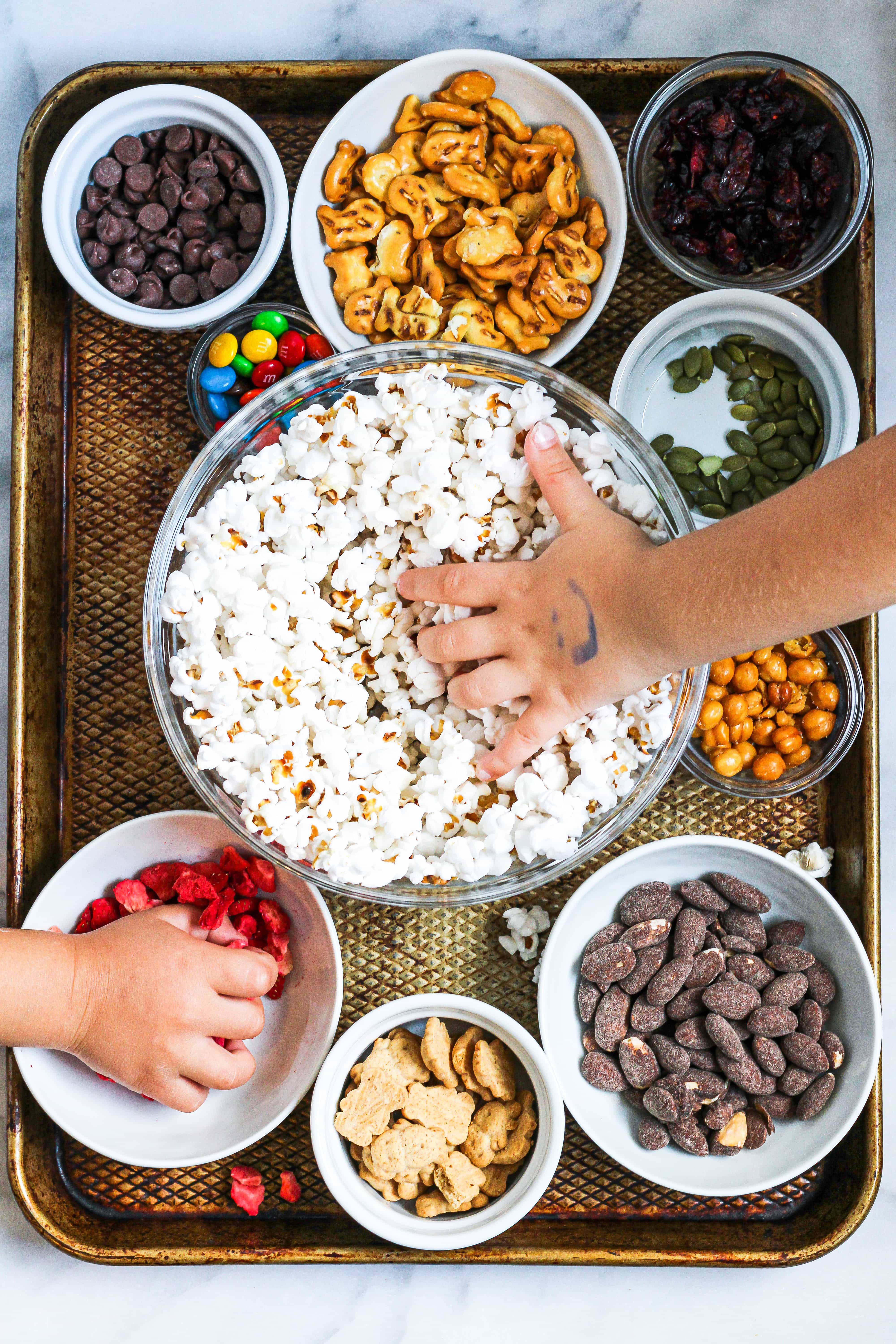 More on Snacking
If you're curious for more dietitian thoughts on snacking, check out these two articles I've written:
Mindful Snacking - this article includes simple tips to promote more mindfulness with your snacking.
Quick, Healthy Snacks - this article shares the basics of balanced snacking, as well as a pretty comprehensive list of grab-and-go, convenient healthy snacks.
More Healthy Snack Recipes:
Did you make this recipe? Give it a 5★ rating below! For more balanced nutrition and simple, healthy-ish recipes, be sure to follow me on Instagram!
Popcorn Trail Mix
Popcorn Trail Mix is a fun, kid-friendly snack, pairing whole grain popcorn with other healthy ingredients, like dried fruit, seeds, & nuts.
Print
Pin
Rate
Ingredients
1

cup

air-popped popcorn

¼

cup

other ingredients

(or up to 1 cup - you decide what ratio works best for you!)
Sweet Trail Mix Ingredients:
dried fruit

freeze dried fruit

nuts

seeds

chocolate chips

M&Ms

cinnamon/ maple flavored nuts or seeds

yogurt covered raisins

chocolate covered nuts, seeds, dried fruit
Savory Trail Mix Ingredients:
nuts

seeds

sesame sticks

wasabi peas

parmesan crisps

other freeze dried/ crunchy cheese

savory seasoning blends (like everything but the bagel seasoning)
Instructions
Combine all desired ingredients in a bowl and mix to combine.

Eat and enjoy immediately. Store leftovers in an airtight container at room temperature for up to one week.
Notes
Nutrition information will vary based on ingredients included. This nutrition information reflects 2 servings with a recipe of 2 cups of air-popped popcorn, 2 tablespoons pumpkin seeds, 2 tablespoons sliced almonds, 2 tablespoons chocolate chips, and ½ cup freeze-dried strawberries.
Nutrition
Calories:
184
kcal
|
Carbohydrates:
20
g
|
Protein:
5
g
|
Fat:
11
g
|
Saturated Fat:
3
g
|
Polyunsaturated Fat:
2.6
g
|
Monounsaturated Fat:
4.5
g
|
Sodium:
3
mg
|
Potassium:
260
mg
|
Fiber:
4
g
|
Sugar:
9
g
|
Vitamin C:
32
mg
|
Calcium:
35
mg
|
Iron:
2
mg