If you're looking for a delicious and wholesome gluten-free cookie, these almond flour oatmeal cookies with chocolate chips are for you! Full of nourishing ingredients, these chewy cookies are perfect for any occasion.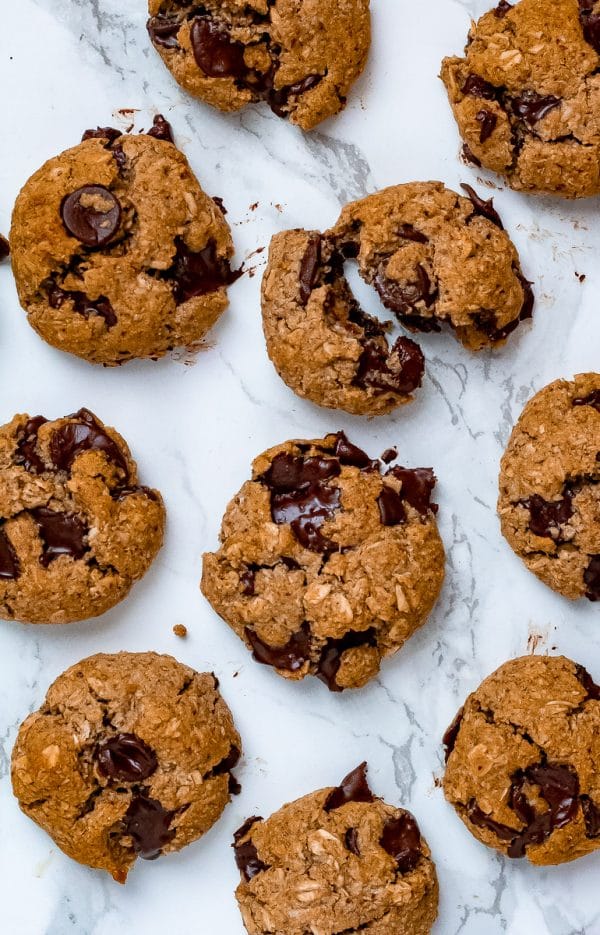 Why these dairy-free, gluten-free cookies are so easy:
No fancy equipment
Nothing too weird about the ingredients (I purchased all of mine at Walmart, actually!)
From pantry to table, they're ready to be enjoyed in under 30 minutes.
What makes this recipe so delicious?
These almond flour oatmeal cookies taste cozy and and wholesome. There is plenty of texture and chewiness inside from the almond flour and the oats, yet there still is a very slightly crisp exterior.
Bonus? They're not so sweet they make your teeth hurt. With just ¼ cup sweetener in the entire recipe, they're slight sweet and simple enough to be enjoyed as a snack or after dinner treat any day of the week.
How do you make almond flour oatmeal cookies with chocolate chips?
Preheat your oven to 350 degrees Fahrenheit.
Prepare two baking sheets with parchment paper or (my preference) silicone baking mats. You can totally cook directly on the baking sheet if that's what you prefer, but I love the even browning and easier cleanup I get by using silicone baking mats.
To mix the dough, start by whisking together the wet ingredients: melted coconut oil, a large egg, honey, and vanilla extract. Then stir in the dry ingredients (almond flour, oats, flax seed, and baking soda), then the chocolate chips.
Scoop 24 cookie dough balls onto the baking sheets, then bake for 8-10 minutes.
Let them cool on the baking sheets until you can easily handle them.
Tips for Perfect Cookies
To best make this recipe, keep these tips in mind:
Use melted coconut oil and a room temperature egg. If the coconut oil is hard or if it hardens when mixing with cold ingredients, it's a lot harder to break the coconut oil up when whisking. This can be problematic, because big clumps of coconut oil will affect the finished cookie consistency.
If you rolled your cookie dough into balls before placing on the cookie sheet, the cookies will likely be poofy (like baked dough balls). These are still totally delicious, but if you want them slightly flatter (like in the pictures here), try tapping the tray against the stove when they come out of the oven. I just pick the cookie sheet up and drop it on the stove top a few times. It helps deflate the cookies slightly, and I swear it helps make them slightly chewier, too!
Let them cool, at least 5-10 minutes, on the cookie sheet. These are a soft cookie and if you try to move them too soon they'll totally fall apart.
How long will they last?
I find they taste their best within the first 24 hours of baking when left at room temperature. 48 hours works, too, but a lot will depend on your environment (both dry environments and humidity can affect baked goods left at room temperature).
You can store in a fridge 3-4 days, or in the freezer up to 3-4 months.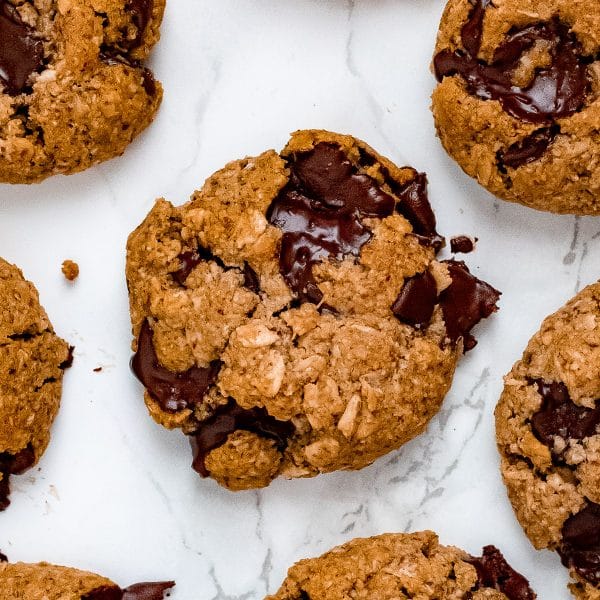 How to Freeze Cookie Dough
One of my personal favorite tips with baking cookies is to only bake enough cookies for the moment. The reason for this is two-fold: one, there aren't extra cookies laying around the counter if you're prone to snack on cookies and two, cookies just taste better fresh!
So what to do with the rest of the dough? Scoop it out on a lined cookie sheet like you're about to bake it, then place it in a freezer to flash freeze the dough balls. After 30-60 minutes/ once frozen, transfer to a freezer-safe bag or container and keep in the freezer up to 3-4 months. Then the next time you want cookies, you'll have dough ready to go! Just pull it out to thaw on the cookie sheet while your oven is preheating, and that's it! (If your oven preheats fast, you may need to add an extra minute or two of cooking time.)
Make These Cookies Your Own
Chocolate not your thing? Make these chewy almond flour oatmeal cookies your own by nixing the chocolate chips and adding your favorite cookie mix-ins. Try these:
⅓ cup dried cranberries + ⅓ cup white chocolate chips
⅔ cup of your favorite fruit, nut, and seed trail mix blend
⅔ cup raisins
And don't forget, if you need to be dairy-free for your health, use a dairy-free chocolate chip (Enjoy Life chocolate chips are an excellent allergy-friendly choice).
Do these work as lactation cookies?
So...yes and no. Yes, in that these cookies contain several foods (almonds, flax, oats) known as galactagogues, that anecdotally boost milk supply.
But (and I hate to be the bearer of bad news here) as a registered dietitian nutritionist and a former certified lactation counselor, I feel that I have the duty to share that the evidence behind galactagogues is lacking.
But listen - you do you! As a two-time breastfeeding mama, I know how sometimes you may need or want to try anything and everything to help your milk supply. Or sometimes, especially in those newborn days, the breastfeeding hunger is a raging beast and you know what? These cookies can definitely help with that. 😉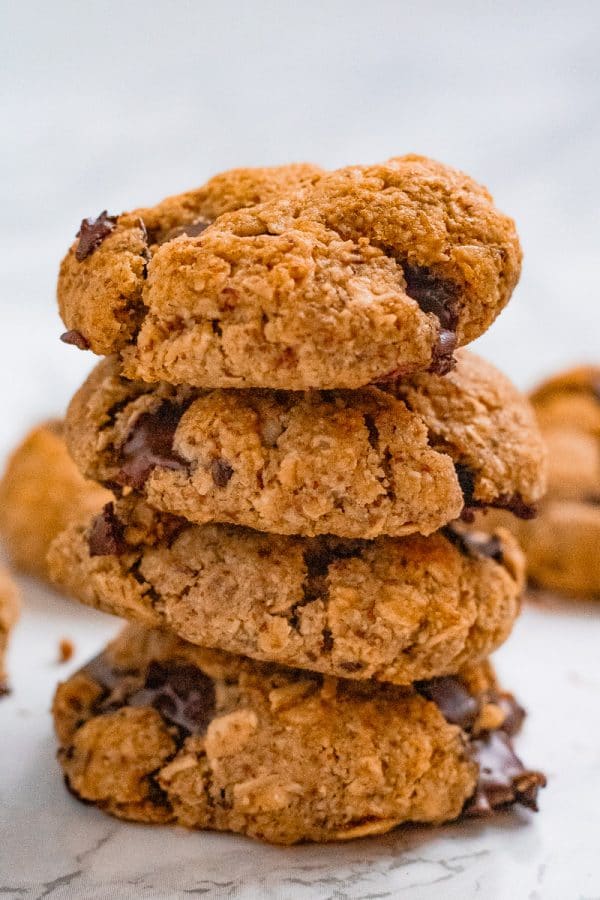 Are these cookies healthy?
These chocolate chip almond flour oatmeal cookies can absolutely be part of a healthy diet. At just under 100 calories per cookie, they can easily be a sweet treat on any day. And as far as cookies go, these are packed with nourishing ingredients, like flax seed, almond meal, and oats.
Know, too, that "healthy" is subjective. The foods that help one maintain their health may or may not work for you - and that's okay! Honor the body you have. As a registered dietitian nutritionist, I suggest eating a variety of nourishing foods that help you feel good and achieve or maintain your health, balanced with the foods you love. Remember - an election isn't won with every vote, but the majority. Your health is the same way - the overall dietary pattern is what matters most.
Check out these related recipes:
And if you like blackberries, try my chocolate blackberries - such a simple, tasty treat that can easily be made without added sugar!
Did you make this recipe? Give it a 5★ rating below! For more healthy recipes and tips to create your own balanced relationship with food and health, be sure to follow Nutrition to Fit on Instagram!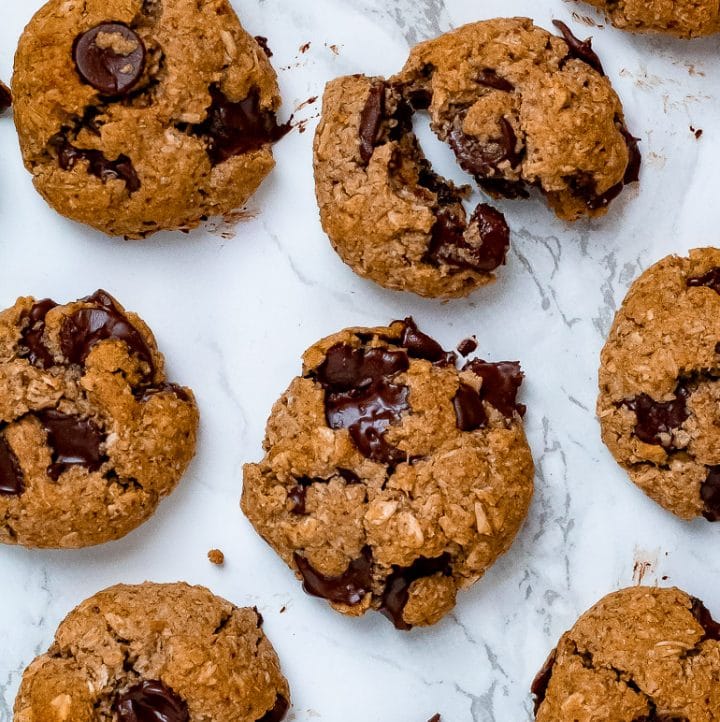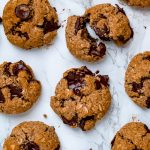 Print Recipe
Almond Flour Oatmeal Cookies with Chocolate Chips
If you're looking for a delicious and wholesome gluten-free cookie, these almond flour oatmeal cookies with chocolate chips are for you! Full of nourishing ingredients, these chewy cookies are perfect for any occasion.
Cost:
$3.86 recipe/ $0.16 cookie
Ingredients
¼

cup

honey

2

tablespoon

melted coconut oil

2

teaspoon

vanilla extract

1

large egg

(room temperature)

1

cup

almond flour

1

cup

old fashioned oats

¼

cup

ground flax seed

½

teaspoon

baking soda

⅔

cup

chocolate chips or chunks
Instructions
Preheat oven to 350 degrees Fahrenheit. Line two cookie sheets with parchment paper or silicon baking mats.

Whisk together wet ingredients (honey, coconut oil, vanilla, egg) until smoothly combined.

Stir in almond flour, oats, flax seed, and baking soda, then stir in chocolate chips.

Place cookies on cookie sheets two inches apart.

Bake for 8-10 minutes, or until outside of cookies are golden brown. The texture of the cookies will still be very soft.

If your cookies are still round and puffy and you prefer them a little flatter (as pictured), try tapping the tray on the oven a few times. The cookies will get a little flatter and you'll get a deliciously chewy inside and slightly crisp exterior.
Notes
Be sure to purchase certified gluten-free oats and dairy-free chocolate chips if necessary.
Nutrition
Calories:
98
kcal
|
Carbohydrates:
10
g
|
Protein:
2
g
|
Fat:
6
g
|
Saturated Fat:
2
g
|
Cholesterol:
8
mg
|
Sodium:
30
mg
|
Potassium:
30
mg
|
Fiber:
1
g
|
Sugar:
6
g
|
Vitamin A:
21
IU
|
Calcium:
23
mg
|
Iron:
1
mg
This page may contain affiliate links. Read my full disclosure here.