Need some salad toppings inspiration? Look no further! If you've ever found yourself in a salad rut and in need of some new salad topping ideas, save this article! These creative salad toppers can help make your salads not just healthy and balanced, but more satisfying and delicious, too!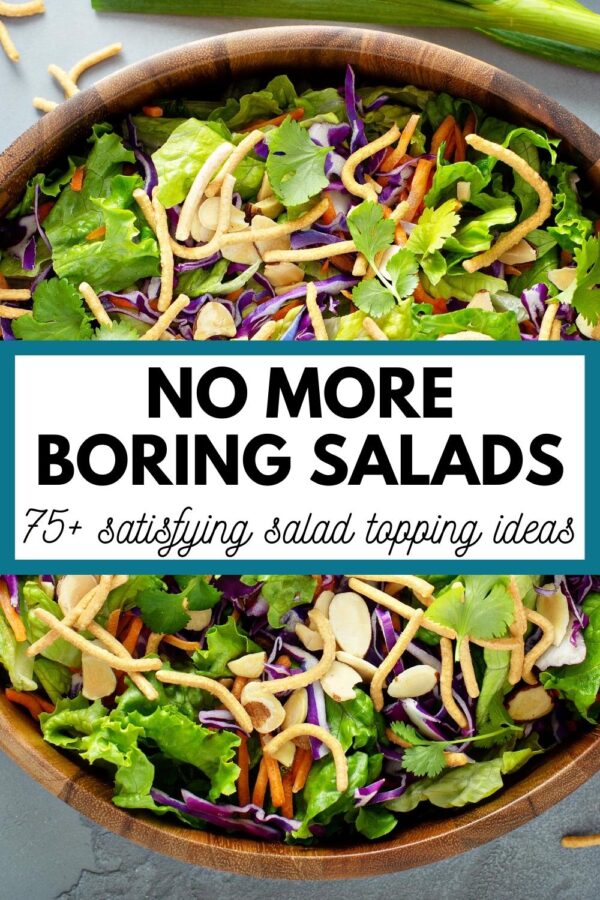 Not to be a walking cliché, but as a registered dietitian, I love a good salad. But it has to be good - no sad rabbit food salads here!
And maybe you are all about the greens, but for me? The toppings are what makes a salad interesting.
First of all, the right salad toppings are absolutely what makes a salad an actual meal. Greens are great, but adding in some protein, healthy fat, and high-fiber carbs is essential for a salad that fills me up and keeps me energized.
But on top of that more practical piece, toppings are what can make a salad so interesting and fun. (And I'd argue that truly enjoying your food is a huge component of healthy, satisfying meals.)
I definitely encourage you to think about what it is you want in a salad. Do you like different textures, like chewy dried fruit, juicy grape tomatoes, creamy feta cheese, or crunchy candied nuts? Maybe you like different temperatures, like cool greens and warm, freshly grilled chicken. Or maybe you like different flavors, like salty olives, sweet fruit, or savory dressings.
All these different components can help add interest and satisfaction to a salad.
What to Put in a Salad
Before we get to all these salad topping ideas, let's start with the basics - what to put in a salad.
While there are no hard and fast rules (do what works for you!), try this general salad meal template if you're looking for a place to start:
Salad base: 2-3 cups of leafy greens (note that you can get creative with your salad base, too - experiment with different types of lettuces and leafy greens, mix different greens, and add ingredients like broccoli slaw, shredded cabbage or coleslaw veggies, and shredded brussels sprouts).
Protein: 4-6 ounces (aim for at least 20-30 grams protein in a meal)
Vegetables & Fruits: 2-3 types, totaling at least ½-1 cup
Healthy Fats: 2 tablespoons to ¼ cup
Carbs: ¼-1/2 cup
Dressing: 2 tablespoons
Satisfaction Boosters: this is optional & varies, but check out the section below for ideas on how to get more satisfaction out of your salad.
Salad Toppings
Protein
If you want to turn a salad into a meal, one essential salad topping is protein. Protein helps keep you fuller longer and is associated with many other benefits, like reduced cravings and late night eating, decreased blood pressure and LDL (bad) cholesterol and triglycerides, and can support weight management. Check out my more detailed post of Proteins for Salads, but to get you started, some protein salad toppings include:
Chicken
Chicken sausage
Cottage cheese
Deli meat
Edamame
Eggs
Ground meat, like beef, turkey, chicken
Ham
Salmon
Shrimp
Steak
Tempeh
Tofu
Tuna
Vegetables
Adding vegetables to your salad is a great way to add more volume, more textures, more tastes and flavors, and can increase the fiber and variety of vitamins and minerals you're consuming, too. Some ideas include:
Asparagus
Beets
Bell pepper
Broccoli
Brussels sprouts
Butternut squash
Cabbage
Carrots
Cauliflower
Celery
Cucumber
Hearts of palm
Onion
Radish
Sugar snap or snow peas
Summer squash
Tomato
Zucchini
Fruits
If you like a little sweetness in your salad, fruits are a fantastic addition! Fresh fruit adds a juicy sweetness, whereas as dried fruit adds a nice chewy texture and freeze-dried adds a crunch. And fruit is another great way to add more fiber, vitamins, and minerals to your salad meal. Try fruit salad toppings like:
Apples
Apricots
Blueberries
Cherries
Dried cranberries
Grapes
Mandarin oranges
Mango
Pear
Pomegranate arils
Raspberries
Strawberries
Healthy Fats
Long gone are the days of fearing fat (or any food for that matter - all foods can fit any balanced diet!). Fat is an essential nutrient, needed for functions like for aiding absorption of fat-soluble vitamins (A, D, E, K), supporting cell function, and are critical for your hormonal health, too. Try adding healthy fats to your salad with toppings like:
Almonds
Avocado
Bleu cheese
Burrata
Cashews
Cheddar cheese
Feta cheese
Fresh mozzarella
Guacamole
Olives
Pistachios
Pumpkin seeds
Sunflower seeds
Walnuts
Carbs
Carbohydrates don't need to be feared! If you find yourself struggling to be satisfied from eating a salad for a meal, or you find yourself hungry again soon after eating a salad, play around with adding carbohydrates, such as:
Black beans
Chickpeas
Crunchy chickpeas
cooked pasta
Croutons
Fruit
Granola
Pita chips
Potatoes
Quinoa
Rice
Sweet potatoes
Tortilla chips
Dressing
If you recall diet trends like the 90s fat-free fad, or the advice to dip the prongs of your fork into the dressing to use less of it, there's something I need you to know:
Salad dressing is nothing to fear.
If you enjoy salad dressing, you can absolutely use it in a way that works for you and your health goals.
For example, it's fine to prefer lower sugar salad dressings, like if you're trying to stay within the American Heart Association's <25 grams daily added sugar recommendation (<36 grams for men).
Use your nutrition knowledge, the nutrition label, and your personal preferences to decide what works for you.
There are SO many options, but some of my personal favorite dressings include:
Creamy Southwest salad dressing (Greek yogurt-based)
Healthy honey mustard dressing (Greek yogurt-based)
The cranberry vinaigrette from this winter kale salad, or if you prefer a fresh cranberry dressing, try instead the cranberry dressing from this apple harvest salad.
Bolthouse Farms yogurt-based salad dressings (love their Caesar and honey mustard, and they're typically lower in calories than more traditional dressings)
Panera poppy seed salad dressing (lower sugar than other varieties)
Satisfaction Boosters
Satisfaction boosters are what I like to call all the little things that can elevate the enjoyment of your eating experience. It may be simple ingredients that add a ton of flavor, like citrus zest or juice or fresh herbs. Or it could be playing around with the preparation of different ingredients - like fresh chickpeas versus crunchy, roasted chickpeas.
Get curious and play around with what brings you the most enjoyment and satisfaction from a meal. Some ideas include:
Crunchy chickpeas
Fresh fruit
Dried fruit
Roasted vegetables instead of raw
Different cuts of food, like grated carrots instead of chopped
Candied nuts
Roasted nuts
The juice from a lime or lemon wedge
Citrus zest
Fresh herbs
Dried herbs
Vinegars
D

ifferent oils (i.e. sesame oil)

Hot grilled chicken instead of cold
Freshly cracked pepper
Flaky sea salt
Everything but the bagel seasoning
Lemon pepper seasoning
Pickles
Pickled onions or other vegetables
Instead of eating a quesadilla on the side, try using a pizza cutter to cut it into small cubes to make quesadilla croutons
Adding a drizzle of honey, or hot honey
Try a drizzle of balsamic glaze
Instead of salad dressings, try getting creative with different dips and other satisfaction boosters (I love mixing romesco dip and balsamic glaze, or guacamole and lime juice).
Delicious Salad Recipes
Need some salad inspiration? Then try these recipes (some you'll need to add a protein to turn it into a full meal):
What are Your Favorite Salad Toppings?
I hope you found this helpful! I would love to know your favorite salad toppings or combination of salad toppings that make your dream salad! Share in the comments below for inspiration.
Salad Toppings
DIY your salads by learning what to put in a salad with this extensive list of salad toppings.
Ingredients
Salad Base (2-3 cups)
leafy greens (any)

shredded cabbage or coleslaw

broccoli slaw

shredded brussels sprouts
Protein (4-6 oz or 20-30 grams total)
Chicken

Chicken sausage

Cottage cheese

Deli turkey

Edamame

Eggs

Ground beef

Ground turkey

Ham

Salmon

Shrimp

Steak

Tofu

Tuna
Vegetables (2-3 types, at least ½-1 cup total)
Asparagus

Beets

Bell pepper

Broccoli

Brussels sprouts

Butternut squash

Carrots

Cauliflower

Celery

Cucumber

Hearts of palm

Onion

Radish

Sugar snap or snow peas

Summer squash

Tomato

Zucchini
Fruit (can be part of the 2-3 vegetable toppings, or can be used as a carb)
Apple

Apricots

Blueberries

Cherries

Dried cranberries

Mandarin oranges

Mango

Pear

Pomegranate arils

Raspberries

Strawberries
Healthy Fats (2 tablespoons to ¼ cup)
Almonds

Avocado

Bleu cheese

Burrata

Cashews

Cheddar cheese

Feta cheese

Fresh mozzarella

Guacamole

Olives

Pistachios

Pumpkin seeds

Sunflower seeds

Walnuts
Carbohydrates (¼ - ½ cup)
Black beans

Chickpeas

Cooked pasta

Croutons

Fruit

Granola

Pita chips

Potatoes

Quinoa

Rice

Sweet potatoes

Tortilla chips
Dressing (2 tablespoons)
Creamy Southwest

Healthy honey mustard

Cilantro lime dressing
Satisfaction Boosters (anything that adds to the enjoyment of a meal, like varying tastes, textures, temperatures, etc.)
Crunchy chickpeas instead of fresh

Chewy dried cherries instead of fresh

Cheese crisps instead of shredded cheese

Candied nuts instead of dry roasted

Herbs

Citrus juice

Vinegars

Seasoning blends (i.e. everything but the bagel seasoning, freshly cracked black pepper)

Hot grilled chicken instead of cold

Pickled vegetables or pickles

Roasted veggies instead of raw

Grated or finely chopped vegetables instead of slicing or dicing

Romesco dip, other dips
Instructions
Mix and match from the salad topping categories to create your dream satisfying, nourishing, balanced salad meal.
Did you found this article on Salad Toppings and what to put in a salad helpful? Don't forget to save it on Pinterest and share it on Facebook!
This article was originally published on July 10, 2022 but was updated and re-published on March 4, 2023.