These Pumpkin Protein Overnight Oats are a cozy, delicious, high-protein breakfast. Pumpkin pie overnight oats are perfect for an easy, healthy breakfast on an autumn morning!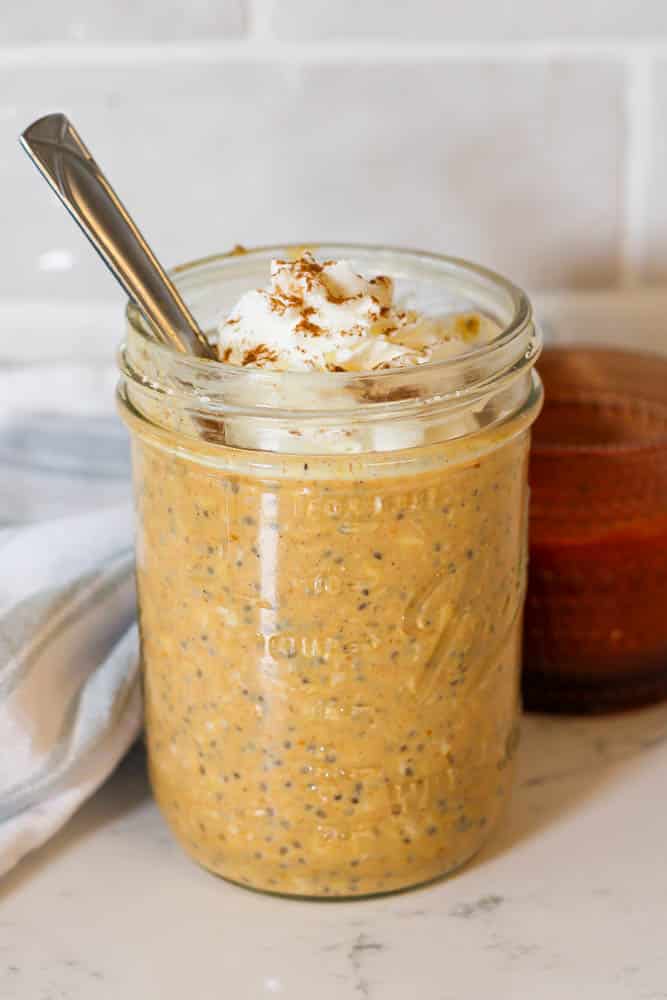 Overnight oats will forever be one of my go-to healthy breakfasts. They're so quick to throw together, they're nutritionally balanced, always delicious, and there are literally endless flavor options, so something is always bound to sound good!
I highly recommend giving these pumpkin protein overnight oats a try if you're in need of a simple, healthy breakfast. And for other flavors, try my peanut butter overnight oats (ultra creamy, and there's no chia seeds in that recipe!) or my kids' favorite birthday cake overnight oats!
Why This Pumpkin Protein Overnight Oats Recipe is SO Good:
Tastes like pumpkin pie!
High in fiber
Packed with protein
Very nutrient-dense
It only takes a few minutes to make
Easy to meal prep
Great for busy mornings or to grab and go
Delicious!
Ingredients Needed
For a full ingredient list with quantities, please check out the recipe card at the bottom of this post!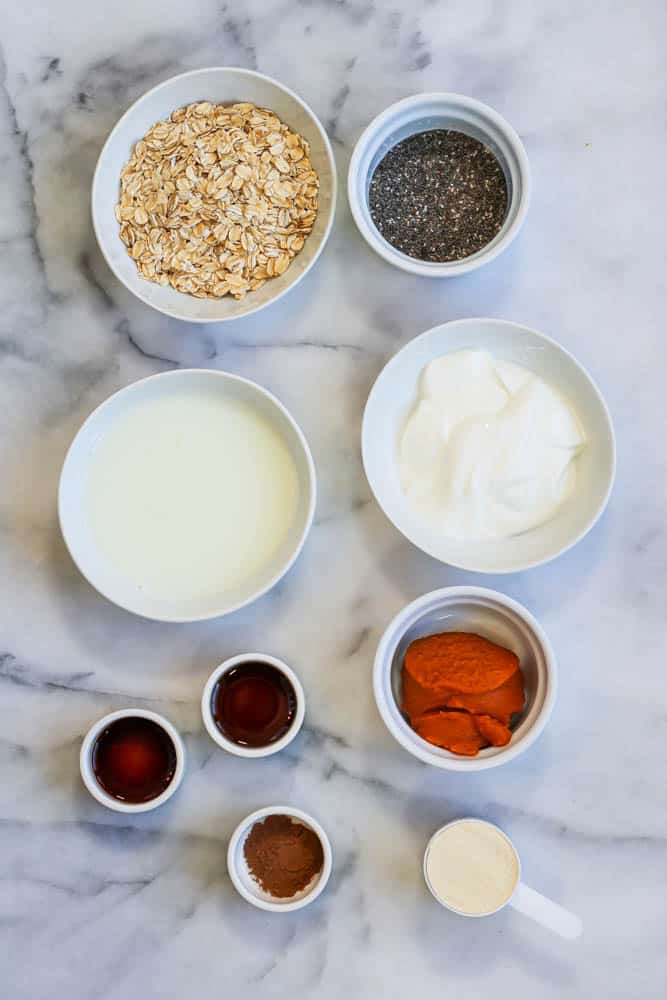 Oats: use old-fashioned oats for the base of your overnight oats (get certified gluten-free, if that's necessary for you!)
Chia Seeds: adds fiber, healthy omega-3 fatty acids, and helps thicken the overnight oats
Milk: use any milk you prefer to drink or that's aligned with your goals. Dairy milk and soy milk will be higher in protein, whereas almond milk is a great plant-based option.
Greek Yogurt: helps make these pumpkin overnight oats super creamy, adding more protein, too.
Pumpkin: real pumpkin puree adds flavor, fiber, and loads of nutrients!
Flavorings: These oats get their pumpkin pie-like flavor from pumpkin pie spice, vanilla, and maple syrup.
Protein Powder: optional, but if you're looking for extra protein or a breakfast to keep you fuller for longer, I recommend adding a scoop of vanilla or unflavored protein powder.
Step-by-Step Directions
For complete instructions, please check out the recipe card at the bottom of this post!
Add all ingredients to a bowl or a jar, then stir to combine.
Let the oat mixture set for 5 minutes, then stir again.
Refrigerate overnight.
Expert Tips, Substitutions, & Variations
Do your overnight oats and seeds settle on the bottom? Don't skip the second stir before refrigerating - it helps prevents chia seeds from settling on the bottom!
Make sure you're using real pumpkin puree and NOT pumpkin pie filling! They're both canned, usually right next to each other, and look similar.
You can use whatever type of milk you prefer.
To make these overnight oats gluten-free, just make sure you're using certified gluten-free oats.
If you're using sweetened yogurt and sweetened protein powder, you likely won't need to add maple syrup - sweeten to taste.
If making for kids, I usually leave out the protein powder. They're still getting plenty of protein from the Greek yogurt, milk, and chia seeds!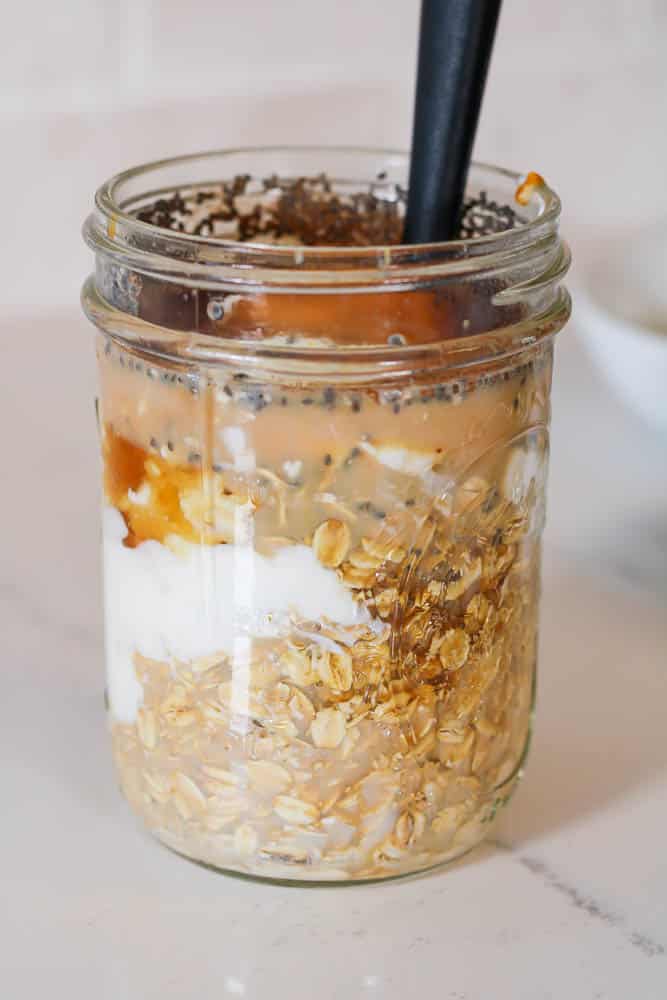 Overnight Oats FAQs
What are overnight oats?
Overnight oats are a mixture of oats, milk, yogurt, and often contain seeds and other ingredients for flavor, like fruit and spices. The oats absorb the liquid as they set overnight, creating a creamy, delicious, easy breakfast.
Are overnight oats healthy?
Healthy is a subjective term, but generally speaking, yes - overnight oats can be very healthy! Most recipes are nutritionally balanced, providing high-fiber carbs, protein, and healthy fats and a large variety of vitamins, minerals, antioxidants and more. They also can be a great vessel for adding more fruits and vegetables to your day, like with pumpkin in this recipe, or shredded carrots in carrot cake overnight oats, or fresh or frozen fruit.
Are overnight oats safe?
You may have heard concern about the phytic acid in oats, as some call phytic acid an "anti-nutrient," as it can slightly inhibit some nutrient absorption with iron, zinc, and calcium.
But three things to note about phytic acid:
It is a very slight effect, that only occurs with foods you're eating at that current meal.
Research shows us that as long as you're eating an overall balanced diet, phytic acid isn't something to stress over.
That makes overnight oats a safe and pretty great choice!
Do overnight oats need to be heated?
Overnight oats can be, but do not need to be heated. Enjoy them warmed or chilled, however you prefer.
Are overnight oats gluten-free?
Overnight oats are gluten-free as long as your oats are certified gluten-free and there are no other gluten-containing ingredients. (None in this recipe!)
Can I meal prep overnight oats?
Absolutely! Overnight oats are fantastic for meal prep. They don't require much prep time and keep perfectly in the fridge for up to 3 days.
How long do overnight oats last?
Overnight oats last up to 3 days in the fridge. The oats will get softer and absorb more liquid the longer they set, though. So you may need to add an extra splash of milk once you reach the 2-3 day mark.
Can overnight oats go bad?
Overnight oats can go bad. I don't recommend keeping overnight oats longer than 3 days in the fridge.
How many hours do overnight oats need in the fridge?
While overnight oats don't necessarily need a full night to set in the fridge, I suggest refrigerating them for at least four hours. This allows adequate time for liquid absorption by the oats and any chia or flax seeds, and some research has suggested that 4 hours is also an adequate amount of time to soak the oats to reduce phytic acid content.
Can you freeze overnight oats?
You can freeze overnight oats for up to 3 months, but you need to consider a few things:
Overnight oats won't absorb liquid while they're frozen, so you still need to transfer them to the fridge to let thaw and soften overnight before consuming.
The more ingredients you add to your base recipe, the greater the odds of the consistency being a little off after freezing.
Leave off any toppings when freezing.
So while you can freeze overnight oats, it can sometimes be more trouble than it's worth.
Can you blend overnight oats?
You can blend overnight oats! It gives you a very thick, creamy texture, kind of like oatmeal pudding. Just blend your ingredients (you'll probably need a little extra milk), then pour into a container, refrigerate, and give it a stir in the morning before adding toppings.
Supplies You'll Need
As an Amazon affiliate, I may earn a small amount from qualifying affiliate purchases at no cost to you.
Mason jars - these 16 ounce wide-mouth jars are so convenient for overnight oats. Mix it up, seal it, store it in the fridge, and you can even place it directly in your work bag to take on the go, if needed! They also can be reheated, if you prefer warmed overnight oats.
Protein Powder - optional, but if you want to add a big punch of protein, try adding a vanilla or unflavored protein powder.
More Recipes You'll Love
HUNGRY FOR MORE? If you tried this recipes, try leaving a star rating in the recipe card below and/ or a review in the comments! I always appreciate feedback (and everyone loves to read what variations worked well if you tried any)! You can also follow me on Pinterest or Instagram
Pumpkin Protein Overnight Oats
These Pumpkin Protein Overnight Oats are a cozy, delicious, high-protein breakfast, perfect for an autumn day!
Print
Pin
Rate
Ingredients
½

cup

old-fashioned oats

½

cup

Greek yogurt

plain, nonfat

½

cup

milk

whatever kind you prefer to drink

¼

cup

pumpkin puree

1

tablespoon

chia seeds

½

teaspoon

vanilla extract

½

teaspoon

pumpkin pie spice

½ - 1

scoop

protein powder

vanilla or unflavored, optional

1

tablespoon

maple syrup

optional - omit if using sweetened protein powder or yogurt
Instructions
Combine all ingredients in a bowl, or a 16 ounce mason jar. Stir to combine. Let oats sit for five minutes, then stir again (this helps prevent the oats and chia seeds from settling on the bottom).

½ cup old-fashioned oats,

½ cup Greek yogurt,

½ cup milk,

¼ cup pumpkin puree,

1 tablespoon chia seeds,

½ teaspoon vanilla extract,

½ teaspoon pumpkin pie spice,

½ - 1 scoop protein powder,

1 tablespoon maple syrup

Refrigerate overnight, or at least 4 hours.
Nutrition
Calories:
459
kcal
|
Carbohydrates:
63
g
|
Protein:
35
g
|
Fat:
8
g
|
Saturated Fat:
1
g
|
Polyunsaturated Fat:
4
g
|
Monounsaturated Fat:
1
g
|
Trans Fat:
0.03
g
|
Cholesterol:
34
mg
|
Sodium:
119
mg
|
Potassium:
767
mg
|
Fiber:
10
g
|
Sugar:
25
g
|
Vitamin A:
9835
IU
|
Vitamin C:
3
mg
|
Calcium:
463
mg
|
Iron:
5
mg