Last night I was scrolling through Instagram and saw my friend Tawnie working on her post for the month's Recipe Redux recipe challenge…which totally reminded me that this month's Recipe Redux challenge is TODAY! Oopsie!
Good news is that this month's theme is Small Bite Desserts to honor the 6th birthday of Recipe Redux, and you guys know I have no problem with desserts! My only problem was figuring out what to make.
See, we're going out of town in a couple days so the refrigerator is starting to get down to the last few odds and ends. And I really did not have time to go to the store or make an involved recipe, given all the deadlines I'm trying to meet before vacation!
So, these chocolate avocado truffles were born! All from four of my personal kitchen ingredient staples.
Avocado: it's delicious, full of fiber and heart-healthy fats, the baby loves it, we love it, and it's a surprisingly versatile fruit!
Chocolate: duh. I love chocolate. I try to always keep a dark chocolate bar around so I can break off a little when I'm looking to satisfy that craving. This happened to be an 86% dark chocolate bar.
Maple Syrup: I like using 100% pure maple syrup as a sweetener, and for pancakes. 😉 If you've never tried it and use the breakfast syrup stuff, try the real deal. The difference is insane! I usually buy a larger container because it's cheaper per ounce and lasts a while in the fridge.
Cocoa Powder: see the "duh" about chocolate above. 😉 I love adding cocoa powder to my smoothies, so it's an ingredient I usually keep in my pantry!
And that's it. They're made SO easily, with minimal hands on time. I melted the chocolate in the microwave while I was pureeing the avocado in a mini food chopper. Then added the melted dark chocolate and maple syrup for one more puree. All while eating my scrambled eggs, mind you! (Not the most mindful practice, but today is an "efficiency" day lol!) I took a call while the truffle mixture firmed in the freezer. Came out and in the five minutes before my next call, I formed the mixture into 10 truffles, rolled in cocoa powder, and set them in the fridge until I could photograph them.
Now these chocolate avocado truffles will get really soft if left out too long at room temperature, so I recommend keeping them in the refrigerator until it's time to serve. I chose to roll mine in a cocoa powder dusting, but you could get super creative with add-ins and coatings!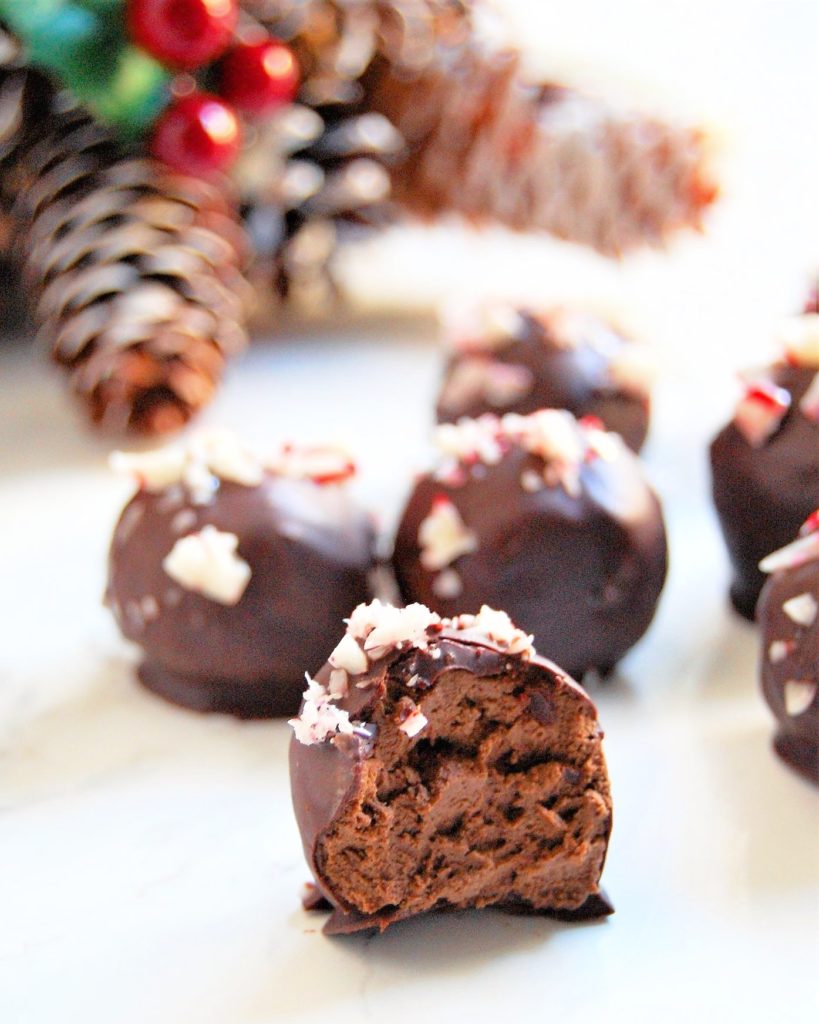 Some ideas:
Pulverize freeze dried strawberries in a food processor until they're a fine dust, then roll the truffles in it.
Roll in shredded coconut.
Roll in almond meal.
Roll in chopped peanuts.
Add a raspberry in the center.
Add a drop or two of peppermint oil to the truffle mixture.
Add a hazelnut to the center.
Make a peanut butter center.
Roll in more melted chocolate for more of a "shell".
Add a little cinnamon and chili powder to the truffle mixture.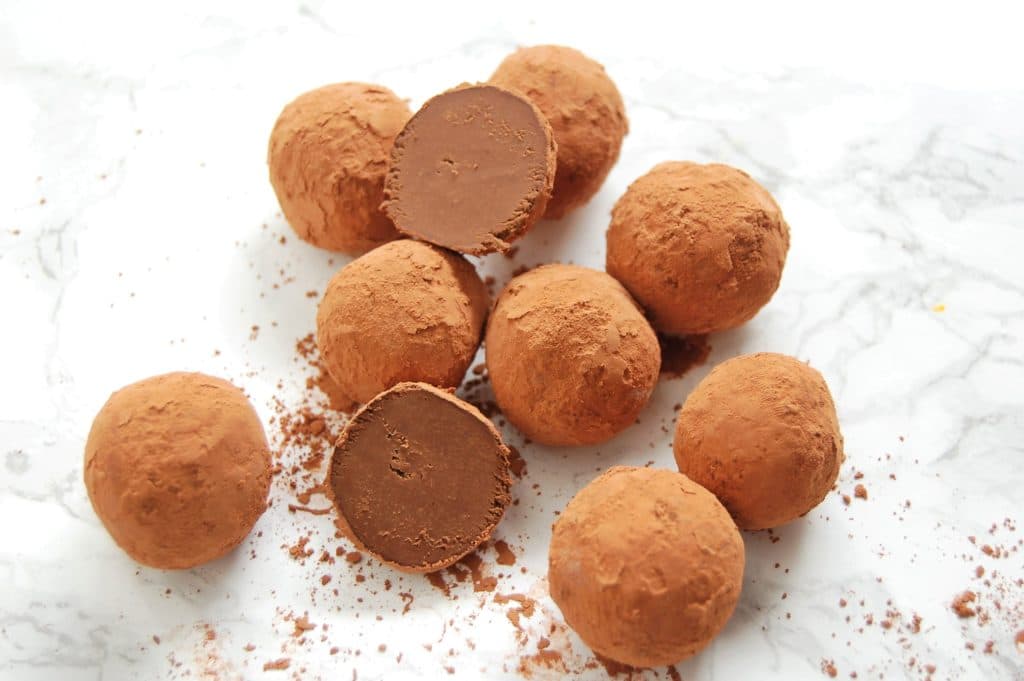 I can't wait to make these a million different ways! I'm dying to see what you come up with, so please make your own Chocolate Avocado Truffles creations and be sure to share them with me! Share on the Nutrition to Fit Facebook page, or share on Instagram tagging @nutritiontofit and using the hashtag #nutritiontofit. I can't wait to see your truffles! Have fun!
Chocolate Avocado Truffles
---
Yield: 12-14 truffles
45 minPrep Time:
45 minTotal Time:
Ingredients
1 Hass avocado, with skin and pit removed
2 ounces dark chocolate
1 tablespoon maple syrup (or other liquid sweetener, like agave or honey)
for coating: 1/4 cup cocoa powder
Instructions
Melt the dark chocolate in a microwave for 30 seconds at a time, stirring in between each microwave session, until melted (I needed about two minutes total).
Puree the Hass avocado in a mini food chopper for 1-2 minutes, or until a smooth mixture forms.
Add melted chocolate and maple syrup, return the lid to the food chopper, and puree another minute, or until smooth and evenly combined.
Transfer mixture to a freezer-safe bowl with lid and freeze for 30 minutes, or until firm enough to roll into balls.
Place cocoa powder in a bowl or container to coat the truffles with.
Roll the truffles by taking one tablespoon of truffle mixture, rolling it into a ball with the palms of your hand.
Place the truffles into the cocoa powder and turn until evenly dusted with cocoa powder.
Put in an enclosed container and refrigerate until serving. Refrigerate any leftovers up to one week.
Notes
If using a semi-sweet or milk chocolate, you may not need as much maple syrup or other sweetener - sweeten to taste. For a Christmas peppermint variation add 1/2 tsp pure peppermint extract to the truffle mixture. You can coat in cocoa powder, or melt another 1-2 oz dark chocolate with 1/2 tsp coconut oil to make a thin dark chocolate "shell" on the truffles and then top with crushed peppermint candies.
7.6.7
98
https://nutritiontofit.com/chocolate-avocado-truffles/