There are many health claims about weight loss detox waters -- but do detox drinks work? I'm a registered dietitian and this article explores weight loss detox drinks and whether or not they actually work, so you can decide if they're something that's a fit for your lifestyle.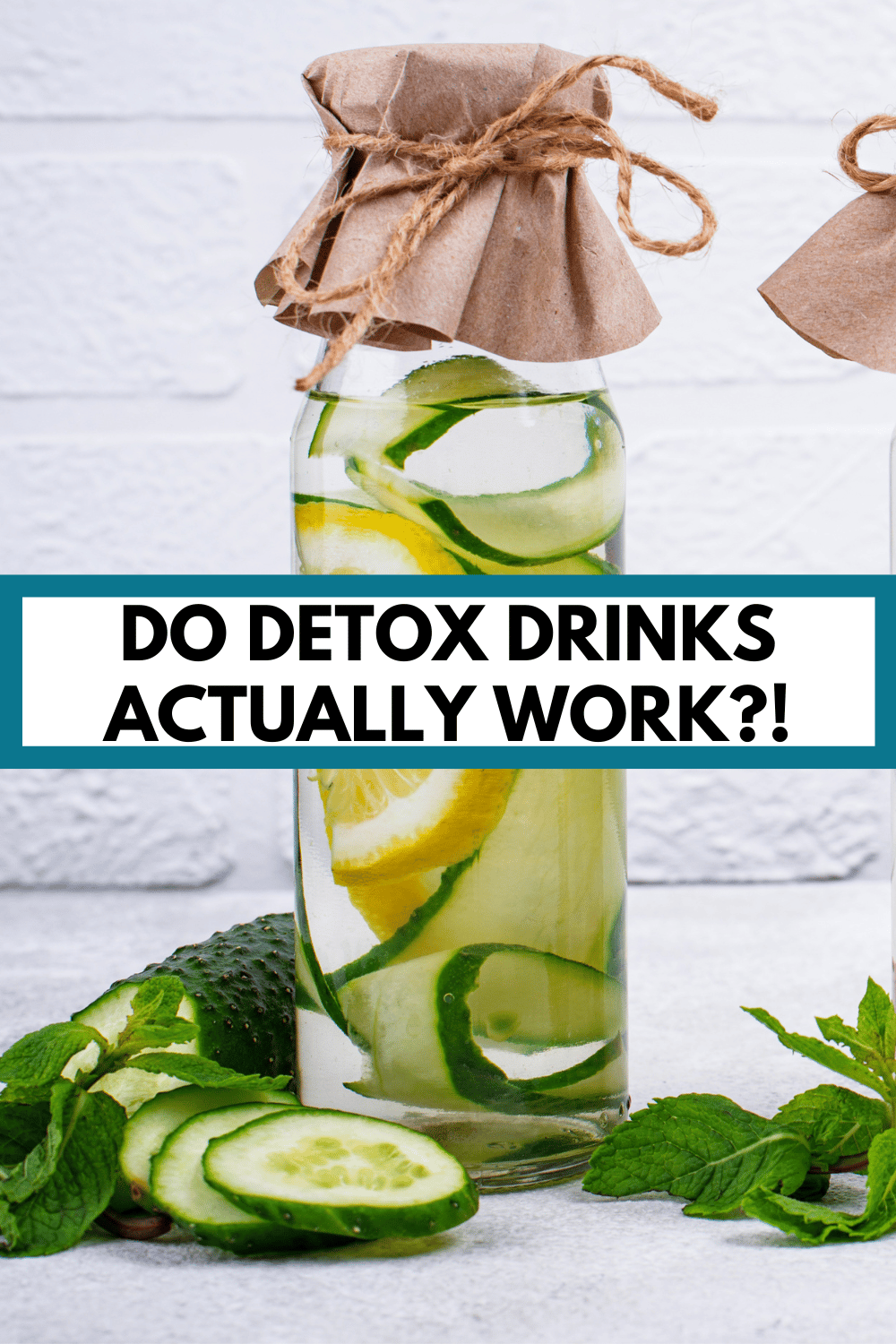 What is Detox Water?
Detox water is water infused with extra ingredients, like fresh fruit, vegetables, and herbs, that some believe makes the water healthier or can help you lose weight.
It may also be called spa water, weight loss water, infused water, or fruit-flavored water.
Detox Water Health Claims
Detox water is said to have many health claims, including:
Detoxification
Weight Loss
Improved skin
Enhanced immunity
Better mood & energy
Improved Digestion
pH Balancing
But are any of these health claims true?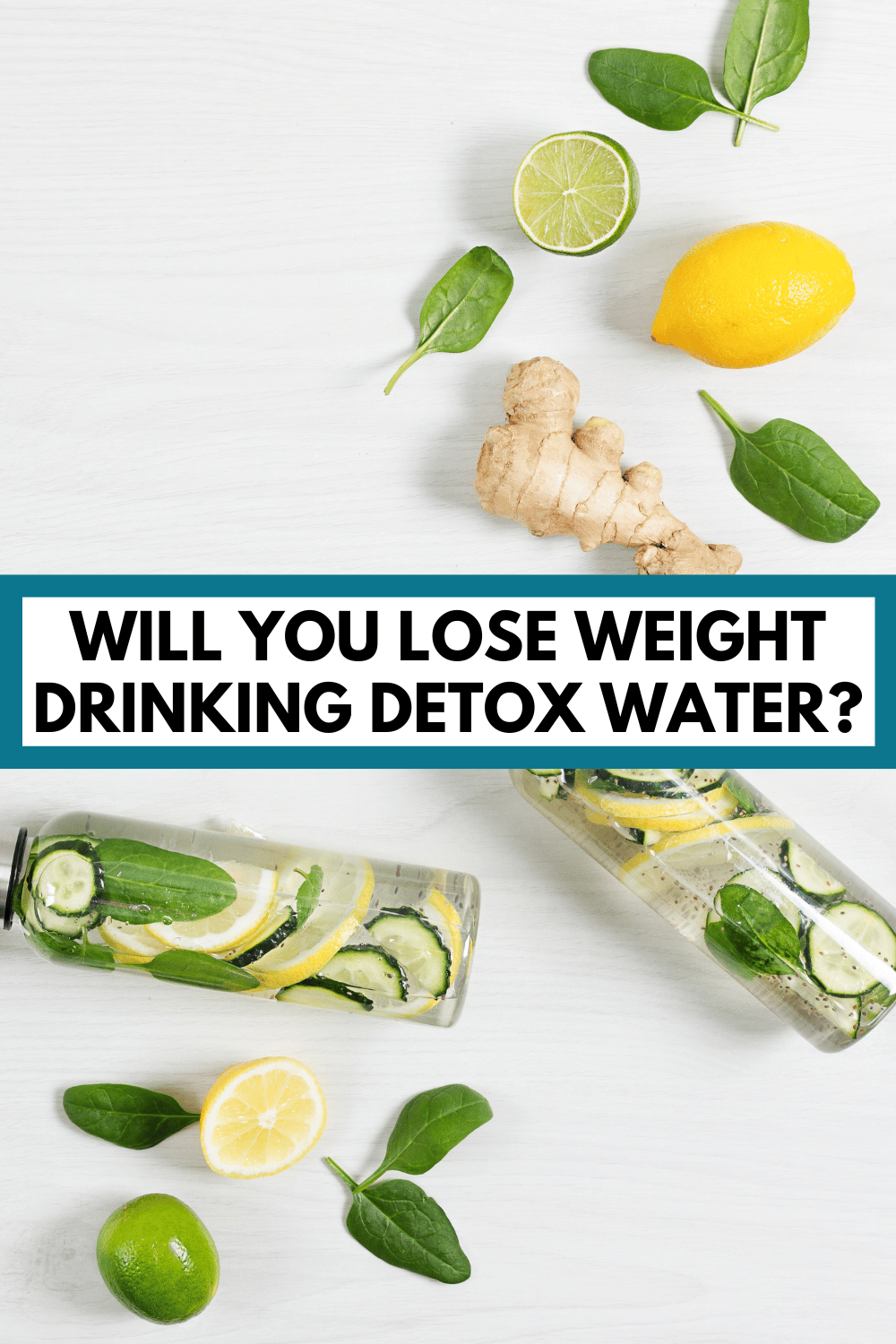 Detox Water Benefits
Because there are such small amounts of nutrients infused from fruits or vegetables in detox water, they're insignificant and don't provide health benefits.
Which means there's nothing inherently special about detox water for weight loss (or any other health claim).
The benefits you get from detox water are the same benefits you get from staying adequate hydrated - even with regular ol' drinking water.
Let's look at the science behind some specific hydration-related benefits and health claims:
Detoxification
Your body has excellent detoxification pathways in place. Organs like your lungs, kidneys, colon, liver, and skin all work very effectively to filter and eliminate toxins.
Which is why your body doesn't need help from detox drinks, detox waters, or any other kind of cleanse.
There is currently zero evidence that any diet or dietary product speeds up or improves your body's own natural detox pathways.
Weight Loss
Weight loss detox waters don't actually directly cause weight loss. That said, there are some potential weight loss benefits related to water.
Your metabolism may increase after drinking water. Two studies showed a slight energy expenditure increase within 60 minutes after drinking 500 ml of water. One study showed a 24% metabolic rate increase and another study showed a 30% increase. (The latter they determined to equate to about 24 calories expended per 500 ml consumed).
There are multiple studies that have linked drinking water before meals to weight loss, compared to just a calorie deficit alone without water before meals.
In those losing weight, studies demonstrate those who drink a lot of water have more weight loss, fat loss, and appetite suppression.
Improved Skin
There are many claims that detox water improves skin complexion, but that's not really the case. The nutrients infused into detox water are so miniscule, they don't support skin health or any other benefits.
And even water itself can only do so much for your skin's appearance. Most research indicates you likely won't see noticeable skin changes unless you were pretty dehydrated to begin with.
Immunity
Folks claiming improved immunity benefits associated with detox water often fixate on individual nutrients found in popular detox water infusions, like lemon and cucumber.
But again, these claims are a huge stretch. The amount of nutrients you're getting from infused "detox water" (like vitamin C infused from a slice of lemon) is so miniscule, it's completely insignificant.
Drink lemon water if you like the taste, but don't think it's giving your water magical health properties -- it's not.
Digestion
The biggest digestive benefit associated with adequate hydration is regular bowel movements.
Drinking enough water may help prevent constipation (and associated feelings of bloat) in folks with dehydration -- especially in those who also consume a low fiber diet.
Mood, Fatigue, & Energy
Staying adequately hydrated can help maintain mood and energy levels. One study saw a decrease in mood and alertness and increased fatigue reported in individuals who have lost over 2% off their body mass due to dehydration.
Another study saw worsened mood, reduced concentration, headaches, and higher perceptions of task difficulty in females with just 1.36% dehydration.
And one more interesting study saw adults find less fatigue, confusion, thirst, and sleepiness when they increased their daily water intake from 1 L to 2.5 L.
pH Balancing
Detox waters are often claimed to be "alkalizing," promoting a balanced pH in your body and supposedly improving health.
But this isn't evidence-based.
Your body does a fantastic job maintaining a steady pH balance, all by itself -- no alkaline diets or supplements needed.
So Why am I Losing Weight with Detox Water?
If you're losing weight, it's because you're in a calorie deficit - that's it. Not because of any weight loss detox waters.
Detox water is made by infusing water with fresh fruits, veggies, and herbs, so it has negligible calories.
While there are many things that can influence weight loss, at the end of the day there must be a consistent calorie deficit over time to lose weight.
Detox water being so low in calories can help create a calorie deficit, especially if you're drinking it in place of higher calorie beverages, like sweetened coffee and tea, sodas, and juices.
But let's be clear - the detox water itself is not directly causing weight loss.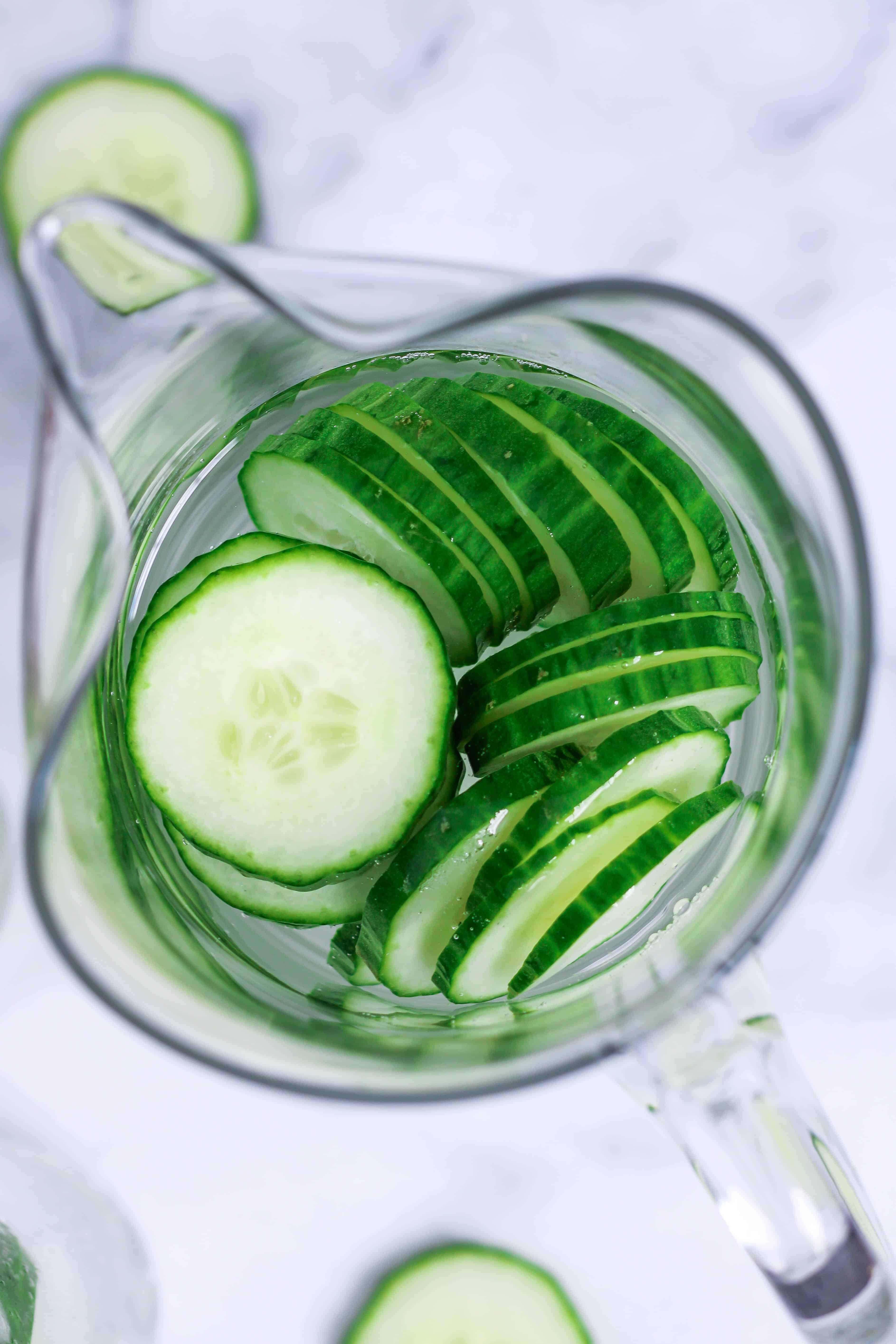 Ways You Can Enjoy Detox Water
Just because detox water won't directly lead to weight loss, that doesn't mean you can't enjoy it! And honestly, you don't even have to call it detox water. I personally like to call it what it is - infused water. And you can enjoy countless variations of infused water. They're incredibly easy to make, too!
How to Make Detox Water
To make detox water, all you need is water and whatever type of fruit, vegetables, or herbs you want to infuse (they can be fresh or frozen!). Slice fruits and vegetables like cucumbers and citrus before infusing. Other fruits and veggies will infuse better if you muddle or crush them gently beforehand, like blueberries, grapes, and mint.
Some fun "detox water" water infusion flavors include:
Strawberry-Infused Water
Mint-Infused Water
Orange-Infused Water
Cucumber Lemon Ginger Water
Pineapple-Infused Water
Watermelon-Infused Water
You can even make things like "Cranberry Detox Water" or "Pomegranate Detox Water" by adding a splash of 100% cranberry juice or pomegranate juice to a glass of chilled water.
Weight Loss Detox Waters --Final Thoughts
So are weight loss detox waters supported by science? Absolutely not. In fact, the amount of nutrients infused in detox water is so insignificant that detox water itself has no direct health benefits.
The only health benefits you get from detox water are simply related to staying adequately hydrated.
So if you like the subtle flavors of detox water and find it to be an enjoyable way to stay hydrated, have at it! Embrace it as a way to hydrate if you like, but understand there are zero direct health benefits from drinking detox water.
Other Reviews You May Be Interested In
If you enjoyed this "Weight Loss Detox Waters - Do They Work?" article, please save it to Pinterest and share it with a friend! Come find me on Instagram and let me know what you thought!