Pizza Dip is a fun game day recipe that everyone in the whole family will love. It's simple, flexible, and easily made vegan and food allergy-friendly.
Hiya! Guess what's coming up this weekend? It's Super Bowl time!!
Now admittedly, I'm not 1,000% into the teams or game itself, but I love the tradition of it, I (usually) enjoy the commercials and halftime show, and absolutely love any excuse to hang out with friends and family. 🙂
Oh yeah, and of course – the food!
If you're new around here, yes I'm a dietitian, but I'm a fan of moderation. Not dieting, but just living your life where you eat an abundance of foods that nourish your body and that you enjoy, along with others foods that may not bring a lot of nourishment, but bring other satisfaction. Basically, I won't ever tell you to live off salads. 😉
That said, I also have both personal and professional experience that knows even if "all foods fit", sometimes they don't in the face of food allergies, intolerances, sensitivities, medical conditions, or just what makes you feel your best. That's why the vast majority of my recipes offer flexibility so you can make them work for you and your personal needs.
Take this Pizza Dip, for example. It's delicious, has a "fun" game day-food vibe, but still packs a lot of nourishment with a base of creamy white beans, antioxidant-laden tomato sauce, and toppings you can customize for your liking.
We used regular ol' mozzarella cheese on top, and then sprinkled with some fresh basil. If you're dairy-free, there are many dairy-free cheese alternatives (I've always liked Daiya brand, as it melts pretty well!).
You can add any toppings you want – treat it like a pizza! If pepperoni is your thing, add some tiny pepperoni! Or add mushrooms, peppers, onions, black olives, etc.
Same with the dippers – since I'm gluten-free I used a gluten-free baguette sliced thinly, brushed with olive oil, and toasted on both sides until crispy. You can use regular ol' tortilla chips, pita chips, pretzels, crunchy and thin bread sticks, or use pizza dough to make little flatbread dippers.
Do what works for you, but as always – have fun with it and enjoy it! And if you try it, take a pic and share it with us on the NTF Facebook page and Instagram (tag me @nutritiontofit and use the hashtag #nutritiontofit for everyone to follow!) Be well!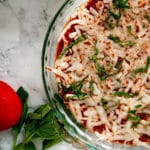 Pizza Dip (Vegan Optional)
Pizza Dip is a fun game day recipe that everyone in the whole family will love. It's simple, flexible, and easily made vegan and food allergy-friendly.
free from: gluten, tree nuts, peanuts, fish, shellfish, egg, soy, (dairy optional)
Print
Ingredients
15

oz

cannellini beans

(1 can, drained and rinsed)

1/4

cup

extra virgin olive oil

1

Tbsp

oregano

pinch

of salt and pepper

1

cup

marinara sauce

1/2

cup

shredded mozzarella

(or non-dairy substitute)

2

Tbsp

fresh basil

Any additional pizza toppers (i.e. fresh tomatoes, pepperoni, mushrooms, peppers, onions, black olives, etc.)

"Dippers" of choice (i.e. baguette sliced thinly and toasted thin crunchy bread sticks, pita chips, tortilla chips, pretzels, homemade flatbread made from pizza dough, etc.)
Instructions
In a food processor combine the beans, olive oil, oregano, salt, and pepper. Process on high for 1-2 minutes, or until there is a creamy, smooth bean mixture.

Spread the bean layer on the bottom of a pie dish. Top with the cup of marinara, then the shredded cheese. Finish with any desired toppings that need to go in the oven.

Bake at 425 for 5-7 minutes, or until cheese has melted. Garnish with fresh basil, any additional other fresh toppings, serve with desired dippers, and enjoy!
Recipe Notes
Nutritional information is not calculated with any additional toppings or with "dippers". 
Nutrition Facts
Pizza Dip (Vegan Optional)
Amount Per Serving (0 g)
Calories 85
Calories from Fat 45
% Daily Value*
Fat 5g8%
Cholesterol 3mg1%
Sodium 212mg9%
Potassium 76mg2%
Carbohydrates 6g2%
Protein 3g6%
Vitamin A 150IU3%
Vitamin C 1.5mg2%
Calcium 54mg5%
Iron 1.2mg7%
* Percent Daily Values are based on a 2000 calorie diet.