Food combining is a diet that tends to trend every now and then, but what exactly is it and what does it claim to do? I'm a registered dietitian and balanced nutritionist and I'm going to take a look at the science of this diet and share everything you need to know. I won't tell you what I think you should do, but instead will leave you empowered to make an informed choice if food combining is for you.
What is Food Combining?
Food combining is a diet that promotes eating foods in specific combinations. Truthfully, when I first heard of food combining, I initially thought it was a fancy name for what I talk about a lot as a dietitian - creating balanced meals by combining carbs with protein, fat, and fiber for better satisfaction and blood sugar management.
But unfortunately that's not what's actually going on with food combining. Let's take a look at the rules of the diet before we get to the claims.
Food Combining Rules
Okay, so there can be a little variance in the details of the rules depending on the source, but here are some of the common food combining diet rules:
Fruit should always be eaten on an empty stomach - especially melons.
Dairy products always need to be eaten on an empty stomach - especially milk.
Sugar should only be eaten on an empty stomach.
Protein and starch should not be eaten together.
Protein and fat should not be eaten together.
Starchy foods and acidic foods should not be eaten together.
Different types of protein shouldn't be combined.
Food Combining Claims
So what exactly are all these food rules supposed to accomplish?
Well, proponents of food combining say it has many claims, but mainly that it leads to better digestion.
But why? Why do they think food combining leads to better digestion?
They claim different foods require different pH environments to digest and different digestion rates. Supposedly protein foods require an acidic environment for digestion, whereas carbohydrate foods need an alkaline environment.
Because of these different digestion needs of protein and carbs, this creates varying transit times in the GI tract. And this is what proponents claim creates gas, bloating, poor digestion, a build up of toxins, and potential nutritional deficiencies due to poor nutrient absorption.
Oh, and like most diets, it's not uncommon to see tales of weight loss attributed to it, too.
Where Did the Food Combining Diet Come From?
Food combining stems from two roots:
Ayurvedic medicine
The Hay Diet, created by Dr. William Howard Hay in the 1920s
And of course in our more modern times, the food combining diet can be sensationalized and shared by celebrities and influencers.
Ayurvedic Food Combining
Ayurvedic medicine has ancient roots, but is sometimes still used today. It typically features more "natural" approaches to physical and mental health.
Ayurvedic food combining is also thought to promote better digestion. I've seen an analogy shared that they think of the stomach as a one way street, but because different foods digest at different rates, you can create, well, a food traffic jam. So, for example, if you eat meat (slower digesting) before fruit (faster digesting), the fruit will be forced to take longer to digest, which can create rot and toxins that build up in your gastrointestinal system.
But spoiler alert? This isn't actually how digestion works.
Human Digestion 101
Digestion is a complicated topic, but here is one very basic morsel that we know with modern science: our stomachs are not a one way street.
I get the desire to simplify complex topics, like digestion, into info that's more easy to understand. But we can't lose the science in the process, and that's what's happened with the food combining diet.
Food combining acts like when you eat, the foods separate into nice even layers in your stomach, with each type of food waiting for its turn to be digested and pass into the small intestine. Something like this:
But really, even when food first hits your stomach, it's more like this:
Digestion Starts in the Mouth
One reason for this is because digestion actually starts in our mouth. Your teeth and tongue work together to start mechanically breaking down the food. As this is happening, the food mixes with saliva, which contains some digestive enzymes (salivary amylase, lysozyme, and lingual lipase). With these digestive enzymes at work, digestion is already well underway before the food has even left your mouth.
When Food Hits the Stomach
Once in the stomach, the strong stomach muscles work to break food down further. To help the mechanical, physical churning, stomach acid is released, along with additional digestive enzymes. This creates chyme - a pulpy, acidic fluid made up of all the stomach juices and partially digested food.
Then Food Heads to the Intestines
Up next is this chyme heading to the duodenum (the first part of the small intestine). Chyme is slowly released into the duodenum, along with digestive enzymes and bicarbonate from the pancreas to help break down fat, carbs, and protein, and bile. (Bile is produced in the liver, stored and secreted from the gallbladder, and helps to digest fat.)
After the duodenum, digestion continues in the jejunum (the next part of the small intestine). Here, the digestive process creates even smaller molecules, allowing for some individual nutrients to be absorbed.
Then it heads to the ileum - the longest part of your small intestine, and where nearly all nutrients are absorbed through the intestinal wall.
At this point, all that's left is pretty much water and waste (i.e. plant fiber, dead cells shed from your digestive tract). This is pushed through the large intestine, where water is absorbed and the waste eventually exits as a bowel movement.
Do You Really Want Fast Digestion?
Remember how one of the claims of food combining is that it makes digestion faster and more efficient?
Well, spoiler alert: that's not necessarily a good thing.
When digestion happens too fast, diarrhea happens. And that's not an optimal or normal regular bodily function.
Having a more varied diet, including one with plenty of fiber, can slow digestion a bit, which can have some benefits:
More time for your body to absorb nutrients.
You feel more satiated, or fuller, longer.
More stable blood sugar levels.
Food Combining & Blood Sugar
That last point is an important one, because some of the food combining rules center around eating foods high in sugar, starch, or natural sugars (like dairy products and fruit) on an empty stomach.
As a dietitian, these rules feel like a pretty big red flag. Why? Because consuming foods high in starch or sugar alone, on an empty stomach, can lead to more dramatic blood sugar swings. You may feel your blood sugar spike soon after eating, but then quickly fall - the "sugar crash" or "slump" post-eating you may be familiar with.
I always encourage balanced meals and snacks, and often tell my clients, "carbs need friends!" and "no naked carbs!" Pairing high starch and sugar foods with adequate fiber, protein, and fat can lead to more stable blood sugar levels and energy.
Food Combining & pH Balance
So is pH important and does food combining help?
Yes and no.
The pH of a solution reflects how acidic or alkaline (basic) it is. And in your body, pH is very important. So let's look at one very (verrrrry) brief aspect of pH and digestion:
Stomach acid is extremely acidic. When chyme, which consists of some stomach acid, moves into duodenum, the pancreas releases bicarbonate. Bicarbonate is very basic (alkaline) and neutralizes the high acidity of stomach acid.
Your body has a vested interest in protecting itself. Human blood has a very narrow pH range of 7.35-7.45, and your body does a pretty good job of keeping it in that range. Because if your blood falls outside that range? You're likely in (or belong in) the ICU.
So does food combining help with pH? No.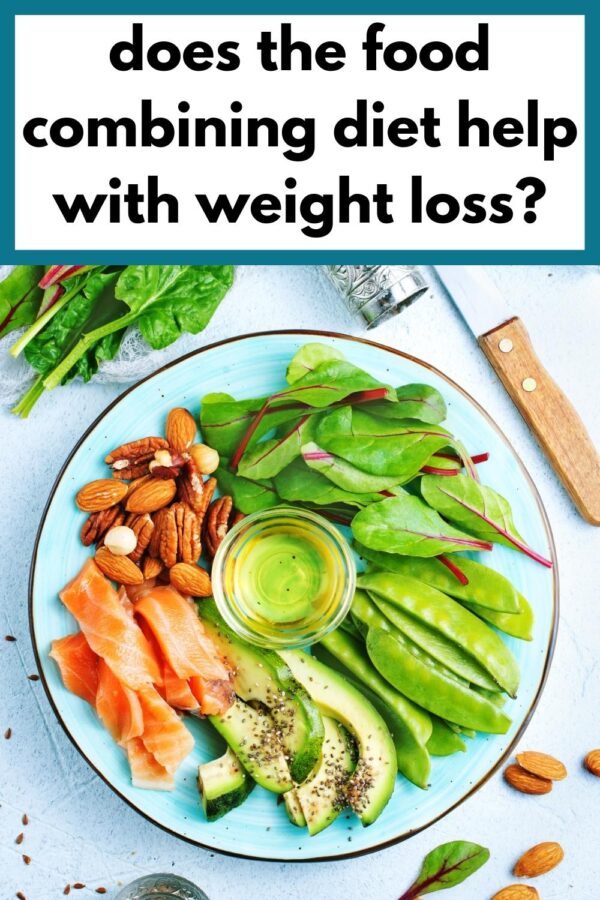 Food Combining and Weight Loss
There is nothing magical about food combining that holds the secret to weight loss. In fact, the only published scholarly article I found on food combining was about weight loss.
In this study, calories and macronutrient breakdown were kept the same between the control and the experimental group, with food combining principles being the only variable in the experimental group.
They found zero difference in weight loss results between the two groups.
So Why Do People Say They Lose Weight?
I know there are many anecdotal, or personal, stories that people share how food combining helped them lose weight. But typically, there are other reasons that created the weight change, not the food combination rules themselves.
Some potential reasons include::
Greater increase of what you're consuming.
Likely eating more non-starchy vegetables (which are inherently lower in calories).
Typically there's less snacking or grazing, as you're supposed to wait a few hours between switching the type of food you're eating.
There's likely less consumption of sweetened beverages, between what you're allowed to consume alongside a sweetened beverage, and the time requirement between "switching" food types.
If someone was consuming more highly processed or restaurant foods before, eating less processed foods and cooking at home more can both lead to a lesser caloric intake, intentional or not.
Food Combining & Nutrition Common Sense
Taking a very brief look at a nutrition label and using a little common sense can help you see how pointless many of the food combining rules are.
The vast majority of foods we eat do not fall squarely into one macronutrient category (protein, fat, carbohydrates).
Examples:
Beans: carbs and protein
Edamame: carbs and protein
Peanut butter: fat and protein and a minor amount of carbs
Salmon: protein and fat
Many meat products: protein and fat
Non-starchy vegetables: carbs and minor amounts of protein
Whole grains: carbohydrates and some protein
Eggs: protein and fat
And while this isn't as common knowledge, the fat-soluble vitamins (A, D, E, K) that are found in things like non-starchy vegetables and some whole grains are actually better absorbed by your body when paired with fat.
So is Food Combining Science-Based?
No, it's not. There is only one study that has ever looked at the principles, and it wasn't even looking at the digestion claims, only the weight loss claims.
I typically try to be a very open-minded and logical dietitian, and I often like to remember that the absence of evidence does not mean evidence against. But in this case? We have evidence against.
I highly doubt we'll ever see any future studies on food combining and digestive benefits. Why? Because we have centuries of research, science, and understanding the human body now compared to when food combining principles first came about.
There is always more to learn, especially with the digestive system, but what we do know is that the claims of food combining do not align with how the human body's digestive system actually works.
Food Combining Benefits
The primary benefits of a food combining diet is that participants may find themselves consuming more fiber and less processed foods.
But to be crystal clear, if these are among your goals, there are many other ways you can go about it other than food combining, because this diet also raises a number of red flags.
Food Combining Concerns
It's a Restrictive Diet
Restrictive diets are not just unnecessary, but they're harmful to your physical and mental health.
Not only are restrictive diets typically ineffective at best, they often lead to regaining lost weight and to an unhealthy relationship with food. And unfortunately, most folks don't know when they've crossed the line into creating an unhealthy relationship with food or even disordered eating or an eating disorder until it's already happened.
Having a healthy relationship with food is one of the best things you can do for your health - not just mental, but physical, too.
If this is intriguing, I strongly recommend checking out my article on the diet cycle (and why you didn't fail your diet, your diet failed you).
It's Not Science Based
There is no current scientific evidence that food combining is necessary. It's not even about whether or not it works, because it's claims are so scientifically inaccurate, it can't work.
It's Claims About Digestion are Flat Out Wrong
Food combining's claims about digestion aren't just a "this is what I think/ believe" deal - they're just objectively, scientifically correct. We get the privilege to live in a time where we have hundreds of years of studying and research compared to times of ancient medicine.
And while there is so much cool stuff we can still learn about human digestion, we know enough to say with certainty that the food combining diet's digestive claims are false.
Final Thoughts on Food Combining
From an objective standpoint, the science does not align with food combining. And in my professional experience as a registered dietitian, I get really concerned when I see long lists of unnecessary food rules. For many, many individuals this leads to an unhealthy relationship with food, worsens physical health, and leads to endless loops on the diet cycle.
What to Try Instead?
Balance. I'm a big fan of keeping things simple and finding a healthy balance that works for you. A healthy balance that gives you a healthy relationship with food, where you're empowered to eat in a way that feels good to you and helps your health thrive, but you also know you have the freedom to enjoy your favorite foods and past-times.
If this is something you're interested in, give me a follow on Instagram and TikTok where I'm sharing info, food, and recipes near daily. And while I'm not currently accepting new clients, sign up below for my waitlist to be the first to hear about open coaching and upcoming nutrition programs.
Articles & Sources Referenced:
Note: This article was originally published July 22, 2019 but was updated to reflect current science and re-published on January 29, 2022.