Sweet & savory sweet potato bowls make for an easy, fast, and healthy meal prep that works for breakfast, lunch, or dinner.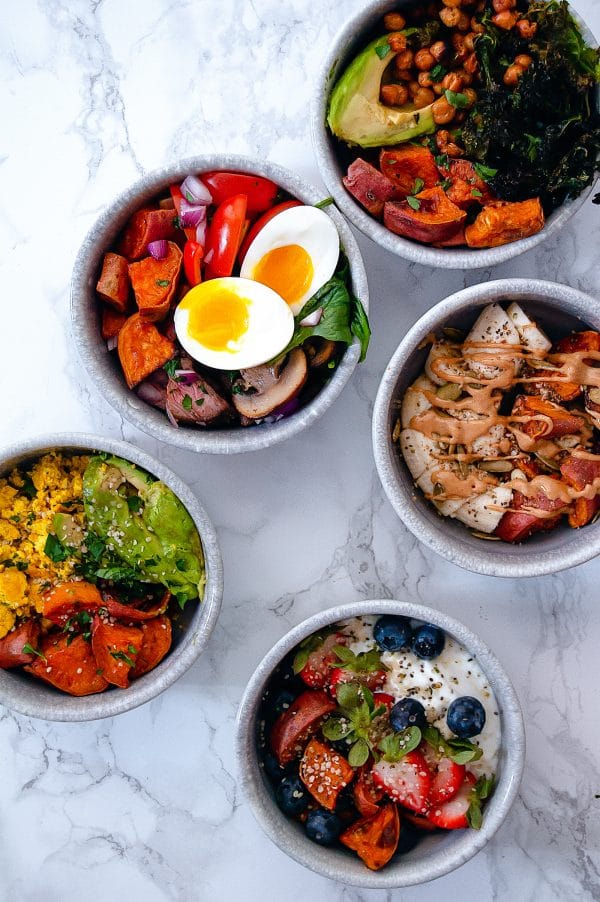 One of the most common questions I receive from my clients and in messages and DMs from y'all is, "what's an easy, healthy breakfast?" (or lunch or dinner). I've even gotten a couple questions lately from folks asking if I have any meal ideas that are multi-purpose, where they can prep something and enjoy it for both breakfast and lunch or lunch and dinner. These Sweet & Savory Sweet Potato Bowls are one of my go-to recommendations!
Now, full disclosure, these Sweet & Savory Sweet Potato Bowls are really more of a method, and not a true recipe since they're so basic and able to be personalized. But honestly? That usually means it's even easier for you to add it in to your life as an easy, health meal option.
The base of these Sweet & Savory Sweet Potato Bowls are roasted sweet potatoes. Typically I just roast a large batch of sweet potatoes and multi-purpose them into a side with dinner that night and use the leftovers to make these sweet potato bowls with whatever other ingredients I have on hand.
To assemble a sweet potato bowl, just think about the following components to ensure a balanced, healthy meal that won't leave you hungry thirty minutes later:
Carbohydrate: you've already got this covered with the sweet potatoes, but will see a little extra from fruits and veggies you're adding.
Protein: options include eggs cooked however you prefer, leftover proteins like steak or chicken, a tofu scramble or roasted tofu, Greek yogurt, some nuts and seeds, legumes, etc.
Fat: don't fear fat! It's a great addition for health and satiety, whether it's from avocado, nuts, seeds, egg, full fat yogurt, coconut, etc.
Produce: fruits and veggies - the sky's the limit!
Fiber: often if you're filling your sweet potato bowl with a variety of real foods, you'll already have some fiber from the sweet potatoes, fruits, veggies, nuts, seeds, etc. But I always double check there's plenty of fiber when I'm running through this checklist to make sure my bowl is a complete meal.
Want some ideas for specific sweet and savory sweet potato bowls? Check out these five sweet potato bowl variations I created.
Savory: Sweet potato bowl with leftover steak, fresh tomatoes, red onion, fresh spinach, sauteed mushrooms, and a jammy egg.
Sweet: Sweet potato bowl with banana, pumpkin seeds, chia seeds, milled flax seed, and a drizzle of sunflower seed butter.
Savory: Sweet potato bowl with kale chips, sea salt crunchy chickpeas, and avocado.
Savory: Sweet potato bowl with avocado, turmeric tofu scramble, hemp hearts, and fresh parsley.
Sweet: Sweet potato bowl with sliced strawberries, blueberries, plain yogurt, hemp hearts, and chia seeds.
Hopefully this has provided some inspiration for easy, healthy breakfasts, lunches, and dinners for you! The beauty of sweet potatoes is that they lend well for sweet and savory flavors, so you have a lot of different options you can pair them with based on your taste preferences and any food allergies or sensitivities.
Need some other fast, easy, healthy  meals? Try these:
Give them a try, and be sure to share your sweet potato bowl creations! Take a picture and share it to social media, tagging @nutritiontofit and #nutritiontofit. And of course, please leave a comment and recipe rating below for everyone else to see here! Live well!
Sweet & Savory Sweet Potato Bowls
Sweet & Savory Sweet Potato Bowls are an easy method for a fast and healthy meal that works for breakfast, lunch, and dinner.
free from: gluten, dairy, soy, tree nuts, peanuts, egg, shellfish, dish
Ingredients
1

large sweet potato

(should yield 1 cup chopped)

1

teaspoon

coconut oil

(or any oil)

desired toppings
Instructions
Preheat oven to 400 degrees.

Wash and chop a sweet potato into bite-sized, one-inch pieces. Toss with melted oil, place on a baking sheet, and bake for 30-35 minutes, or until slightly caramelized on the outside and tender on the inside.

Add any desired foods (see inspiration in post above) to make a complete meal, considering protein, fat, fiber, and produce.
Notes
Can be refrigerated in an airtight container up to 72 hours. 
Nutritional information will vary based on other foods added to the sweet potato bowl. Nutrition information here is based on just the sweet potatoes and oil.
Nutrition
Calories:
76
kcal
|
Carbohydrates:
13
g
|
Protein:
1
g
|
Fat:
2
g
|
Saturated Fat:
1
g
|
Sodium:
36
mg
|
Potassium:
224
mg
|
Fiber:
1
g
|
Sugar:
2
g
|
Vitamin A:
9435
IU
|
Vitamin C:
1.6
mg
|
Calcium:
20
mg
|
Iron:
0.4
mg