Happy National Grilled Cheese Day! Don't you just love the random food holidays? I do!
Grilled cheese day is right up my alley. Who doesn't love a good grilled cheese? Toasty, crisp bread with gooey, melty cheese. Plus, the added awesomeness that a grilled cheese can basically serve as a vehicle for pretty much anything edible. You can add fruit, vegetables, lean protein, healthy fats, herbs, spices, jams, and more! A healthy grilled cheese sandwich can take so many forms.
That's where this post comes in! I asked around and came up with this list of some pretty stellar healthy grilled cheese recipes. All these recipes were created by fellow registered dietitians and all show how a grilled cheese can fit most any diet! They've used some of my favorite add ins (greens, fruit, lean protein!) and some also have some really fun flavor boosters to take your healthy grilled cheese to a different level (like pesto and hummus).
Without further ado!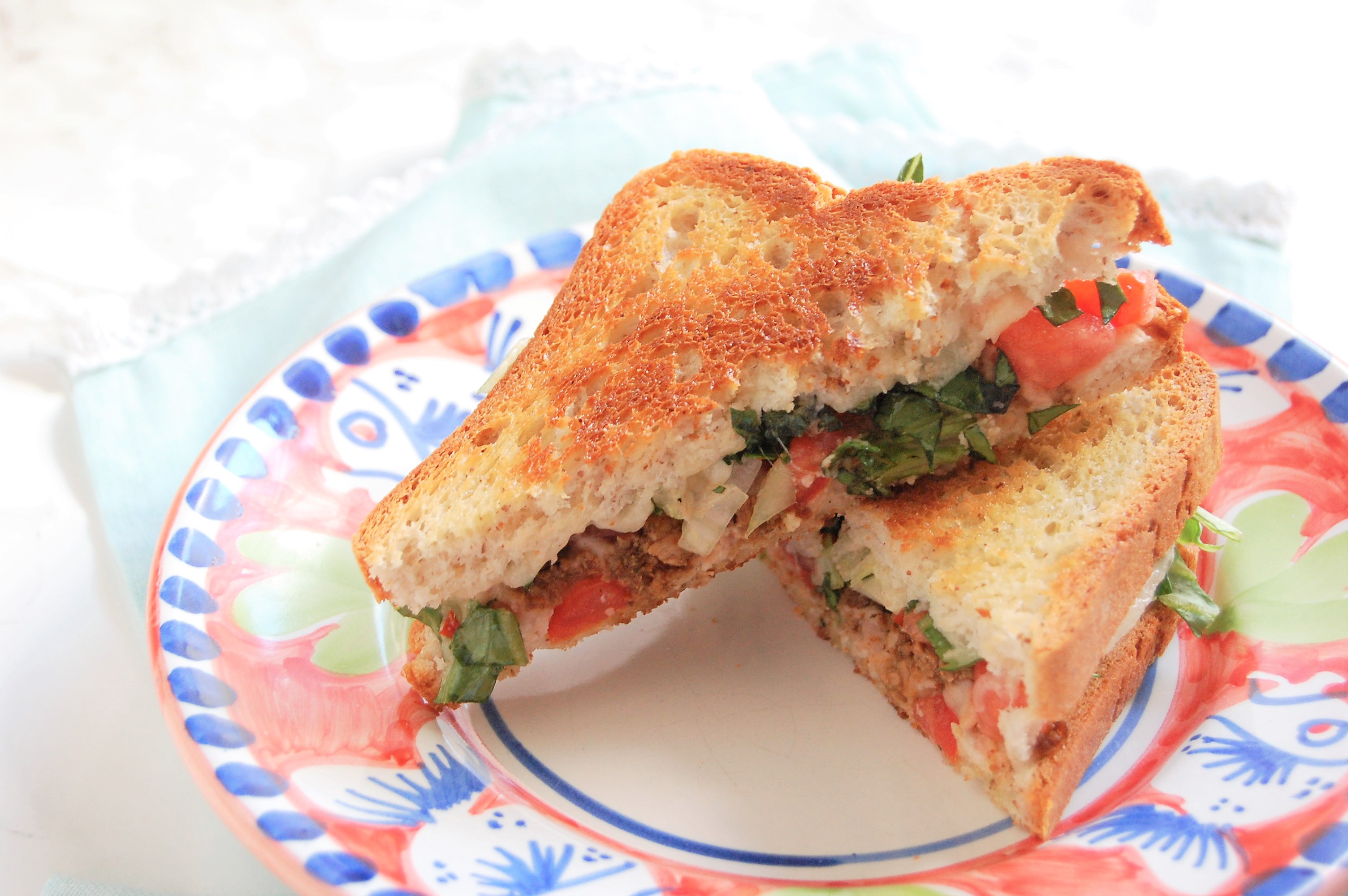 I hope you haven't already forgotten about my Taco Grilled Cheese from yesterday! It's simple, delicious and sneaks in a little extra fruit and veggie. Plus, the mashed pinto beans act like extra "glue" and give more creaminess that pairs well with melty cheese.
Fig & Brie Healthy Grilled Cheese
Abbey Sharp, the lovely Canadian dietitian behind Abbey's Kitchen pairs "sweet figs, creamy brie, spicy arugula and crunchy walnuts" in this healthier grilled cheese. With a brilliant combination of all those tastes and textures, this is one healthy grilled cheese you don't want to miss. In fact – check out her post, as she shares three different healthy grilled cheese recipes!
Sweet Potato Grilled Cheese Bites
Abbey also shows that you don't even really have to have bread to make a grilled cheese! Going off the sweet potato toast trend, she makes these decadent-looking little Sweet Potato Grilled Cheese Bites. I'm loving this, and that the sweet potato "bread" makes it naturally gluten free!
Strawberry Cambozola Grilled Cheese
Meme Inge, the funny and lovely dietitian of Living Well Kitchen dubs this her favorite grilled cheese. It combines Cambozola cheese, sweet strawberries, crunchy pecans, and spicy arugula. Had no idea Cambozola was a cheese? Me neither, so be sure to check out Meme's post to learn all about it and why she dubs it, "basically the greatest thing on earth".
Of course, because I'm obsessed with roasted vegetables, I had to include this additional grilled cheese recipe from Meme. It's the perfect vegetarian lunch or dinner, and a great way to use up any leftover roasted veggies you have. I need to go roast some veggies right now!
Ultimate Sweet Potato Stuffed Grilled Cheese
Liz over at Shaw's Simple Swaps made this killer grilled cheese stuffed with sweet potatoes! It's so unique and inventive, and I never would have thought of it. This seems like the queen of comfort grilled cheeses, but in the healthiest way possible!
Grilled Cheese with Avocado and Sun-Dried Tomatoes
Tracee from Triad to Wellness went an amazing creamy and savory route with her Grilled Cheese with Avocado and Sun-Dried Tomatoes.The pairing of a creamy, decadent cheese with a fabulous earthy combination from the sun-dried tomatoes and avocado makes this a healthy grilled cheese you feel great eating.
Strawberry & Arugula Grilled Cheese
Danielle from The Every Kitchen takes a lovely direction with her grilled cheese by using a mozzerella cheese in that ever-lovely sweet and salty flavor combo that is loved by so many.
Grilled Strawberry and Goat Cheese Sandwich 
Want a grilled cheese with strawberries and a little more tang? Try Natalie from Nutrition ala Natalie's Grilled Strawberry and Goat Cheese sandwich. It also uses a balsamic vinegar reduction, which is an awesome flavor booster for any healthy grilled cheese!
Grilled Cheddar, Brie, and Apple Sandwich
Anne from Craving Something Healthy knocks it out of the park with this grilled cheese sandwich combining cheddar, brie, and apples. It's a wonderful one-pan, short-ingredient list lunch or dinner that takes the classic comfort food of your childhood and dials it up with grown-up flavor!
Not Your Mother's Grilled Cheese
Judy from Live Best reduces food waste and focuses on tips to use what you have and still get an amazing meal. Not to mention the basic bread + cheese + jam is a surefire way to always make a hundred different varieties that will always result in one delicious grilled cheese sandwich!
Asparagus and Brie Grilled Cheese with Arugula Pesto
This grilled cheese from Kara Lydon of The Foodie Dietitian has my name written all over it! It takes two of my favorite vegetables (asparagus + arugula) and one of my favorite cheeses (brie) and creates a delicious, grown-up grilled cheese perfect for spring!
Grilled Chicken Apple Cheddar Sandwich
Lauren from Bite of Health Nutrition adds a bit more lean protein with the addition of chicken to her Grilled Chicken Apple Cheddar Sandwich. You have got to go over and check out the recipe, though, because she has an ingredient that I'm now dying to try on my next grilled cheese – it is going to be PACKED with flavor!
Tomato Avocado Grilled Cheese Sandwich
This Tomato Avocado Grilled Cheese Sandwich from Brittany of Your Choice Nutrition is a rockstar grilled cheese. I mean, just look at that gooey cheese! It's a perfect sandwich to make on the days when you're in a hurry and want a meal that is simple and satisfying
So there you have it! 14 grilled cheese recipes that you can make, or use as further inspiration to make your own! It's the perfect foodie vehicle for you to have fun and get creative with. And let the kids join in – the world is your oyster! 🙂